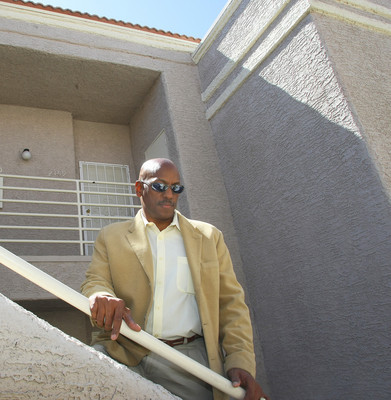 Skip Jourdan looks forward to the day he props his grandchildren upon his knee and tells them about the depression of 2009 and how folks were so willing to reach out and help one another.
Like the Desert Shores Community homeowners association he belonged to at Mar-A-Lago condos in northwest Las Vegas. When he was about to drown, the HOA was there to throw him an anchor.
Home Owners with Attitude, Jourdan calls the organization formed to look out for the best interests of the people it represents. Or House Of Angst.
Jourdan bought a three-bedroom condo at Mar-A-Lago for $194,000 in 2006 for his daughter to live in while she was attending University of Nevada, Las Vegas. He said he wasn't looking to make a quick buck by "flipping" the unit.
When his daughter transferred to a college in the East, Jourdan decided he'd be better off renting the unit than selling it for around $85,000, its value today.
Therein lies the catch. The codes, covenants and restrictions, or CC and R's, stipulate that anyone who bought at Mar-A-Lago in 2006 or later isn't allowed to rent. Jourdan has to evict his renters and is now forced to pay $1,500 a month for empty space or sell it as a short sale.
"I just find it amazing that in this economy and in these times, that this HOA would find it more prudent to kick one family out and force another to endure bad credit and ensure that everyone's property value will drop as a result of the short sale, all in the name of protecting the other homeowners," he said.
Community association boards are obligated to follow state law and have the right to change governing documents, said Frank Rathbun, spokesman for Alexandria, Va.-based Community Associations Institute. Because of problems reported in condo communities saturated with renters, some associations are limiting the number of renters, he said.
Jourdan said he's not disputing the stipulation that his condo be owner-occupied, and he understands why owners want to keep it that way. He just thinks there should be some sort of hardship contingency that allows him to rent until he can sell.
"When I do have to short-sell, they're just locking in comps (comparable sales) at $80,000. It's ridiculous. All I want to do is keep a cash flow until I sell," Jourdan said.
Mar-A-Lago HOA manager Judy Lukehart said she doesn't make decisions; she simply enforces the CC and R's.
"They have never made an exception to this and it wouldn't be fair to the people who were denied in the past to make an exception now," she said. "We can't selectively enforce our rules."
Kristin Remhoff, vice president of operations and community services for TerraWest Property Management in Las Vegas, said condo communities started capping rentals in 2005 and 2006 because of the difficulty in getting loans for buyers.
"If there was more than 'x' percentage of rentals, the banks and mortgage companies weren't giving loans out," she said. "Now, because of investors, builders and HOAs had to put deed restrictions on the titles. I have one community where one-third is deed-restricted and the other two-thirds can rent. I need a color-coordinated map to keep it straight."
Contact reporter Hubble Smith at hsmith@reviewjournal.com or 702-383-0491.