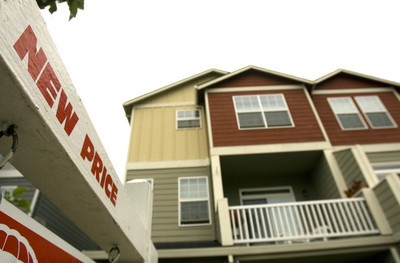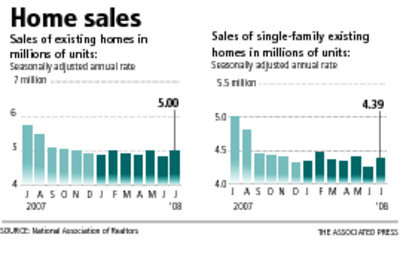 Sales of existing homes in the West edged higher overall in July, as many buyers took advantage of falling prices in foreclosure-ravaged areas in California, Nevada and elsewhere, according to two reports Monday.
About 1.1 million preowned houses and condominiums were sold last month in the 13-state region, up almost 1 percent from the same month last year, according to the National Association of Realtors. But the median home price in the West plunged by more than 22 percent versus a year ago to $273,200, the association said.
Nationally, existing-home sales were down 13.2 percent from July last year, but rose 3.1 percent from June to a seasonally adjusted annual rate of 5 million units, down from June's downwardly revised rate of 4.85 million units. The U.S. median home price slipped 7.1 percent to $212,400 compared with July 2007.
Sales had been expected to rise by only 1.6 percent, according to economists surveyed by Thomson/IFR.
"The process of a recovery has begun," said Joel Naroff, president of Naroff Economic Advisors. "It's not going to be short and swift, but it's begun nonetheless."
Despite the third monthly sales increase this year, the number of unsold single-family homes and condominiums rose to 4.67 million, the highest number since 1968, when the Realtors group started tracking the data.
That represented a 11.2-month supply at the July sales pace, matching the all-time high set in April.
The Western region, where sales of foreclosed homes are translating into sharp price declines, was clearly a large drag on the overall market.
Five Western metropolitan areas — Los Angeles, San Diego, San Francisco, Phoenix and Las Vegas — were among the top 10 markets with the steepest median home price declines in the nation last month, according to The Associated Press-Re/Max Monthly Housing Report, which analyzed all home sales recorded by all local agents, regardless of company affiliation.
The Las Vegas metro area, where foreclosures have flooded the market since last year, was the hottest market in the country last month, according to the AP-Re/Max report.
Sales almost doubled versus a year ago, and rose 16 percent from June.
The median home price, meanwhile, fell 25 percent to $220,000 versus a year ago.
"I think our market has probably reached its bottom," said Rosa Herwick, a broker and owner of Century 21 JR Realty in Henderson.
Herwick said bank-owned homes and short sales — meaning the bank agrees to accept less than the value on the mortgage — accounted for much of what was sold last month in Las Vegas.
Las Vegas-based Home Builders Research reported 3,169 resales in July, the seventh straight monthly increase. It brings the total for the year to 15,669, a 7.6 percent decline from a year ago.
The median existing-home price fell 24.5 percent to $210,000.
Las Vegas will probably see a positive year-over-year resale total when next month's figures are tabulated, Home Builders Research President Dennis Smith said.
"Wow. That will be a welcome sight," he said.
Foreclosures, which accounted for more than 60 percent of July's sales, are still having the biggest impact on both new- and existing-home sales, Smith said. They create difficult competition for new-home builders as well as sellers who are not in foreclosure, he said.
Large housing markdowns are also helping some buyers in California overcome their affordability hurdles.
Elsewhere in the West, sales remained on a downward track last month, reflecting the broader, national housing slump.
Seattle and Portland, Ore., were among the top 10 metros in the nation with the most-pronounced drop in home sales.
Sales also fell in Denver; Honolulu; Salt Lake City; Albuquerque, N.M.; Billings, Mont.; Boise, Idaho; and Anchorage, Alaska.
"We've basically been going through this standoff between buyers and sellers," said Michael Tenore, district director of the Seattle area for ZipRealty Inc. "We're just seeing more and more increases in inventory and sales coming down."
However, the number of unsold properties hit an all-time high, the latest indication that the worst housing slump in decades is far from over.
Prices nationwide are not expected to hit bottom until early next year.
Smith of Home Builders Research said about half of the 23,423 single-family homes listed for sale in Las Vegas are vacant.
"In this climate, it doesn't take long for empty homes to get in pretty bad shape," he said.
"However, homes that are in showroom condition are actually getting multiple offers and some are selling for more than the listed price. It seems strange given all the inventory of existing homes to hear of multiple offers, but it is happening."
Review-Journal writer Hubble Smith contributed to this report.