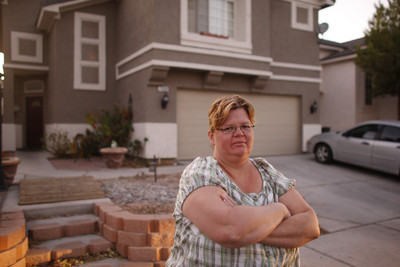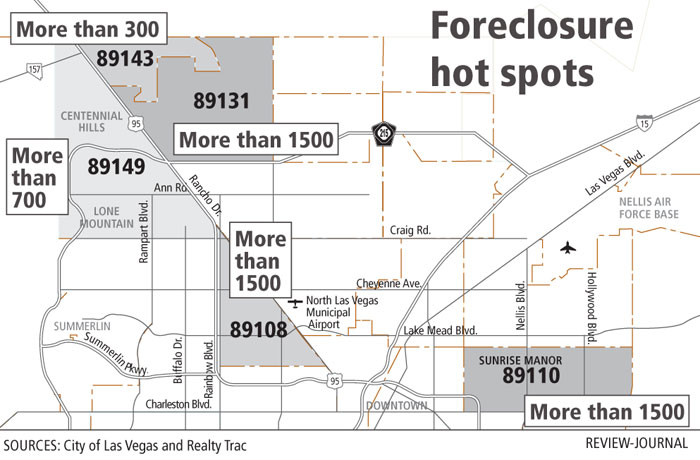 Tammy Soudbakhsh was one of the first people to move into her subdivision more than 10 years ago.
She bought a modestly priced house in a stable neighborhood where her daughter had plenty of peers to play with.
Several homes around Soudbakhsh are now empty because of foreclosures. The vacated houses sit inside a northwest Las Vegas ZIP code that has more than 1,500 foreclosures.
"We knew who our neighbors were," Soudbakhsh said. "Now, we don't even know who's next to us."
Against that backdrop Wednesday, Senate Majority Leader Harry Reid talked up the new Neighborhood Stabilization Program, which provides money aimed at getting people into empty, foreclosed homes so that the properties don't continue to bring down their neighborhoods.
He was joined by Las Vegas Mayor Oscar Goodman, Las Vegas City Councilman Steve Ross and Phyllis Hargrove from the U.S. Department of Housing and Urban Development.
"Think about where we are today," said Reid, D-Nev., standing in front of an empty house in preforeclosure proceedings that still had Christmas decorations hanging outside. "This was a friendly home. People were having a good time up and down this neighborhood."
The $3.92 billion Neighborhood Stabilization Program is part of recently passed federal housing legislation. Nevada is in line to receive $72 million targeted at foreclosed and abandoned properties, including $22.8 million for Clark County and $14.8 million for the city of Las Vegas.
North Las Vegas has $6.8 million coming, and Henderson will have $3.2 million.
The funds can be used to buy property, demolish or rehabilitate properties, and offer help with down payments and closing costs for low- to moderate-income home buyers.
"We don't want the American dream to be a nightmare," Hargrove said. "We want people to continue to own homes, but we want people to own homes that they can afford."
Plans for the funds are due Dec. 1, and the money is expected to be available in mid-January, Goodman said.
"Unfortunately, these funds cannot be used to prevent foreclosures," he said. "That is something for another day."
Reid urged people facing foreclosure to take steps to stave it off, noting that programs are available to help people renegotiate loans and handle debt.
"A foreclosure is not good for anyone," Reid said. "Answer your phone. Answer your mail. Don't ignore the problem. It'll only get worse."
Soudbakhsh said things are getting worse in her neighborhood near Farm Road and Durango Drive. Six houses have been foreclosed upon on her street, although two have since been reoccupied.
Her 89131 ZIP code has 1,515 foreclosed properties and 882 in preforeclosure, according to data the city compiled from the Realty Trac service. Two other ZIP codes — 89108 and 89110 — also have more than 1,500 foreclosed properties.
Overall, the city had almost 15,000 foreclosures as of this month and 8,335 properties in preforeclosure. Unincorporated Clark County listed 12,100 foreclosures.
Residents see the impact in unkempt yards, unmaintained pools, struggling homeowners associations and, sometimes, increased crime.
But perhaps where they feel it the most is in the deflating value of their own homes.
Ruth Castillo-Dziadon, another 89131 resident and a longtime real estate agent in Southern Nevada, said she has seen houses once valued at more than $300,000 selling at auction for $180,000.
She's not feeling the pinch — she and her husband bought before the boom, put a lot down on their house and have low payments — but her neighbors are.
"It used to be a very stable area," Castillo-Dziadon said. "This was where you could get the most bang for your buck. It breaks my heart that people's dreams are falling apart."
Soudbakhsh said she and her husband are weathering the storm so far, although they'd like to refinance their house. That is proving hard to do, however, because of the foreclosures in her area and the plummeting value of their home.
"We were responsible. Us, we're still going to be able to do it. But what about our neighbors?"
Contact reporter Alan Choate at achoate@reviewjournal.com or 702-229-6435.
VideoWORKSHOP FOR THOSE WHO HAVE LOST HOMES A workshop for people facing foreclosure and those who have already lost their homes will be held from 8 a.m. to noon Nov. 1. It will be held at 730 W. Cheyenne Road, Suite 130, and offers advice from experts. Call 702-221-6224, ext. 1700, for more information. Homeowners facing foreclosure also can contact the following organizations for help: • Consumer Credit Counseling Service: 702-364-0344 • Homeownership Preservation Foundation: 888-995-HOPE