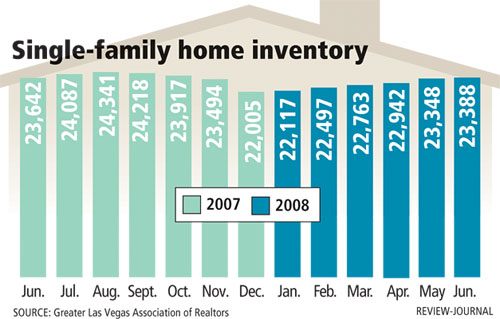 Home sales in Las Vegas increased for the sixth straight month in June and inventory remained stable, the Greater Las Vegas Association of Realtors reported Wednesday.
Realtors sold 2,226 single-family homes in June, up 50.8 percent from the same month a year ago and up from 2,026 sales in May.
"We're encouraged to see another significant increase in the number of homes sold here in the Las Vegas area," association president Patty Kelley said. "This is a good sign for our local housing market and for the Las Vegas economy overall."
The number of homes listed for sale remained fairly steady, climbing 0.2 percent in June to 23,388 units. That's down 1.1 percent from June 2007.
Frank Nason, president of Las Vegas-based Residential Resources, said the number of listings is stable, but has increased every week in recent months. However, recorded sales have increased at a faster rate over the past 60 days.
That has reduced the supply of homes on the Multiple Listing Service from about 18 months at the beginning of the year to 13.7 months at the end of June. That number can change dramatically, based on closings, Nason said.
Bank-owned properties are setting the pace in sales and helping establish the bottom in prices, he said. They account for about 65 percent of closings.
"Banks are becoming more aggressive in pricing," Nason said. "In the beginning of the year, they weren't bending too much. They had a fixed price and they stood by it. Now they're trying to get them off their books. If you don't start moving short sales and bank-owned properties, you're going to end up with more foreclosures and the situation could get worse."
The median home price in June was $225,000, a 4.9 percent slide from May and 26.2 percent decline from a year ago, according to the Realtors' association.
The median price for 294 condos and townhomes sold in June was $137,500, down 1.4 percent from May and down 29.2 percent from a year ago. Available listings increased 1.7 percent during the month to 5,537 units, down 11.6 percent from a year ago.
Distress sales of affluent Las Vegas real estate from bank foreclosures, short sales and builder closeouts are on the rise, Rob Jenson of Jenson Group said.
More common among homes valued under $1 million, foreclosures are now hitting upscale neighborhoods around the valley as luxury homeowners are unable to cover ballooning mortgage payments, he said.
Two out of every three closings in June were distress sales, and bank-owned homes are selling for 25 percent less than their previous listing price, Jenson said.
"While overpriced homes do still persist in this overly saturated market, many sellers are entirely aware they are competing with distress sales and are being prudent with their pricing," he said. "And the investment-savvy are buying in. In today's volatile real estate market, one man's loss is truly another man's gain."
A housing recovery may be on the horizon, according to a new study from the Joint Center for Housing Studies at Harvard University. The study finds immigration and other demographic trends will fuel housing demand over the next decade.
"The good news is we still have a growing population," Nicolas Retsinas, director of the center and one of the study's authors, said in a CNNMoney.com article. "As long as you have more households, more people are going to need places to live."
Contact reporter Hubble Smith at hsmith@reviewjournal.com or 702-383-0491.
FORECLOSURE FILINGS GROW WASHINGTON — The number of homeowners stung by the rout in the U.S. housing market jumped last month as foreclosure filings grew by more than 50 percent compared with June a year ago, according to data being released today. Nationwide, 252,363 homes received at least one foreclosure-related notice in June, up 53 percent from the same month last year, but down 3 percent from May, RealtyTrac Inc. said. One in every 501 U.S. households received a foreclosure filing last month. Foreclosure filings increased from a year earlier in all but 11 states. Nevada, California, Arizona, Florida and Michigan continued to have the highest foreclosure rates. Irvine, Calif.-based RealtyTrac monitors default notices, auction sale notices and bank repossessions. More than 71,000 properties were repossessed by lenders nationwide in June, the company said. THE ASSOCIATED PRESS