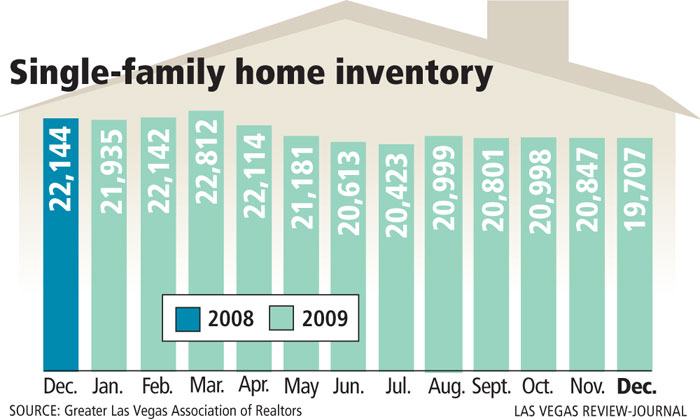 The Las Vegas housing market ended 2009 with a trend of declining inventory and increasing sales, December statistics from the Greater Las Vegas Association of Realtors showed.
Realtors sold 3,472 single-family homes in Las Vegas in December, a 36.9 percent increase from December 2008, the association reported.
Including condos and townhomes, home sales totaled 46,879 in 2009, compared with 28,618 the previous year. It was second only to 2004, when 71,963 homes were sold in Southern Nevada.
The median home price fell 22.3 percent to $136,000, while inventory of homes on the market declined 11 percent to 19,707.
"Looking back, I think it's safe to say that this past decade was a challenging period for the local housing market, as well as for the Las Vegas economy," said Rick Shelton, president of the Realtors association. "I can't imagine this new decade being anything like the one we just experienced. For 2010, we're anticipating a more stable housing market."
There were 776 condo and townhome sales in December, up 70.5 percent from the same month a year ago. The median price fell 27.4 percent to $65,300.
Forty percent of December's home sales were purchased with cash, most of them on the lower end of the market. Sixty percent were bank-owned, down from two-thirds in the beginning of the year.
Mark Stark, owner-broker of Prudential Americana in Las Vegas, said his office closed about 9,000 transactions in 2009, compared with about 6,000 in 2008.
"First of all, the tax credits are huge," Stark said of the $8,000 rebate for first-time home buyers. "They're certainly creating a lot of buzz, so we'll see if that gets extended. The other aspect is if you look at the segment where the business is coming from, a majority is in the low end. Look at how many of those 46,000 sales were under $100,000, and it's a big number."
Average sales price for Prudential Americana's closings dropped from $440,000 to $165,000 in the past 18 months, he said. Homes that once sold for $300,000 and appreciated to $1 million will continue to experience steep declines.
"I don't see a lot of changes for next year," Stark said. "I don't see a glut of REOs (foreclosures) hitting the market. I see short sales increasing dramatically."
Nearly 70 percent of listings in Las Vegas are short sales, or homes offered for less than the mortgage balance, which requires bank approval.
The number of single-family homes listed for sale without pending or contingent offers rose slightly in December to 8,405, according to Realtor statistics. Condos and townhomes for sale without an offer declined to 4,576 units.
The value of all single-family homes sold through the Multiple Listing Service in December rose 9.5 percent from a year ago to nearly $559 million.
Some of the older, established neighborhoods in Las Vegas have seen a significant rebound in prices, said Paul Bell, president-elect of the Realtors association. He specifically referred to the area around Charleston and Oakey boulevards, west of Interstate 15.
Bell had three offers on short sales over the weekend from VA buyers with $1 down. More military retirees will come with the phased opening of the VA hospital in North Las Vegas, he said.
Statistics from the Greater Las Vegas Association of Realtors are based on data collected from the Multiple Listing Service and do not necessarily account for sale by owners, homebuilders and transactions not involving a Realtor.
Forrest Barbee, Prudential broker and GLVAR board member, predicted that 2010 will bring a "more efficient climate" for conducting short sales and loan modifications. The Home Affordability Financing Alternatives will pave the way for a more streamlined short-sale process, he said.
"Banks have not been truly motivated to work on them expeditiously and, as a result, they have taken anywhere from six months to 18 months to complete," he said. "The lengthy time frames have also led to unusually high fallout rates in those escrows."
Contact reporter Hubble Smith at hsmith@reviewjournal.com or 702-383-0491.
LAS VEGAS HOME SALES
2000 17,947
2001 21,921
2002 26,513
2003 35,824
2004 71,963
2005 41,401
2006 29,956
2007 18,555
2008 28,618
2009 46,879
SOURCE: Greater Las Vegas Association of Realtors