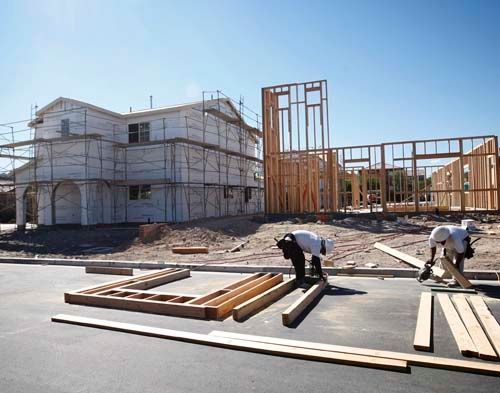 The massive Inspirada development in Henderson, which emerged from bankruptcy proceedings less than a year ago, faces a new legal threat that could bring construction to a halt.
A U.S. District Court lawsuit filed Sept. 10 contended a lender that took land to repay about $30 million in debt has not signed a related package of easements and licenses, as promised in bankruptcy court last November. The agreements would allow the project's four developers, operating as Inspirada Builders LLC, to construct critical infrastructure for Inspirada as well as restructure the master development agreement with Henderson city officials.
Now lender Kennedy Funding Inc. wants to sell the land without the agreements, cutting off any obligation for the unidentified buyer to accept them. If Kennedy goes ahead, according to court papers, "it will jeopardize recommencing development at Inspirada."
But at least one attorney is hopeful of a settlement.
"We believe this will be resolved shortly," said Los Angeles attorney Bruce Van Dalsem, representing Inspirada Builders. He added that he expected Kennedy to sign the agreements, but litigation would proceed if necessary to put them in place.
Partners at Kennedy Funding, a hard-money lender based in Englewood Cliffs, N.J., did not return calls seeking comment. Hard-money lenders provide funding based on the value of land in its current condition and not what a developer plans to do with it.
Although Kennedy owns only 72.6 acres out of the 1,953 acres for all of Inspirada, the land lies in an important position to continuing with Inspirada as designed. The master plan envisions 13,500 homes in west Henderson clustered in seven "villages" ranging in size from 200 to 250 acres each, with a 400-acre town center, to try to create a community feel instead of a nondescript subdivision. Before the recession, the total build-out was estimated at $1.2 billion.
To resolve the complex litigation that followed the initial default to a consortium of lenders in 2008, four of the original eight builders – KB Home, Toll Bros., Beazer Homes and Pardee – essentially agreed to buy the project for about $335 million. KB Home had committed to take nearly half of the land.
The Kennedy deal was one of the numerous side issues that lawyers, bankers and developers resolved to put Inspirada back on its feet. Since then, limited home construction has started, with KB Home staging a marketing promotion early this summer to mark the second phase's launch.
The land involved in the Kennedy deal was held by FSG-R LLC, once a constellation of entities set up to own pieces of Inspirada.
FSG-R's bankruptcy, which was filed in 2009, was dismissed at a Nov. 30 hearing, where the need to sign the agreements was brought up. "Apparently, only one side has signed it and I only have (Kennedy) attorney's representation that the other side will sign it," U.S. Bankruptcy Court Judge Bruce Markell said at the time.
In the hours before the hearing, according to emails added as exhibits to the latest lawsuit, attorneys for both sides and KB Home executives frequently asked whether Kennedy had signed.
Ultimately, Kennedy ran out of time, attorney Ogonna Atamoh said at the hearing, "but they have authorized me to state on the record that they agree to the terms."
Contact reporter Tim O'Reiley at toreiley@reviewjournal.com or 702-387-5290.