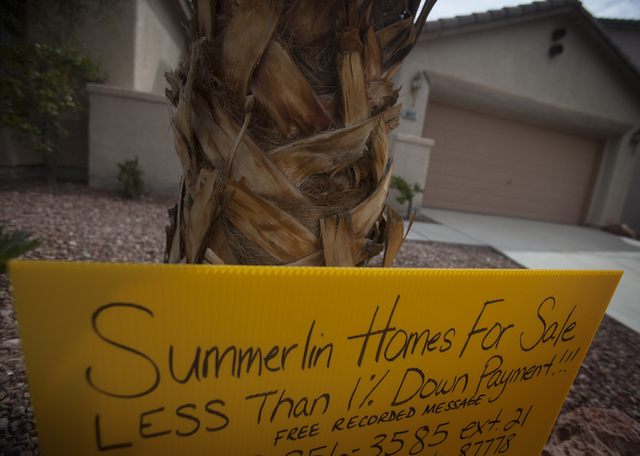 Interest rates for mortgage loans have increased since 2013 — but they have not caused a major dent in the market as lenders and consumers shift away from refis to mortgages for home purchase.
According to data from Freddy Mac's Mortgage Market Survey released Thursday, interest rates for a 30-year, fixed-rate mortgage stand at 4.29 percent, an almost 1 percent increase from the same time in 2013, when interest rates were 3.35 percent.
"Even though they have increased slightly, interest rates are still very low based on historic standards," Silver State Schools Credit Union Chief Credit Officer Steve VanSickler said. "I don't think the interest rate increase we have seen in the last few months has affected lending."
VanSickler said that from 2000 to 2013, the average rate for a mortgage was 5.67 percent — considerably higher than the current rate. As long as the lending rate is lower than 6 percent, mortgages still will be attainable to the public and will be considered a good investment, he said.
At least one consumer agreed.
"In comparison to last year, interest rates this year are still low enough that I could buy a home and it would be a good investment," said Mike Hedrick, 59, a Las Vegas resident and professor of business at the University of Phoenix, who is looking to obtain a mortgage to buy a home. "The ongoing rate is still very doable for us."
Hedrick said that for a $200,000 mortgage, he prequalifies at a rate of about 4.5 percent and that with some money down, his payments will be about $980 per month.
"That would be very possible for us to do, and it makes much more sense than renting," he said.
Nevertheless, the almost 1 percent increase in the interest rate could constitute an increase of approximately $100 in a monthly payment, potentially pricing some people out of the market.
"If it affects some people, it would be to a very small segment of the population," said Heidi Kasama, president of the Greater Las Vegas Association of Realtors. "The interest rates have not dampened buyers' ability to purchase a home."
Kasama said that the GLVAR has not seen large swings over the past few months that indicate people are unable to purchase homes because of rising interest rates.
LENDING raTeS STILL REASONABLE
Sandy Streator, Wells Fargo Bank regional sales manager for Nevada and Oregon, said people are still interested in buying homes because lending costs are still reasonable. She said that the market has shifted within the past couple of years as refinancing numbers have decreased slightly while mortgage loans have increased.
Franco Manueli, branch manager and mortgage agent for Sierra Pacific Mortgage Co., said refinance applications at his company have dropped about 50 percent in the first quarter of 2014 in comparison with the last quarter of 2013.
Streator attributes the lower number of refinances to the fact that many of those who needed to refinance have already done so.
"Most people who qualified for a refinance took advantage of the low rates already," Manueli said. "For others, they may not have been able to qualify for a refinance at that time, or simply put off the application process."
Manueli added that the market has changed abruptly in favor of purchasing as opposed to refinancing and that data from the Ellie Mae Origination Insight Report show that the percent of mortgage loans is much higher for home purchases than for refinancing.
"In my office, we went from 80 percent refinances to 80 percent purchases in what seemed to be, almost overnight," he said.
Nonetheless, some mortgages offices are still experiencing a high demand for refinancing, though the higher demand is for purchases.
"We are still doing quite a few refinance loans," Streator said. "The rates are still very low, and people are still taking advantage of them. Credit is still available. and we are still doing a lot of loans for both refinancing and purchases."
RATES MAY BE HEADED UP
People should be aware that while the interest rates are still considered to be affordable, they are likely to continue to increase in the upcoming years, said Luis Lopez, data analyst for the UNLV Lied Institute for Real State Studies.
According to data from the Mortgage Bankers Association, interest rates are predicted to rise to 5 percent by the fourth quarter of 2014 and to 5.3 percent by the end of 2015.
"As we look into the future, if the rate is below the historical average of approximately 6 percent, purchasing a home will still be a good investment," Credit Officer VanSickler noted.
Given that interest rates are still low compared with previous years but are likely to keep increasing, if people buy homes now, they are likely to gain wealth from the property later on because of the home's capital appreciation, Lopez said.
"I certainly want to encourage buyers who are interested to go out there now," Kasama said.
"Interest rates and home prices are still very reasonable, and we don't know what the future holds."
Contact reporter Maria Agreda at magreda@reviewjournal.com or 702-383-0391. Find her on Twitter: @mjfagre.