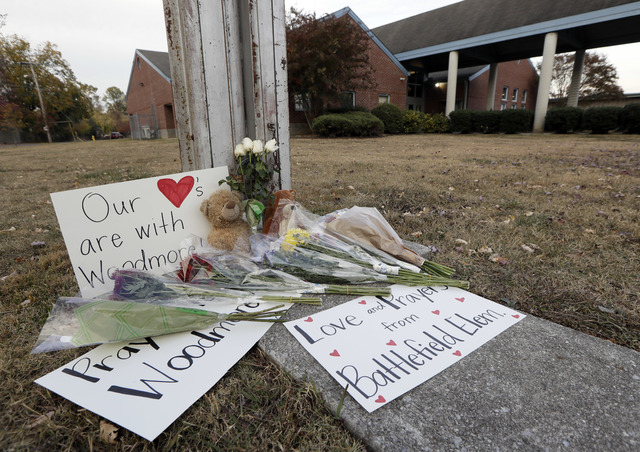 That screeching sound heard throughout Las Vegas Valley is the brakes being applied not only to large-scale Strip projects, but to many of the residential and mixed-use projects planned for the outskirts of town and outlying rural areas.
Two or three years ago, when the average worker was being priced out of the Las Vegas housing market, residential development boomed in Pahrump and Mesquite, where land was still relatively inexpensive and the towns were ripe for growth.
Expansive master-planned communities such as Coyote Springs 50 miles northeast of Las Vegas and White Hills in northern Arizona advertised the lifestyle and amenities associated with Summerlin and Anthem — poster neighborhoods in Las Vegas — at a significant discount in home prices.
Focus Property Group, which snapped up thousands of acres at public land auctions, sank more than $1 billion into the development of the Mountain's Edge, Providence and Inspirada communities. The company also made a play in Pahrump with about 1,000 acres.
So-called "bedroom communities" were popping up in rural nooks such as Sandy Valley, Logandale, Glendale, Riverside and Indian Springs.
The housing and economic downturn has put a damper on most of those plans. Some have been slow to develop; others are changing direction.
Whether Las Vegas is on the verge of a boom or bust is a matter of opinion that's been debated for at least 50 years, dating back to the infamous headline on the cover of Life magazine in June 1955: "Las Vegas: Is Boom Overextended?"
"The projects that were marketed to come on line and haven't … am I going to suggest that those projects won't get built? No way," housing analyst Dennis Smith of Home Builders Research said. "Do you think Las Vegas will stop growing? Does anybody really think Las Vegas will stop growing?"
With higher gasoline prices, making the drive from Coyote Springs or Pahrump to Las Vegas will take a big chunk out of any home-price savings. Builders who were once headed for distant lands may now want to concentrate on projects closer to the city's core.
"People are doing the math, figuring the extra gas costs, and will only make the drive if the home cost is so much cheaper it's worth it," California-based real estate consultant John Burns said. "If it's $300 a month in gas, the house payment had better be $300 less."
KB Home, one of the major builders in the 2,000-acre Inspirada development near Henderson Executive Airport, considered going outside the valley when land prices soared to more than $500,000 an acre, but it seemed like too much of a stretch at the time, said Don DelGiorno, division president for KB.
"We wanted to wait and see if they matured," he said. "The world has changed a lot with housing and the price of gasoline. Obviously, the market is a challenge everywhere. You have to make do with what you have."
Other builders at Inspirada are in trouble. Utah-based Woodside Homes is experiencing financial problems; Kimball Hill Homes filed for bankruptcy this year. Toll Bros., Meritage Homes and Beazer Homes are also partners in Inspirada.
Home building at Coyote Springs has been delayed 18 months and prices have yet to be determined, said Klif Andrews, Nevada division president of Pardee Homes.
"It's partly the market — we're not in a rush to get in the market today — and it's partly slow construction activity," he said. "It was difficult to complete some of the things we had to complete."
The golf course is finished and open for play and some of the basic infrastructure is in place, including 21,000 feet of sewer lines and 11,000 feet of water lines. A water treatment plant is finished and a separate wastewater and sewer plant is near completion.
"You've got to spend $30 million on wastewater treatment before you can hook up one toilet," Andrews said. "That's why houses will always appreciate because it's difficult and expensive to build in outlying areas."
New-home sales have slowed to a crawl in Las Vegas, down 46.6 percent through July from a year ago, and new-home permits have dropped 61 percent, Home Builders Research reported.
Based on the first six months of permit activity and expected demand for the rest of the year, Smith projects 8,200 to 8,500 permits for 2008, the lowest total since the mid-1980s.
Jeremy Aguero, principal of Applied Analysis, a Las Vegas business consulting company, said all development projects have their problems, but when nothing is selling, nothing is going to get built.
"To believe that these outlying areas would have a free ride when the market was good or would disappear when the market is bad … those are equally tenuous positions to take," Aguero said.
Communities such as Coyote Springs and White Hills have a relatively low land basis and are large enough to spread costs over hundreds of thousands of housing units, he said. They may become more than just "bedroom communities."
"Who knows which ones will succeed and which ones will fail. But to suggest that the last boom in Southern Nevada will be the final boom is a silly proposition," Aguero said.
With home prices down 25 percent from a year ago, Las Vegas is one of the top five cities in the nation for long-term investment, Burns said. He isn't projecting price increases in any of the 100 markets he tracks for demand, supply and affordability.
"There's a real misnomer that Las Vegas is supply-constrained," Burns said. "If I had a dollar for every time I heard that. I know a lot of land is owned by the Bureau of Land Management, but there are hundreds of subdivisions to choose from.
"While it is supply-constrained compared to Phoenix, the average consumer doesn't see that," Burns added. "That's what drove people to speculate on development in outlying areas. That's partly misguided on their part."
The housing downturn and rising gasoline prices are each exerting a significant contractionary influence on the nation's gross domestic product, author James Hamilton wrote in a June 12 article for SeekingAlpha.com. There's also an interactive effect between the two.
"Temecula is a community in Southern California some 60 miles from downtown San Diego and not a whole lot closer to anywhere else," the University of California, San Diego professor wrote. "And yet I've known people who commute to work here from Temecula, having been willing to trade driving time for more affordable housing.
"The population of Temecula doubled over the last decade," Hamilton continued. "But with gas now nearing $4.50 a gallon in San Diego, the housing-commuting trade-off is looking a lot less favorable for these exurban communities."
Mark Dunford of Las Vegas-based American West Homes said people were willing to commute long distances if they could save money on their homes, but that was before oil prices doubled.
American West is holding onto about 1,200 acres for its Mountain Trails community in Pahrump, working on entitlements and underground infrastructure.
"We'll do fine," Dunford said.
Smith of Home Builders Research said "bust" may be an overreaction to the slowdown in rural residential development. He says that "delay" may be more appropriate.
"Bust suggests it's gone away, but they haven't gone away. They're waiting for the financial situation to improve so they can move forward," he said. "If the financial situation improves, then consumer demand will improve. You have people trying to buy today, but they can't qualify."
The average cancellation rate was 24 percent in June for all new-home subdivisions in Las Vegas, Smith noted; it was 33 percent in May.
Providence, a 500-acre master-planned community in northwest Las Vegas, is slowly being built, though a couple projects there have been canned, Smith said.
"It's not a bust," he said. "There's houses closing escrow out there every month. I'm not saying builders wouldn't like to see more. Pretty much every builder has looked at every subdivision and retooled it to get the product and price point where people will buy."
KB responded to current market conditions by offering smaller floor plans and bringing prices down to the $140,000s. Sales are always a challenge in Las Vegas during the summer months, DelGiorno said, but he's getting four to five a week at Inspirada.
A marketing employee at Rhodes Homes said the 5,000-acre Pravada community near Kingman, Ariz., is in the midst of government approvals. Construction is scheduled to begin early next year.
Most local housing analysts agree that residential communities in northern Arizona won't blossom until the Hoover Dam bypass bridge over the Colorado River is completed in about two years.
This story first appeared in the Business Press. Contact reporter Hubble Smith at hsmith@reviewjournal.com or 702-383-0491.