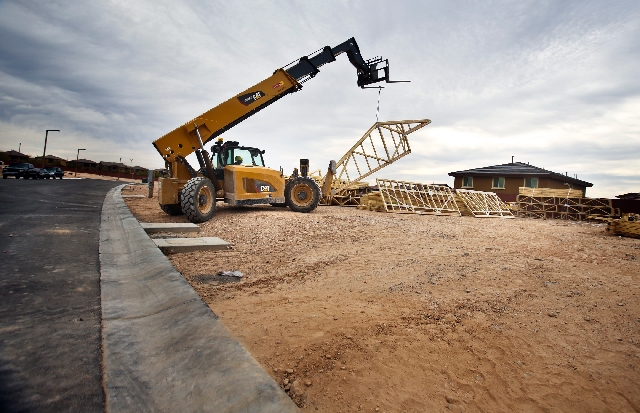 WASHINGTON — U.S. home prices, including those in Las Vegas, rose in January at the fastest pace since the summer of 2006, just before the housing bubble burst. The gain shows the housing recovery is strengthening ahead of the spring buying season.
The Standard & Poor's/Case-Shiller 20-city home price index climbed 8.1 percent in the 12 months ending in January. That's up from a 6.8 annual gain in December.
Las Vegas was up 15.3 percent from a year ago and up 1.6 percent from December.
Prices rose in all 20 cities, led by a 23 percent gain in Phoenix. Eight metropolitan areas — Atlanta, Detroit, Las Vegas, Los Angeles, Miami, Minneapolis, Phoenix and San Francisco — reported double-digit year-over-year returns.
The S&P/Case-Shiller index covers roughly half of U.S. homes. It measures prices compared with those in January 2000 and creates a three-month moving average. The January figures are the latest available.
Separately, the Las Vegas-based SalesTraq housing research firm showed a median existing-home price of $130,000 in January, a 30 percent increase from the same month a year ago and unchanged from December.
Figures from January 2012 represent the lowest point in the post-bust cycle, SalesTraq analyst Brian Gordon said. Existing-home prices reached nearly
$88 a square foot in January, well above the $65 a square foot from a year ago.
Phoenix and Las Vegas posted the highest annual increases, and they also were among the hardest-hit by the housing bust, said David Blitzer, chairman of the Case-Shiller index committee.
A separate report Tuesday showed sales of new houses in February capped the best back-to-back months in more than four years, spurred by near record-low borrowing costs and improving job prospects.
Purchases of newly built houses fell 4.6 percent to a 411,000 annualized pace, following a 431,000 rate in the prior month that was lower than previously estimated, the Commerce Department reported Tuesday in Washington. It was the best two-month showing since August and September 2008.
The increase in demand is contributing to growth as it ripples through the economy, boosting home-improvement retailers, appliance and furniture makers, and builders, including KB Home and Lennar Corp.
"Economic data continues to support the housing recovery," Blitzer said.
An analyst agreed.
"Over time, persistently rising house prices also boost household wealth, make lenders more willing to lend because the asset they're underwriting is appreciating, and ease pressure on local government budgets that get revenue from property taxes," Jonathan Basile, director of economics at Credit Suisse, wrote in a research note.
More Americans are putting their houses on the market, suggesting they believe the housing market will continue to strengthen. At the same time, still-restrictive lending rules and a lack of available land on which to work may restrict how fast the housing rebound unfolds.
The number of available homes for sale rose 10 percent last month, the first monthly gain since April. Even with the gain, the inventory of homes for sale was still 19 percent below a year ago.
Tight inventory is evidenced locally. SalesTraq is showing an effective housing inventory of one to two months in most areas of Las Vegas.
Review-Journal writer Hubble Smith and Bloomberg News contributed to this report.