Las Vegas house prices reach highest level in 11 years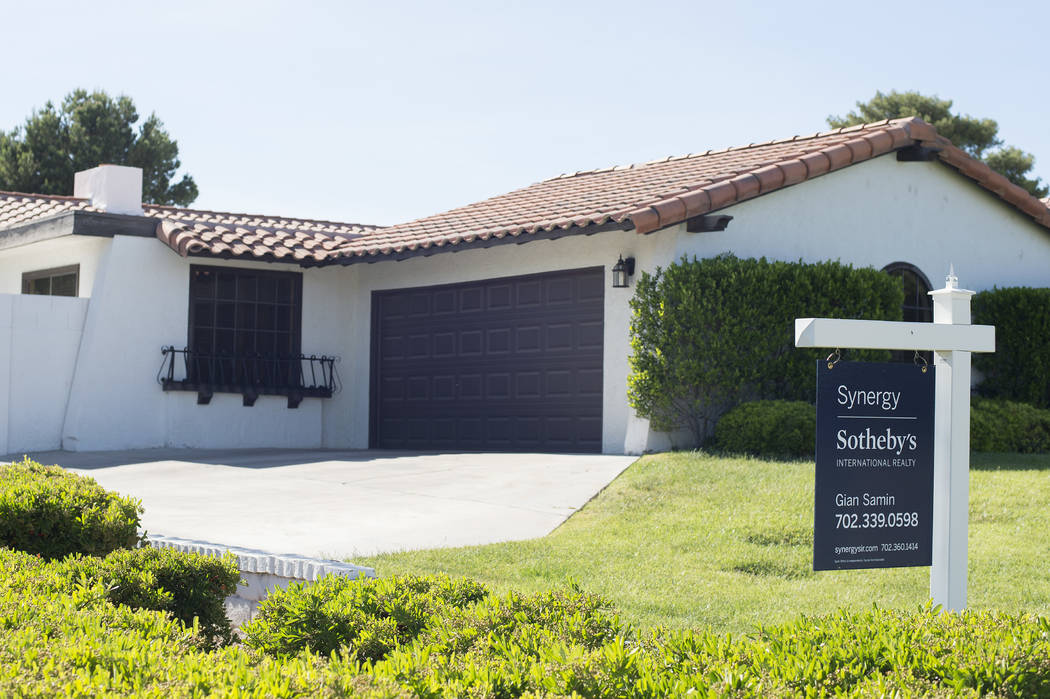 Las Vegas house prices reached their highest level in more than 11 years last month as sales totals plunged.
The median sales price of previously owned single-family homes was $300,000 in September, up 1.7 percent from August and 13.2 percent from September 2017, according to a new report from the Greater Las Vegas Association of Realtors.
It was the first time since June 2007 that the median house price reached the $300,000 mark, the GLVAR said.
Las Vegas home prices have been rising at one of the fastest rates in the country over the past year, and according to research firm Attom Data Solutions, the market is less affordable than the national average. Amid the rapid growth, there have also been some signs of a pullback, including a drop in sales and a rising tally of available listings.
If anything, the return to the symbolic $300,000 mark is another sign that Las Vegas is getting closer to the peak prices of the bubble years, though when adjusted for inflation, that trek remains a lot longer than people may realize.
Scott Beaudry, owner of Better Homes and Gardens Real Estate Universal, said the current median shows that Las Vegas is still rebounding from the "record lows" of the housing crash, and that the rising prices help upside-down homeowners escape underwater status.
But he also said prices can rise too rapidly, adding, "What comes up must come down."
According to the GLVAR, the median sales price of a previously owned single-family house peaked in mid-2006 at $315,000, or more than $391,000 today adjusted for inflation. After the market tanked, it hit bottom in early 2012 at $118,000, or more than $131,000 today.
Orange Realty Group managing broker Tom Blanchard, for one, said the current median is "just another number" and doesn't indicate that homes are too expensive or that a "doom-and-gloom bubble is coming tomorrow."
"Other than it being a psychological thing that we're hitting $300,000 again, that's about the only real significance I see," he said.
Still, sales fell sharply in September and the inventory of available listings climbed.
Buyers picked up 2,436 single-family houses last month, down 20.7 percent from August and 16.4 percent from last September. Also, 6,148 houses were on the market without offers at the end of September, up 5.7 percent from August and 23.7 percent year-over-year, said the GLVAR, which reports data from its resale-heavy listing service.
The increased availability could let some air out of the market by giving buyers more options.
"While our housing supply is still not where we'd like it to be, it has been increasing lately and went up again in September," GLVAR President Chris Bishop, a branch manager with Coldwell Banker Premier Realty, said in a statement. "That's good news for people looking to buy a home here."
Las Vegas broker and investor Josh Galindo, owner of Galindo Group Real Estate, said the market has not reached the point where some buyers can't find anything.
Fast-rising prices might push some people to buy, he said, but they might also scare others off.
"It's kind of a double-edged sword," Galindo said.
Contact Eli Segall at esegall@reviewjournal.com or 702-383-0342. Follow @eli_segall on Twitter.