Las Vegas' master-planned communities make steady comeback
January 9, 2017 - 6:24 pm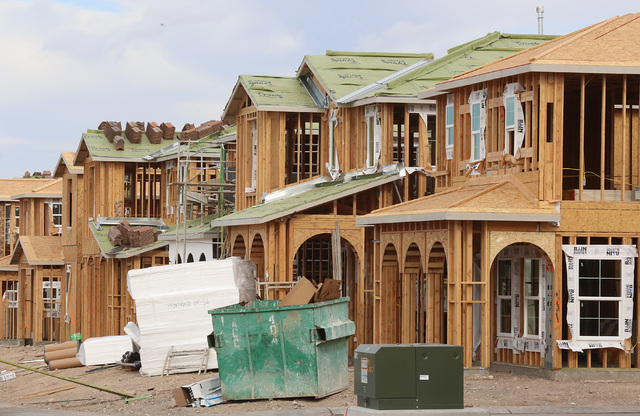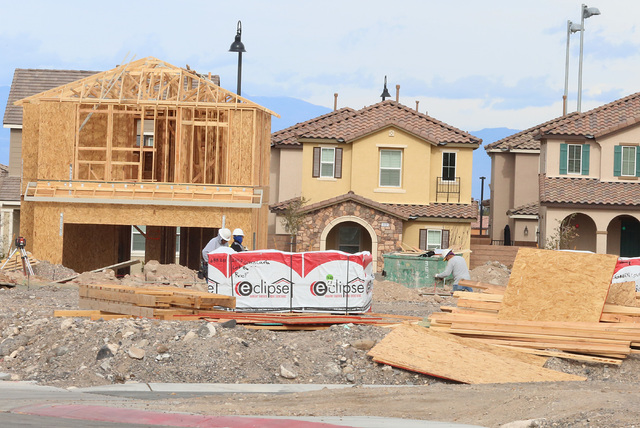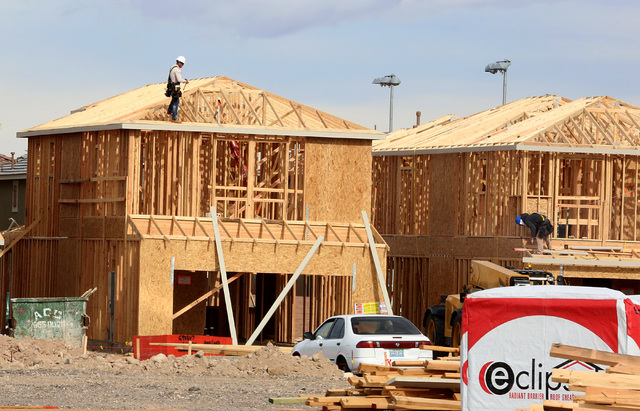 Around the Las Vegas Valley, master-planned communities offer housing, parks, retail, schools and other components. And after the economy crashed last decade, these sprawling projects were derailed with practically everything else in the real estate industry.
Among them: Cadence stalled, Summerlin's developer went bankrupt, Inspirada went bankrupt, Park Highlands went bankrupt twice, and the site of what's now called Skye Canyon was seized through foreclosure before a single house was built.
Master-planned communities aren't all roaring with growth today. But with the homebuilding sector revived from its near-death years ago, such projects are back in business.
Here's an update on some communities around the valley:
CADENCE
The LandWell Co. is developing this 2,200-acre community off Lake Mead Parkway just east of Boulder Highway in Henderson, at the site of a former industrial-waste dump that reportedly underwent more than $120 million in cleanup efforts.
Plans call for 13,250 homes, 1.1 million square feet of commercial property, 450 acres of open space and a 1,500-room casino-resort.
The project is expected to be finished in 10 to 15 years, spokeswoman Cheryl Persinger said.
As of last week, builders had closed about 320 new-home sales in Cadence and were under contract to sell 105, according to figures from Persinger.
A 140,000-square-foot Smith's supermarket is slated to open by the first quarter of 2018; Lake Mead Christian Academy and Pinecrest Academy both opened in Cadence last August; and a 5,000-square-foot veterinarian's office is scheduled to open this summer, Persinger said.
Cadence has been planned for years. In late 2004, LandWell reached a deal to sell the site to former builder Centex Homes, but the buyer backed out in early 2007 as the real estate market was softening.
LandWell CEO Mark Paris has said the market crash delayed Cadence's development.
INSPIRADA
This 1,500-acre project in Henderson, on the southern edge of the valley, is among the top-selling master-planned communities nationally.
Builders closed 564 new-home sales in Inspirada last year, up 45 percent from 2015, according to consulting firm RCLCO, which ranked the project No. 8 in the country for sales last year.
It's bounced back from bleak times. According to reports, Las Vegas developer Focus Property Group teamed with a group of homebuilders in 2004 to buy the project site — then covering 1,900-plus acres — at a federal auction for $557 million. Inspirada opened in 2007, but after the market crashed, investors fought with one another over halted land sales, and lenders pushed the project into bankruptcy.
Today, more than 2,250 homes have been built or are under construction, said Jim Rizzi, director of community development for Pardee Homes and Inspirada's project manager.
He said 7,000 to 8,000 homes would be built in total — the project is allowed 8,500 — and figured it would take eight to 10 more years to finish.
Toll Bros., a builder in Inspirada, has notched four consecutive years of sales growth there, Las Vegas division vice president Larry Wandel said.
As for Inspirada's darker days, he said: "We'd like to think that it's ancient history."
SKYE CANYON
Covering 1,700 acres in the northwest valley, Skye Canyon has approvals for up to 9,000 homes and is being developed by Las Vegas-based Olympia.
Olympia has sold about 160 acres to homebuilders, who have closed perhaps 140 new-home sales, said Chris Armstrong, vice president of development.
He said 60 homes being built are under contract to sell, and another 15 to 20 being built don't yet have buyers.
Olympia, which started selling land to homebuilders about two years ago, teamed with investment firms Stonehill Capital Management and Spectrum Group Management to acquire the site out of foreclosure.
No homes had been built when they took charge.
Focus Property Group teamed with homebuilders to buy the land at a federal auction in 2005 for $510 million. But the former Wachovia Bank foreclosed in 2008, shortly after New York investment giant Lehman Brothers went bankrupt and helped trigger the U.S. financial crisis.
PARK HIGHLANDS
This North Las Vegas project has been sidetracked in numerous ways and, compared to other master-planned communities featured in this report, has shown perhaps the least amount of progress.
In 2005, Olympia led a group that acquired the site at a federal auction for $639 million. Project plans included 15,750 homes, but Park Highlands went bankrupt in 2009 and again in 2011.
Delays mounted due to the recession and because the ever-changing group of landowners, without anyone appointed to oversee the project, could each block development plans, investors have said.
Landowners received City Council approval in 2014 to split the project in two. One project, dubbed the Villages at Tule Springs, covers about 2,000 acres. The other, which became Park Highlands West but is being renamed Valley Vista, covers 600 acres.
The projects call for 10,000 to 12,000 homes combined, said North Las Vegas government spokeswoman Delen Goldberg.
Developers have estimated a 15-year build-out, but "we know it will move a lot faster than that," Mayor John Lee said.
"We're moving very, very quickly," he said.
So far, however, no homes have been built at either project, according to Lee.
Newport Beach, California-based investment firm KBS, the main landowner in the Villages at Tule Springs, could not comment, a representative said.
A groundbreaking for Valley Vista "is estimated for a possible kickoff" in the second half of this year, said Joe Aguirre, spokesman for Irvine, California-based SunCal, which owns one-third of the site and is managing the development for other landowners there.
SUMMERLIN
The largest master-planned community in Las Vegas, Summerlin covers 22,500 acres along the western rim of the valley. More than 100,000 people live there, or about 5 percent of Clark County's total population.
The project started taking shape in 1990. But in 2009 its then-developer, General Growth Properties, filed for bankruptcy protection while sinking under $27 billion in debt.
Months earlier, General Growth had mothballed the partially built Shops at Summerlin Centre, leaving a steel skeleton off the 215 Beltway at Sahara Avenue.
When it emerged from bankruptcy in 2010, Chicago-based General Growth spun off Howard Hughes Corp. with control over Summerlin and other projects around the country.
Dallas-based Howard Hughes finished the once-abandoned retail project, now called Downtown Summerlin, in 2014. And Summerlin's tally of new-home sales is one of the highest among U.S. master-planned communities.
Builders closed 769 new-home sales in Summerlin last year, up 28 percent from 2015, according to RCLCO, which ranked Summerlin No. 5 in the country.
Summerlin is projected to be completed by 2039, according to a securities filing last year.
Contact Review-Journal writer Eli Segall at (702) 383-0342. On Twitter at @eli_segall.