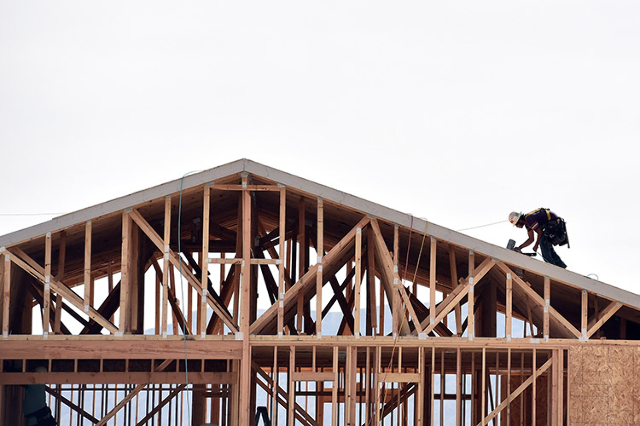 Layoffs are back on the table for employees at the Southern Nevada Regional Housing Authority as a measure to resolve a budget shortfall of between $1.6 million and $1.8 million for fiscal 2016.
But the layoffs — which would be caused by outsourcing services — are still up in the air, at least until the housing authority's board of commissioners meets on Oct. 15.
Commissioners had to approve a fiscal 2016 budget for the agency during a special meeting on Sept. 29 to comply with U. S. Department of Housing and Urban Development rules. The housing authority receives most of its funding from HUD, and the 2016 federal fiscal year began Oct. 1.
Commissioners hope that ongoing contract negotiations with Service Employees International Union local 1107, which represents agency employees, will lead to common ground so that about 23 layoffs and the outsourcing of two departments can be avoided.
"We can make changes anytime we want to, and hopefully, we will make changes once there's a conclusion by the union," Commissioner Rev. Dave Casaleggio said Tuesday of the budget.
No layoff notices have gone out to employees at this time.
The departments that are slated to be outsourced under the budget approved on Sept. 29 include Housing Quality Standards, which does inspections for all Section 8 units. The Housing Choice Voucher Program Section 8 allows families to rent in the private market and receive a subsidy that goes toward the rent, according to the housing authority.
The Family Self-Sufficient Program, which provides services to public housing and Section 8 families, would also be outsourced.
A budget plan that came to light in July and called for outsourcing of services and the layoffs for 40 to 45 employees targeted some of the same departments now on the chopping block under the current budget.
The agency's budget went up to $148.6 million in fiscal 2016 from $145.3 million in fiscal 2015. That's an increase of $3.2 million.
Funding allocated for staff training increased by $63,870 for a total of $105,220 in fiscal 2016, according to documents. That includes reinstating vehicle travel allowances that were voluntarily given up by senior staff a few years back to help the agency's budget woes.
Multiple attempts to reach housing authority Executive Director John Hill by phone and in person for this story were unsuccessful.
Commissioners voted to approve the budget with an understanding that a compromise would be reached, Casaleggio said.
"Not having an agreement doesn't help anyone," he said. "If money is not there and we can't come to an agreement, there's not going to be much choice."
Martha Floyd, chief steward with the SEIU and a housing authority employee, said the supervisory unit voted to pass the contract offered by the housing authority, but the non-supervisory unit voted to reject the contract.
The union will not take the same proposal back to members for another vote, she said.
"They (the housing authority) need to give us another proposal in order to take it to the members again for a vote," she said Monday.
The non-supervisory unit is scheduled to start a fact-finding process at the end of this month, Floyd said. That's where a third, neutral party determines its contract.
"We just want a fair contract," she said.
Commissioner Sanje Sedera said it's crucial that the housing authority develop a plan to increase revenue to help sustain programs in coming years.
"We have a deficit that continues to grow," he said.
Contact Yesenia Amaro at yamaro@reviewjournal.com or 702-477-3843. Find her on Twitter: @YeseniaAmaro