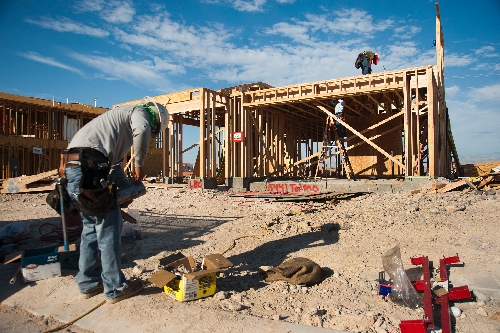 Homebuilders in Las Vegas have been able to increase both sales and prices this year, and their biggest challenge today is finding finished lots at a price that makes sense, a panel of sales executives said Wednesday.
Builders are taking advantage of a tight inventory caused by a bottleneck in the foreclosure process, said John McLaury, vice president of sales and marketing for KB Home.
"Let's face it, there's not a lot of resale homes on the market," he said at a panel discussion sponsored by the Women's Council of Realtors at Canyon Gate Country Club. "One reason for buying new is low (interest) rates. Energy efficiency might be the biggest. Home warranty is another."
Most foreclosure properties are a "piece of junk," added Geoff Gorman, vice president of sales for Harmony Homes.
Gorman said he hears a lot about the gap between the median existing-home price of $118,000 and the median new- home price of $200,000, but existing homes include attached product such as condos and townhomes. Also, appliances in existing homes aren't under warranty.
"What today's market is eliminating is choice," Richmond American sales associate Guy Ghanem said. "You go out and show somebody 10 homes and make an offer on four and hope you get one. When you come into our office, there are no multiple offers. The price you see is the price you pay. We talk about choices and all of a sudden it's not about price, it's about value."
New-home closings jumped in July with 468 recorded closings, a 49 percent increase from the same month a year ago, Las Vegas-based SalesTraq reported. It's the highest total since June 2010, when the first-time homebuyer tax credit was in play.
Pricing for new homes rose 1.6 percent from the prior year to $204,111 in July. Current closing prices are not necessarily reflective of contract price points taking place today, SalesTraq analyst Brian Gordon said.
A number of homebuilders have raised asking prices as constrained inventories push homebuyers toward new product, he said.
D.R. Horton has been able to raise prices by as much as $20,000 over the last six months in certain communities, said Scott Harwood, vice president of sales. New homes around Boulder Highway and Russell Road have gone from $150,000 to $170,000, he said.
KB Home has been increasing prices at its master-planned Inspirada community in Henderson each of the last four to five months, McLaury said.
As homebuilders continue to experience increasing demand, they're pulling more building permits, an indication of future housing starts. SalesTraq reported 549 permits in July, double the level from a year ago. Permitting activity is up 32.1 percent over the last 12 months.
Harmony Homes has closed out sales on three communities that were projected to sell into 2013, Gorman said.
Some housing analysts say Las Vegas won't recover as long as there's a high percentage of vacant homes on the market and in the "shadow inventory" of foreclosed homes yet to be released onto the market.
"If they do come on the market, they're old, they're used, they're not going to have the kind of amenities we have," said Danny Welsh, sales manager of American West Homes. "We're not worried about it."
And to those who say Las Vegas is overbuilt, that depends on their definition.
D.R. Horton has fewer than 50 homes in standing inventory, and American West has fewer than 10 homes left unsold, the respective sales representatives said.
Some people want to be in a home in 30 to 45 days, but it takes up to four months to build a new home, so there's always going to be a certain number of "spec" homes, or homes built on speculative sales, said Jamiel Rashdan of Lennar Homes.
Contact reporter Hubble Smith at hsmith@reviewjournal.com or 702-383-0491.