Mortgage rates reach 6%, first time since '08 housing crash
Updated September 15, 2022 - 7:44 pm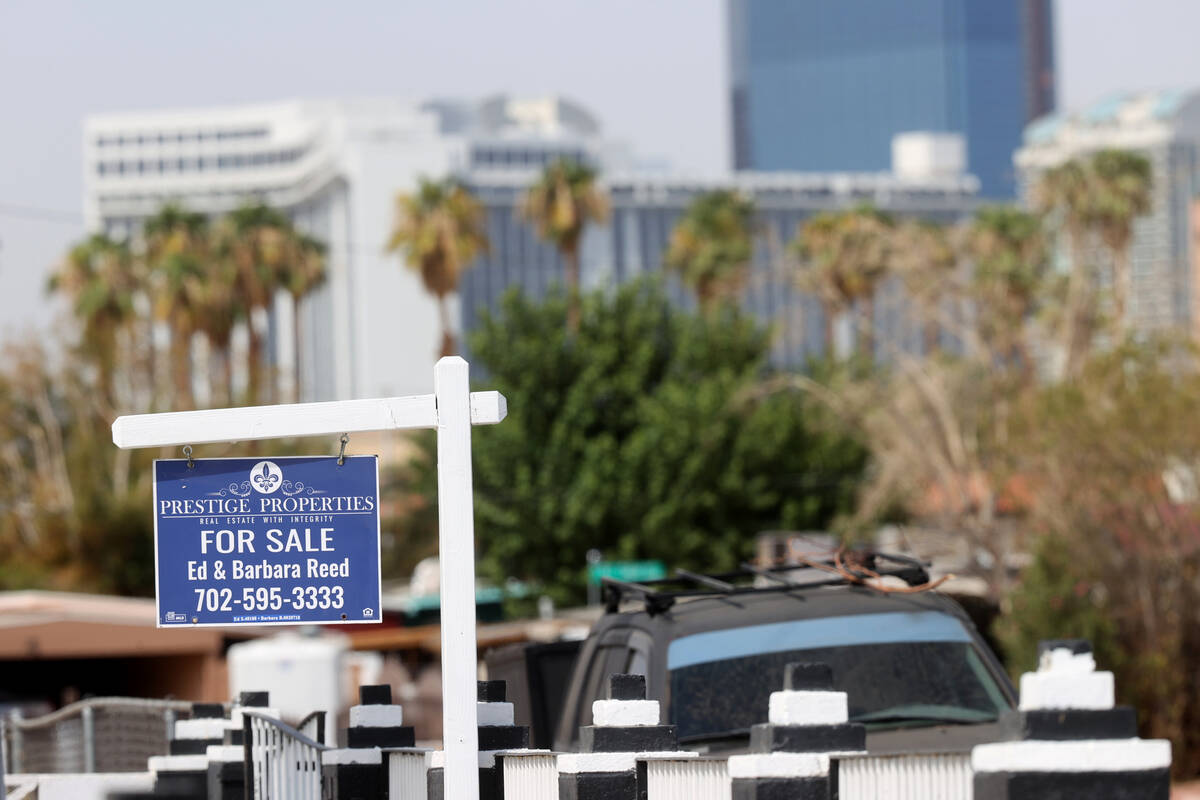 Mortgage rates have climbed to their highest level in nearly 14 years as increased borrowing costs put the brakes on Las Vegas' housing market.
The average rate on a 30-year home loan was 6.02 percent Thursday, up from 5.89 percent last week and 2.86 percent a year ago, mortgage buyer Freddie Mac reported.
According to federal data, this week's rates were the highest since November 2008, when the housing market was spiraling downward following the doomed mid-2000s bubble.
Buyers have been pulling back in recent months in Southern Nevada and across the U.S. as higher mortgage rates wipe out the cheap money that fueled America's unexpected housing boom after the pandemic hit.
Sales totals are tumbling in Las Vegas, available inventory has soared, and sellers are increasingly slashing their prices.
'Stronghold' slips away
Nationally, the housing market is "becoming more balanced" but at a "great cost" to buyers and sellers, real estate brokerage Redfin reported Thursday.
Buyers face higher monthly mortgage payments, and sellers' "stronghold on the market has slipped away" amid the sharp jump in rates, the firm said.
All told, the monthly mortgage payment for the typical buyer is up about 60 percent, or $830, from a year ago, Nadia Evangelou, senior economist and director of real estate research at the National Association of Realtors, told the Review-Journal on Thursday.
Many buyers are now "priced out," she noted.
Jeff Tucker, senior economist with listing site Zillow, said last week that it's difficult to forecast but he figured the national sales slowdown "could drag on for another year or two," adding that there seems to be a "standoff" between buyers and sellers.
The flow of new listings has slowed, as existing homeowners may be carrying a lower mortgage rate than what they could land on a new purchase. They also probably bought their place for less than what they would pay now.
They can wait for market conditions to improve, Tucker said. People looking to buy a home face higher mortgage rates, so they could be unwilling to pay what sellers want.
Nationwide, the pace of resales "sagged" for the sixth consecutive month in July, according to the National Association of Realtors.
"Until and unless mortgage rates drop substantially, I don't quite see how that standoff gets resolved," Tucker told the Review-Journal.
The Federal Reserve has raised interest rates multiple times this year, and Chairman Jerome Powell has said the central bank will likely need to keep rates high enough to slow the economy "for some time" in order to tame the worst inflation in 40 years.
More inflation data this week suggests that while gas prices have retreated significantly since early summer, prices for most other necessities have gone up, panicking investors who fear a possible recession if the Fed keeps boosting rates.
Falling sales
The months-long housing slowdown, locally and nationally, marks a swift change from the heated market of the not-so-distant past.
Fueled by rock-bottom mortgage rates that let people stretch their budgets — and by an influx of out-of-state buyers — Southern Nevada's housing market last year accelerated to its most frenzied pace in years. Prices hit all-time highs practically every month, buyers flooded properties with offers, and homes sold rapidly.
The market started hitting the brakes this year as mortgage rates climbed higher. On the resale side, just over 2,000 single-family homes traded hands in Southern Nevada last month, down almost 38 percent from August 2021.
Also, nearly 8,000 houses were on the market without offers at the end of August, up nearly 146 percent year-over-year, trade association Las Vegas Realtors reported.
The median sales price of such homes was $450,000 in August, down 3.2 percent, or $15,000, from July. Prices were still up 11 percent from a year ago, but this marked the third consecutive month that prices fell, after not dropping for more than two years.
Contact Eli Segall at esegall@reviewjournal.com or 702-383-0342. Follow @eli_segall on Twitter. The Associated Press contributed to this report.