Prices tumble for high-rise condos
January 17, 2012 - 1:59 am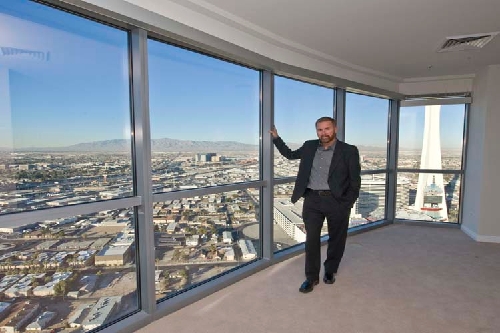 High-rise condominiums in Las Vegas are being snapped up by investors at about half the price asked when the units first came on the market, brokers who market the units said.
Prices have dropped across all segments of the market, with the south Strip showing the largest decline of 12 percent from a year ago, said Marc Ehrlich, whose firm, HiRiseLiving.com, specializes in sale of condos in buildings of more than 10 stories.
High-rise condos are selling for less than $200 a square foot, compared with $350 to $400 a square foot at the height of the market, Ehrlich said.
Sales fell 6 percent, to 1,308 transactions in 2011, and 60 percent of those sales were to investors in all-cash transactions, Ehrlich said. Total sales volume fell to $287.7 million, down from $306.6 million in 2010.
The inventory of units offered at current price levels is limited, he said. With 1,300 transactions in 2011, total supply decreased by more than 400 units, to about 5,900 available.
The inventory includes 2,842 condo-hotel units. With only 14 units sold at CityCenter in 2011, MGM Resorts International has opted to rent out many of the units and may be more aggressive in marketing them at discounted prices, Ehrlich said.
"It's pure lack of inventory right now," Ehrlich said. "Look at the banks and the robo-signing. Banks are being more cautious and it's tightening up a little."
Foreclosures and short sales have slowed since a Nevada law went into effect in October that requires lenders to prove authority to foreclose, but there's no shortage of buyers at distressed prices, he said.
Bruce Hiatt, owner and broker of Luxury Realty Group in Las Vegas, said the mix of buyers has changed in the past couple of months. Demand from international buyers and investors is slowing, he said.
"Buyers coming in are not looking at return on investment as much as potential for appreciation down the road," he said. "They know that at $140 to $200 a (square) foot, you're not going to be able to build at that price point. It's going to be eight or nine years before we see another high-rise built in Las Vegas."
Hiatt said buyers who left the Las Vegas market have now returned, but units are getting harder to find.
"I have two buyers that would buy right now at SoHo. I checked and there's no inventory. We just don't have that much supply," he said.
Hiatt said he's also seeing fewer short sales and foreclosures. Most condos now offered for sale are owned by investors looking to "flip" a quick profit, or original cash buyers who are cutting their losses and going elsewhere, he said.
Ehrlich said buyers are paying as little as $175 a square-foot on short sales and foreclosures, compared with "hard" construction costs of $325 a foot. Factor in "soft" costs for the land, permits and development costs, and the price to build would be around $450 a foot, he said.
Developers overestimated the number of primary residents that would live in high-rise luxury condos when some 125 projects were planned for Las Vegas. About one-fourth of those projects were completed, and maybe 30 percent of the units are owner-occupied, Ehrlich said.
"I think we're very fortunate that those buildings didn't get built," he said. "Think of the carnage had those been built."
About half of condo units in some buildings are "underwater," meaning the mortgage is significantly more than the current value of the units. Those buildings are showing more stability as units go through short sale or foreclosure, Ehrlich said.
The percentage of bank-involved sales was significantly lower in the fourth quarter, dropping to 48 percent compared with 64 percent in the first three quarters, he said.
Contact reporter Hubble Smith at hsmith@reviewjournal.com or 702-383-0491.