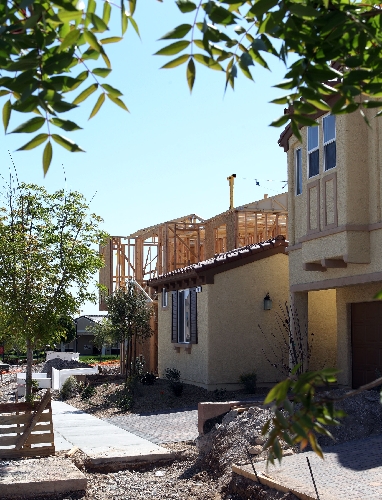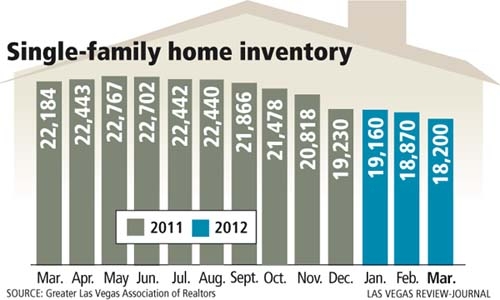 The inventory of single-family homes available for sale in Las Vegas without a contingent or pending offer dropped to 4,901 in March, about a six-week supply at current sales level, the Greater Las Vegas Association of Realtors reported Monday.
The total number of homes listed for sale in Las Vegas fell to 18,200 in March, down 18 percent from 22,184 a year ago when there were 11,334 homes available without offers.
That means homes under contract grew only slightly, from about 11,000 to 13,000, in the past year.
Several factors are contributing to declining inventory, starting with the robo-signing law that throttled notices of default filed by major lenders since October, said Dennis Smith, housing analyst with Home Builders Research.
Going back to last year before Assembly Bill 284 became law, lenders were filing 2,700 to 5,700 NODs a month. Now it's about 300 a month. Bank repossessions are down to about 800 a month. That's the net effect of the law, Smith said.
There also has been a sharp increase in short sales, or homes offered at less than the principal mortgage balance, which requires lender approval. Those homes may stay under contract for as long as six months, the analyst said.
Smith does not see a wave of foreclosures materializing from the "shadow inventory" that was ominously projected to hit Las Vegas.
"We will see some (foreclosure) inventory come onto the market, but not a big wave," he said. "Banks are trying new things like renting them back, and they're doing more short sales."
Realtors sold 3,538 single-family homes in March, a 4.4 percent increase from the same month a year ago. The median price was $123,000, down 2.3 percent from a year ago, but up 1.7 percent, or $2,000, from February.
The shortage of inventory is bringing multiple offers reminiscent of the boom years when people were overbidding list prices, said Kolleen Kelley, president of the Greater Las Vegas Association of Realtors.
"Right now, we have to find inventory, and where we see this coming from is investors who bought for cash. They'll be able to sell and carry the note at 6 percent and get a higher return on their investment than waiting for appreciation," Kelley said.
The Realtors association reported that 1,790 homes (40.7 percent) were sold as foreclosures, while 1,171 homes (26.6 percent) were sold as short sales. The median price for a foreclosure was $106,000, and the median short sale price was $121,000.
Cash buyers represented 54.5 percent of all sales, compared with about 40 percent before the housing downturn.
Robb Beville, president of Harmony Homes, said dwindling inventory of existing homes has helped push new home sales early in the year. Harmony closed 130 new-home sales in the first quarter, compared with 227 for all of last year, he said.
A combination of things will work to keep resale inventory low, Beville said.
"It'll be the rentals, the short sales, loan modifications. Foreclosure is the biggest loss the bank's going to have. Banks are starting to wise up. It's like an aircraft carrier. It doesn't change direction quickly or move very fast," he said.
There were 854 sales of condos and townhomes in March, a decrease of 8.4 percent from the year-ago month, while median price remained unchanged at $61,000.
Data from the Realtors association is based on sales through the Multiple Listing Service and does not necessarily include sales by builders, for-sale by owners and other transactions not involving a Realtor.
Contact reporter Hubble Smith at hsmith
@reviewjournal.com or 702-383-0491.