Where's the association? Not here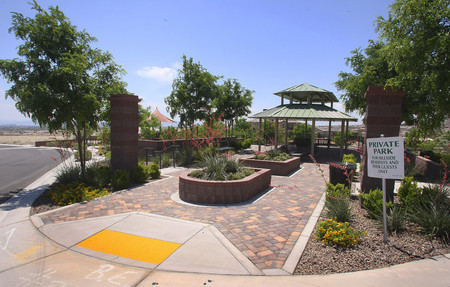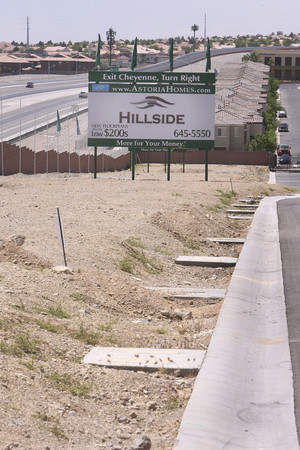 The 58 homeowners who bought into Astoria Homes' Hillside community in northwest Las Vegas watched their pool water turn green and their park grass turn brown when the development entered foreclosure.
Normally, they'd complain to their homeowners association. Unfortunately for them, it doesn't exist.
With homes priced from the mid-$200,000s, Hillside was touted as an affordable new-home community with picturesque mountain views when Astoria started building in late 2006. That was before the Las Vegas homebuilder went into "hibernation," essentially shutting down its operations.
San Diego-based Key Bank and its Cleveland-based affiliate, AH Reo, now own the community following a foreclosure sale of a deed of trust by Astoria Alexander LLC, developer of record for the property near Alexander Road and Las Vegas Beltway.
Hillside's former property management group requested immediate attention to the homeowners association matter, specifically appointment of an executive board to conduct HOA business.
Attorney Andy Gabriel, representing Terra West Management, said all Hillside HOA board seats were controlled by the developer and that Key Bank assumed those rights upon foreclosure.
"The property management company is under contract with the HOA to manage the property, but the HOA makes all the decisions through its board," Gabriel said. "The property management company can't do anything. They can do certain things, but it requires money and it requires direction. I think money is probably the bigger issue in the long run."
HOAs rely on monthly assessments to pay for maintenance and upkeep of community swimming pools, parks and other common areas. The developer typically subsidizes HOA operations to cover fees for homes that have yet to be built, Gabriel said.
Hillside is not unique in its situation, he said. Many HOAs in Las Vegas are struggling for solvency and falling behind on maintenance issues.
State Assemblywoman Ellen Spiegel, D-Henderson, sponsored Assembly Bill 204, which increases the "superpriority lien" period for HOAs to collect delinquent assessments. Assembly Bill 204 extends the period from six months to nine months, so it's quite significant, she said.
"The drop in property values in some of these communities is abysmal and I feel so sorry for people who live there," Spiegel said. "This law will protect homeowners by sustaining community property values."
Under Nevada Revised Statutes chapter 116, the law covering community homeowners associations, the "declarant control period" is defined as the period of time during which the declarant, or owner of the community, may appoint and remove officers of the HOA executive board.
This period doesn't end until 75 percent of the housing units to be built have been conveyed to owners, or closed escrow. No positions on the board are open to homeowners until 25 percent of the units have been conveyed.
Because only 16 percent of the 371 units at Hillside had been sold, Key Bank now controls all of the positions, Gabriel said.
"As a duly appointed property manager, Terra West has statutory and contractual duties and obligations to the HOA," Gabriel wrote in a March 4 letter to Key Bank. "These cannot be property performed without the direction and action of the HOA executive board."
Gabriel said he hasn't received a response from the bank.
Terra West Vice President Kristin Remhoff said the company ended its contract with Hillside HOA as of May 1 because of violations to NRS 116 that could threaten her real estate license. The board hadn't met since November, though it's required to meet every 90 days, she said.
"The homeowners are nice, but we had to terminate," Remhoff said.
The association is $70,000 in the red, she said. Terra West is owed $2,212 in property management fees. Pool and landscaping companies that are owed money have walked away. Key Bank owes $6,000 in HOA fees on 17 "spec" homes, or homes that were built on speculation and not sold, at Hillside.
Remhoff said it's been impossible to work with Key Bank. Other banks, such as Chase and Bank of America, have taken back projects in the master-planned Aliante community and everything is going well, she said. They're taking care of landscaping and holding HOA meetings as required.
"It's like night and day," she said of the difference in dealing with Key Bank and Chase.
Key Bank officials did not respond to a request for comment.
Contact reporter Hubble Smith at hsmith@reviewjournal.com or 702-383-0491.