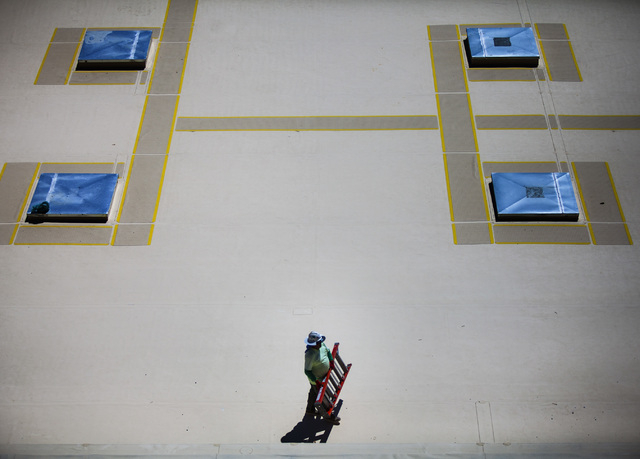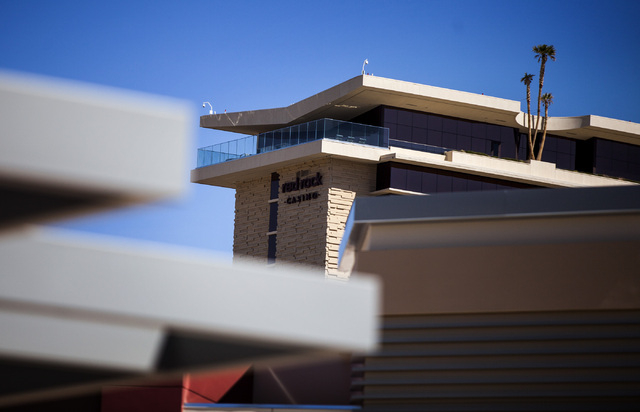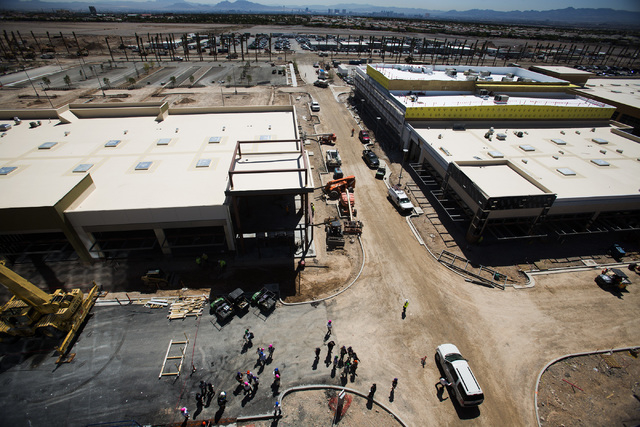 A year after the Howard Hughes Corp. broke ground on Downtown Summerlin, a 1.6 million-square-foot retail and shopping environment near Sahara Avenue and the 215 Beltway, the company announced an Oct. 9 opening for the development.
Downtown Summerlin will house more than 125 stores and restaurants, a five-screen movie theater, mid- and high-rise condos and luxury apartments, as well as One Summerlin, a nine-story office building.
"There's no other community like this in the country," David Weinreb, CEO for Howard Hughes Corp., said Thursday at a tour through the project for community leaders, key figures in the development process and the media. "This is a place where fashion meets the rock, and we will be an unparalleled fashion, entertainment and dining destination."
Trader Joe's, Sephora, Michael Kors, Macy's, Dillard's, Sushi Loca, and Wolfgang Puck Bar & Grill are among the more than 60 stores and restaurants that have signed on to be a part of Downtown Summerlin along with Regal Cinemas. More retail will be announced as the project develops.
Downtown Summerlin will also be the first location for many retailers such as Boston Proper, b. young and MacKenzie-Child's Boutique, according to Weinreb.
The 400-acre shopping development's design is centered on pedestrian thoroughfares with plenty of shade throughout, he added.
"We don't see it as a mall; we see it as a downtown," Weinreb said. "Why go to a mall when you can drive down here, park your car and walk into a store?"
Stone, steel and various metal facades will provide a contemporary feel to the area, said Tom Warden, senior vice president for community and government relations for Hughes Corp.
"We plan to pay a subtle nod to our true Las Vegas heritage, which will be created through interest and color," he said.
The property on which Downtown Summerlin is being built has been slated to be the community's downtown area since the 1980s when the master-planned community was designed, Warden said.
"This area was always going to be the downtown; however, the look of it has evolved over the years," he said. "This area is perched along the 215 and is close to Sahara (Avenue) and West Charleston (Boulevard), so it's easy to get to."
Approximately 6,000 acres have been dedicated to housing development, specifically mid- and high-rise condos and luxury apartments. Construction will begin this fall on a three-story, 124-unit multifamily residential development that is slated to open in spring 2015.
"The market demand will establish the rate of housing, so we could be building for the next decade, depending on the cycle," Warden said. "You're going to see this place come out of the ground fairly quickly for this magnitude."
Lori Nelson, spokeswoman for Station Casinos, the owner of the Red Rock Resort, which is part of the downtown Summerlin locale, said the hotel has spent $35 million to capitalize on the development's opening.
"We're adding a 200-parking-space area, as well as a connector and separate casino entrance to Downtown Summerlin," she said. "We're also creating restaurant row facing West Charleston Boulevard that will have patio areas and walkability among four new restaurants. Guests can visit both destinations and be given more choices."
Kevin Orrock, president and vice president of master-planned communities for Hughes Corp., said Downtown Summerlin has been in the making for some time.
"This development epitomizes the growing strength of our economy," he said. "You can't keep Vegas down for long."
Contact reporter Ann Friedman at afriedman@reviewjournal.com or 702-383-0391. Follow @AnnFriedmanRJ on Twitter.