Hundreds in line for 'Pay Your Age' day at Las Vegas Build-A-Bears
Updated July 12, 2018 - 4:06 pm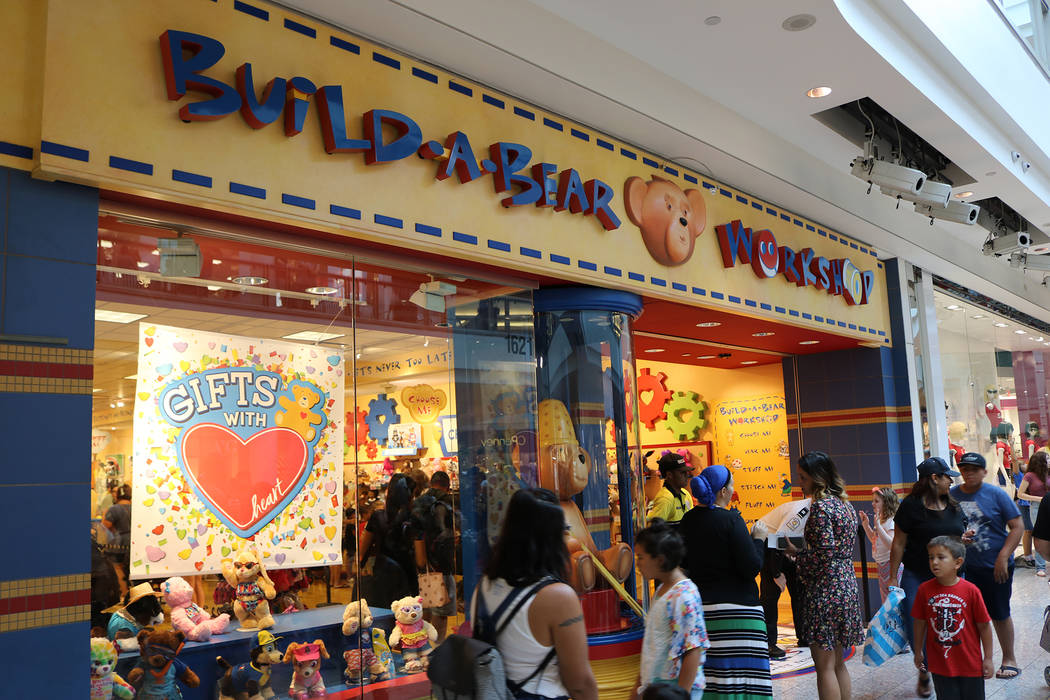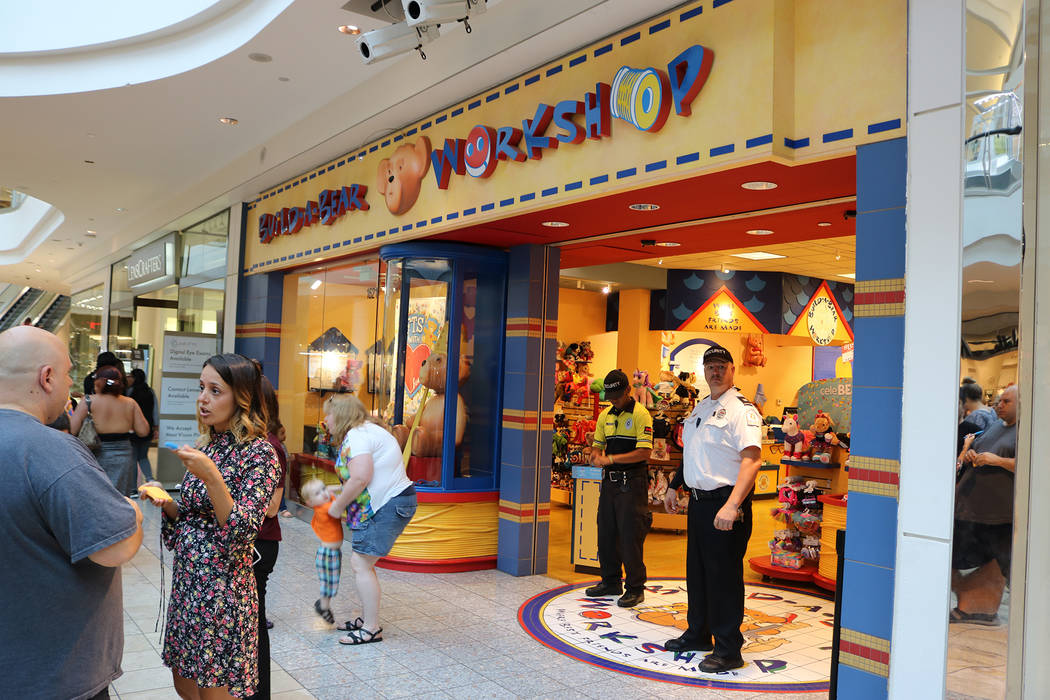 Las Vegas children who hoped to build their own teddy bears Thursday learned an impromptu lesson: You can't always get what you want.
Families had lined up by the hundreds Thursday morning at the valley's two local Build-A-Bear Workshop stores for a one-day sale.
Instead of in-store prices, customers would pay the age of their child.
The company received an overwhelming response nationwide. Build-A-Bear spokeswoman Maria Lemakis said in a statement to the Review-Journal that some stores turned away customers because of safety concerns. In some states, authorities closed stores because of crowd sizes.
At the Downtown Summerlin store, people who showed received vouchers for 15 percent off as an incentive to leave and come back another day.
"Our goal with the voucher extension is to enable us to better flow traffic to the stores over the next several weeks to avoid long lines and wait times as much as possible," Lemakis said. "We strongly encourage guests to consider delaying their trip to Build-A-Bear, and we appreciate everyone's understanding and patience in this matter."
Vouchers related to the Pay Your Age Day event are honored through Aug. 31.
Waiting for hours
The day tested the endurance of shoppers such as Joana Zeren and her seven children, ages 1 to 15.
The Zeren family arrived around 7 a.m. and left Downtown Summerlin almost five hours later with stuffed animals — including one "Star Wars"-themed bear and one light-blue turtle from the Pokemon franchise — in hand and in boxes.
"We are done for today," she told the kids.
The wait, the summer heat and the lack of information from Build-A-Bear workers led Kristin Gamba, mother of two, to take her business elsewhere.
Three hours in, Gamba gave up on the line. Before shopping center security prevented newcomers, the line had stretched from Build-A-Bear, wrapped around the building and stopped at the Cream ice cream store, about 1,000 feet from Build-A-Bear's entrace.
Gamba went to the locally owned Toy Box store nearby. Her 4-year-old son perused stuff dolls of the green muscular superhero Hulk, each around $7.
"He probably prefers these anyway," Gamba said.
Other stores benefit
The Toy Box saw around triple the sales of a normal Thursday morning, store manager Jewel Patterson said. She arrived shortly before 10 a.m. and saw the lines meant for Build-A-Bear. She opened immediately.
Customers flooded the store, some of them learning about The Toy Box for the first time.
"My boss is going to be so excited," Patterson said.
Gamba said she expected long lines but was not prepared for how slow Build-A-Bear employees rang up customers. Even some customers who were able to get inside the store left empty-handed because of hourslong waits to stuff bears, but they did receive a promise they could pick up bears later in the week.
Gamba said she appreciated security from the shopping center updating customers on wait times and other shopping center tenants handing out fans to stay cool.
Galleria at Sunset, home to the other Build-A-Bear store, had extra security and staff to handle the lines, shopping center marketing director Jamie Cooper said.
"We are having great sales from guests coming for the promotion," Cooper said. "Guests are hanging out for the day and shopping and eating."
This article has been updated with the correct name of the Henderson shopping center that houses one of the valley's Build-A-Bear stores. That shopping center is called Galleria at Sunset.
Contact Wade Tyler Millward at 702-383-4602 or wmillward@reviewjournal.com. Follow @wademillward on Twitter
Oh my. Anyone trying to get to @buildabear in Downtown Summerlin … the line for the pay your age sale is closed. There is a line for a 15% off coupon per kid that looks like maybe a half hour wait pic.twitter.com/dctNWbpeQE

— Wade Tyler Millward (@WadeMillward) July 12, 2018
So starting from the @buildabear shop in Downtown Summerlin, the line wraps around the building … pic.twitter.com/w4r8C8SZZS

— Wade Tyler Millward (@WadeMillward) July 12, 2018
To the left is the @buildabear coupon line. To the right is the pay your age line. When I got here, pay your age line wrapped around the building and ended at the Cream ice cream store pic.twitter.com/1Uvdd0CWQ3

— Wade Tyler Millward (@WadeMillward) July 12, 2018
… goes past @ITSUGAR and wraps around the building again … pic.twitter.com/LuHs6srYIV

— Wade Tyler Millward (@WadeMillward) July 12, 2018
The @buildabear line stretches past the independently owned Toy Box toy store here in Downtown Summerlin pic.twitter.com/R97Om6XvTw

— Wade Tyler Millward (@WadeMillward) July 12, 2018