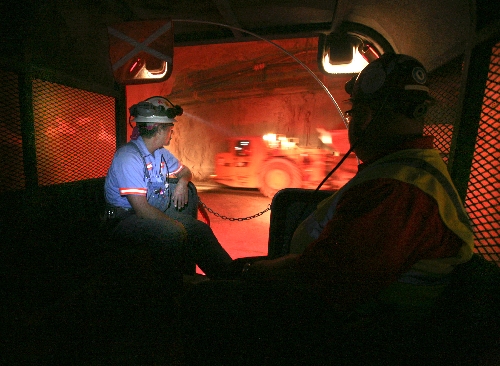 The countdown begins.
Work has stopped at Barrick Gold Corp.'s Cortez Hills mine, a part of the company's 1,000-square-mile Cortez gold mine in Northern Nevada. Sirens echo across the open pit, warning employees to get out. Bruce Krajewski, a blaster for Barrick, opens a small, red detonation box he has set in a berm of dirt and rock, high above the 1,500-foot-deep pit.
The countdown ends, and Krajewski detonates the charge. Puffs of dust shoot 60 feet into the air with a pop. A shelf of rock near the pit's bottom groans, then slumps with a rumble.
It's another day in the life of Barrick's Cortez, the world's second-largest gold mine. Cortez produced 1.42 million ounces of the precious metal in 2011, and is on course to yield as much as 1.25 million ounces in 2012. With a fresh pile of ore in the pit's bottom, miners are set to add a few ounces to the year's tally.
It took eons of roiling geological forces, eight years of permitting, more than $600 million in development and construction costs and three years of lawsuits to set off today's blast. The explosion freed microscopic gold from earth that has held it for hundreds of millions of years. In a few short weeks, that gold will join the world's multibillion-dollar-a-day gold trade.
The blast is a brief but crucial chapter in the story of Nevada's gold.
CHEMICAL REACTIONS
Our story begins on a sere hillside 75 miles southwest of Elko. There, under rolling acres of sun-scorched wild cabbage and squat juniper shrubs, lies earth laced with precious metals. An inexperienced visitor sees barren desert; a geologist spots rock formations that hint at metal-forging tectonic events.
"If you're looking for gold, you're looking at structure," says Mark Bradley, Barrick's acting chief exploration geologist. "You're trying to unravel the structural pictures of the land."
Fiery volcanic eruptions, heaving fault lines pushing up shelves of rock, miles of now-extinct seas – all combined 350 million years ago, about 100 million years before dinosaurs stalked the planet, to draw boiling water into subterranean cavities.
Thanks to a few chemical reactions, gold formed and concentrated in the water. As the fluid cooled and receded, it deposited gold on rocks below ground and left chunky, distinctive outcroppings above. These clusters of deformed rocks, called breccia bodies, ripple across Northern Nevada, and they've made the region one of the world's most productive gold-mining districts for the better part of 150 years.
That's why this countryside crawls with Barrick workers and contractors one August morning. They're involved in exploration, the first step in getting Nevada's gold to market.
Barrick will spend a company-record $200 million to $220 million in 2012 to explore North American ore veins, mostly in Nevada. It's an investment made possible by today's gold prices. Gold averaged $1,572 an ounce in 2011 and surged toward $1,800 an ounce in mid-September, up from just $280 in 2000.
Those big price gains are credited to a 1999 agreement among central banks to shore up gold by limiting bullion sales, as well as emergence of exchange-traded funds, which make it easier for individual investors to buy.
Inflation fears in developed countries and rising jewelry sales to growing middle classes in developing countries such as China and India have also driven up demand.
At Barrick's Goldrush operation, also at Cortez, earthmovers level hillsides for exploratory drill pads. On the western edge of Red Hill, 100 Barrick employees and 200 contractors prepare the 50-acre exploration site and work on a dozen drill rigs, boring down more than 1,000 feet – about twice the height of the Eiffel Tower copy at Paris Las Vegas – to collect samples that will allow tests of just how rich Goldrush is.
It takes half an hour to drill five feet, so core sampling can take days or weeks. The three-foot limestone segments that come out of the ground look like charcoal or graphite, with no visible gold. It's a far cry from Nevada's original Gold Rush, in the 1860s and '70s, when prospectors found nuggets in bedrock.
Today's miners move mountains to extract microscopic bits recognizable as gold only in the assay lab. Barrick will use those lab reports to peg gold percentages and map the best places to mine.
High-quality ore could contain an ounce or more of gold per ton. Lower-grade ore might hold less than a tenth of an ounce per ton. In its earliest stages, Goldrush has shown both extremes and everything in between.
Barrick will explore for two years at Goldrush and develop a mine plan. Then it will complete an environmental impact statement with the Bureau of Land Management, which owns the property. It'll take up to 10 years and tens of millions of dollars to finish the statement and get mining permits. Lawsuits, like the one the Shoshone tribe filed over Cortez Hills' environmental-impact process in 2008, could add millions more. (The Shoshones lost, but the case is on appeal.)
Much about Goldrush is up in the air. Until assays reveal what the ground holds, Barrick officials can't say whether the mine will be underground or open pit, how much land the digging will cover or even how many ounces of gold actually lay underground. But as of late 2011, the company was looking at potential resources of 7 million ounces at Goldrush.
Barrick com­munications director Lou Schack says the company is "generally very conservative" in its modeling. Officials don't want to say an ore body has 10 million ounces when it really has only 5 million.
"We expect Goldrush to be a very big project for us," Schack says. "But at this early stage, anything can happen. It's where all the risk is."
OPEN PIT AND UNDERGROUND
Vast tracts around Goldrush have survived that risky period and churn out millions of ounces of gold every year.
Cortez Hills, about four miles northwest of Goldrush, made it into development in 2006. Today, Cortez Hills has an open-pit mine full of ore of one- to two-tenths of an ounce of gold per ton, and an underground operation with ore averaging seven-tenths of an ounce per ton.
Inside the open pit, a blast of noise and dust greets visitors. Clawing at the earth is a massive, $30 million electric shovel, 70 feet high and 105 feet long, or a little more than a third the length of a football field. It sports 3,800 horsepower. Compare that to the 178 horsepower in a 2012 Toyota Camry. At more than 3 million pounds, the machine weighs as much as 200 African elephants. In a single scoop, it can grab 115 tons of rock, or the weight equivalent of 48 Chevy Tahoes. Feeding the shovel is a 7,200-volt line big enough to supply power to 600 average-sized Las Vegas homes. Barrick has four of the shovels at Cortez.
In the cab, operator Wes Nye swivels the shovel back and forth from rock pile to dump truck, gently pulling and pushing joysticks to scoop and release earth. Nye fills trucks an average of 200 times in one 12-hour shift. The cab lurches forward as the shovel digs into the pit's wall. Nye swings the shovel over a dump truck and drops the load into the bed, rocking the truck.
It takes a lot to move these trucks. They're the world's largest, at 25 feet tall and 50 feet long, with a payload capacity of 400 tons (that's 166 Chevy Tahoes, if you're keeping track) and an operating weight of 1.3 million pounds. Their 90-liter diesel engines alone weigh more than 10 tons, or the equivalent of nearly four Boeing 737 jet engines. The truck engines yield 3,650 horsepower and go through 40 gallons of fuel an hour from tanks that hold 1,250 gallons.
Barrick has 24 of the 400-ton trucks on-site, each costing $400 to $500 an hour to maintain. In the first half of 2012 alone, truck maintenance at Cortez cost Barrick $25 million, or what Las Vegas-based Cannery Casino Resorts is spending to build a seven-story, 202-room hotel-casino complex at the Meadows Racetrack near Pittsburgh.
The trucks roar by, headed toward a cement plant, a waste-rock site or Cortez Hills' leach pads. There's little value in some payloads: Nye still shovels some waste rock, used to make aggregate to fill in mined tunnels underground or dumped into nearby Cortez Canyon, where Barrick will contour and seed it with native plants once the mine plays out in a decade or more.
Each 400-ton truck that drives off with ore could contain 40 ounces to 80 ounces of gold, based on grade estimates. That's $71,000 to $142,000 worth in today's prices.
Every ton of ore Barrick extracts from the open pit costs $1.50 to mine, $10 to process and $2 for administrative costs, for expenses of $5,400 per truckload. Underground ore can cost as much as $40 a ton to process.
The entire Cortez operation moved an average of 400,000 tons of rock daily in 2011. Its record? More than half a million tons in a day. Most of the trucks carried waste rock, but had that rock been ore alone, it would have meant roughly $87.5 million to $172.5 million in gold mined that day.
At its underground mine next to the open pit, Cortez Hills averages ore at grades of six- to eight-tenths of an ounce of gold per ton, with some ore holding 3 ounces per ton.
The two-mile drive into the mine takes visitors down 1,200 feet to where miners operating jumbo drills bore 50 to 60 holes into 15-foot by 15-foot tunnel ends, or headings. Crews stuff the holes with ammonium nitrate and fuel oil, and detonate rounds after workers clear the mine at the end of each shift. (The open-pit blasts happen once daily, at about 3 p.m.) As in the open pit, the explosions are precisely calibrated to fracture the rock so haulers can take ore for processing, not to blow out big sections of tunnel.
Barrick pulls 1,400 tons of ore a day out of Cortez Hills underground. At current grade averages, that's about 980 ounces and $1.6 million of gold, or about enough to make one gold bar at Cortez' Pipeline refinery (though gold-recovery rates vary based on ore type).
Cortez Hills underground is permitted to go down 2,600 more feet, to 3,800 feet, or more than three times the height of the Stratosphere. After miners haul ore out, cement made from crushed open-pit waste rock is used to backfill tapped-out tunnels and stabilize the mine as they burrow deeper.
Cortez is among the world's least-expensive mines to operate, at a cash cost of about $300 per ounce of gold. A more typical industry average is $700 to $1,000 an ounce.
With gold above $1,700 an ounce, low costs at Cortez mean more money for Barrick to explore, not just at Goldrush, but around the world. Cortez is generating the cash flow that helped make possible Barrick's Pueblo Viejo, a 25.3 million-ounce mine in the Dominican Republic. The mine, more than 10 years in the making, began producing gold in August.
SLUDGE BECOMES BARS
So we've got our ore. What now?
That depends on ore quality.
Trucks deliver ore with .03 ounces or less of gold per ton to heap-leach pads, piles of ore arranged in layers, or lifts, on top of an impermeable liner of clay and polyethylene.
Through drip irrigation, Barrick applies water with .0001 percent cyanide. As the water filters through, gold binds to cyanide and leaches from the ore, and the gold-bearing mixture collects in the liner.
Brian Musser, manager of environmental services for Barrick, likens heap-leach pads to a coffee filter: You put in grounds, pour water through and watch water become coffee. In this case, "grounds" become valuable metal.
Each ore lift is 20 feet high. In early August, Cortez Hills had three lifts, with room for more: Barrick has permits to go 300 feet high, for a leach pad about half as tall as Palazzo. The company adds a lift every six months or so, or when it's recovered 60 to 80 percent of the gold.
After it pools in the lining, the gold-bearing solution pumps through beds of activated coconut-shell carbon. Gold attaches to the carbon, which is then treated with a hot, caustic solution to free the gold. The gold-bearing mixture flows through an electrical current, and pieces of the metal collect on electrode plates. It's the first time you actually see a bit of gold.
Ore above .03 ounces of gold per ton goes to a mill via a 10-mile conveyor belt, Nevada's longest, at three times the length of McCarran International Airport's longest runway. At the mill, four-inch steel balls crush rocks into a fine, talc-like powder. That's mixed with water to form slurry pumped through pipes to tanks with carbon and a hot, caustic solution to concentrate the gold.
The result is gold sludge, which looks like ordinary dirt. That is mixed with borax to prevent evaporation of gold during melting and to separate impurities such as silver.
Our sludge is ready for refining.
In Cortez's Pipeline mill, refiners scurry around furnaces in flame-retardant suits. On one August morning, Crystal Danley is about to pour eight bars, each weighing 900 ounces, or nearly 60 pounds.
She needs 530 pounds of sludge to make the bars, and it will take 90 minutes for the sludge to reach 2,300 degrees for pouring. As the sludge melts, impurities, or slag, rise to the top.
When the sludge is ready, refiner Danley tilts the furnace forward and pours the slag into a pot, using a skim tool to pull off the impurities. Tiny beads of white-hot slag bounce out of the pot and onto the floor.
Danley pulls to within one-sixteenth of an inch of the melted gold – her skim tool helps her feel the change in density – and tilts the furnace back. She swaps out the slag pot for a rolling pallet cart topped with a circle of cast-iron molds the size and shape of bread-loaf pans. The 35-pound molds cost $150 each, and the mill runs through a dozen every six months.
Before she pours the first bar, Danley takes samples that map the gold's "DNA." The samples can be used to track stolen bars and to record purity and content if there's a discrepancy with a refiner or buyer.
Samples completed, Danley tilts the furnace forward and pours gold. The molten metal flames as it hits each mold's graphite lining, and little drops of fiery orange sludge fly out of the molds and onto the pallet's top.
It takes Danley about half an hour to pour eight molds. The bars' outsides darken as they cool, the result of leftover surface impurities.
Danley rolls the loaves to a cooling table, where they're dunked in cold water. Mill workers use hammers to knock hardened black slag from the cooled bars. The bars go into a sandblaster for cleaning, and are weighed and stamped with a serial number and their weight in ounces.
It took about 36,000 tons of ore, enough to cover a football field more than 10 feet deep, to produce the morning's eight bars. Their combined market value: $13 million.
Refining is not finished when Danley pours the bars. Once a week, refiners clean the bar-mold table and sweep the furnace floors. They melt and refine those little splashes that escaped during the pour, as well as slag hammered from bars, to extract stray gold. The Pipeline mill recovers 5 ounces to 25 ounces a week of gold from droplets and slag.
Barrick pours gold two to four times a week at the Pipeline mill. Once a week, an armored car pulls into a mill yard surrounded by fences and razor wire (translation: Forget about it!) and loads up $40 million to $50 million in gold bars for the 280-mile drive on Interstate 80 to Salt Lake City. When they leave Cortez, the bars are 96 percent to 98 percent gold. The rest is mostly silver. One of the world's largest gold refineries will fix that.
SALT LAKE CITY REFINERY
The Johnson Matthey refinery is in an industrial area a few minutes from Salt Lake City International Airport. The squat, beige building is inconspicuous. Aside from a 10-foot chain-link fence and signs warning against entry unless you have business there, it offers no hint of the sensitive nature of its work. Inside, about a ton of gold – more than $62 million worth – is refined each day.
London-based Johnson Matthey, in business since 1817, opened the refinery in 1983 to capture business from Nevada's surging gold production. Today, the refinery handles precious metals from all over the Americas, though as much as 20 percent of the gold it purifies comes from the Silver State. It's among the top three gold refineries worldwide for output.
Inside the refinery's weighing room, workers huddle over a table stacked with gold from Cortez, which just delivered 20,000 ounces in the form of 25 bars weighing 261 to 965 ounces. As each bar goes on the scale, Barrick customer representative Jake Carter reconciles weight with identification number and checks off his list.
Once they're checked in, three to four bars at a time go into a dedicated Barrick crucible about the size of a small office trash can, which is lowered into an induction furnace that uses a magnetic field to melt the gold. It takes 45 minutes to melt the first set of bars. As they reach 1,900 degrees, the bars take on an inner glow of fluorescent orange. At more than 2,000 degrees the molten gold bubbles at the crucible's edges. The black crucible is a translucent orange.
Johnson Matthey's pouring process is cleaner than Barrick's at Cortez. Except for slag that refiners flow off of the first bar, no gold is lost.
Johnson Matthey samples the molten bars and assays them to verify content. The purity of Cortez gold bars is higher than many. Some bars come in at just 30 percent or 60 percent gold. Cortez' gold is purer simply because "that's the way God put it in the ground," says Jerry Gill, the refinery's business development director.
After weighing and assaying, Johnson Matthey credits and pays Barrick for Cortez's gold. Johnson Matthey then melts the Cortez bars together with gold from other sources for refining. For 99.5 percent purity, bars are melted and shot through with chlorine gas bubbles, which bind to and remove silver and other impurities.
For 99.99 percent purity, Johnson Matthey casts melted bars into anodes that are suspended in holding tanks, or cells, in a gold chloride-hydrochloric acid solution next to cathodes, or thin strips of pure gold. An electric current goes from anode to cathode through the acid mixture, slowly dissolving the gold anodes. Gold collects on the cathodes, while impurities such as silver drop to the bottom of the cells.
When they're removed from the cell, cathodes are caked with gold that looks like gritty sand or crystallized mineral. They're roasted in an oven to remove liquid, and melted into bars or small grains.
It takes 10 to 15 days to refine the gold, depending on the process. As at Cortez, no gold is wasted here. Pebble- and dust-sized gold samples are collected and refined in thimble-sized crucibles. (And once they've reached the end of their life, Barrick takes back its dedicated crucibles, crushes them and piles them onto a heap-leach pad to extract the tiny flecks of gold they retain.)
Cortez's gold leaves Johnson Matthey as one of three of the refinery's signature products: 400-ounce bullion bars, 32-ounce kilo bars or grains that weigh about half a gram each.
In some cases, gold comes out of the ground only to go back under it. The New York Federal Reserve, for example, is the world's largest known repository of gold bars, with more than $400 billion in bullion holdings as of October. It holds most of those bars in vaults as assets for foreign governments and central banks.
Gold's pliability, conductivity and resistance to corrosion make the precious metal invaluable for uses in electronics and medicine . However, roughly 60 percent of the world's gold becomes jewelry.
Mines produced 90.6 million ounces of gold worldwide in 2011, according to Thomson Reuters GFMS in London. More than 63 million ounces, which includes recycled gold, went into jewelry production.
India was the largest consumer of gold jewelry, at 18.2 million ounces, according to the World Gold Council. Gold is revered in India, where legend holds that the Hindu god Brahma was born from a golden egg, and where people believe gold is the safest haven for family wealth.
China placed second for consumption of gold jewelry, at 16.4 million ounces. Together, India and China accounted for 55 percent of gold jewelry consumption. The United States ranked third, at 3.4 million ounces.
It's impossible to know exactly where Nevada's gold ends up once it is mixed in with other sources. The precious-metals industry is fiercely private. For competitive reasons, miners and refiners refuse to disclose their buyers, and buyers refuse to disclose their sources.
But because Nevada is such a global gold heavyweight, at least a little bit of the state's gold is in just about every piece of jewelry you buy, especially in the United States, says Mordechai Yerushalmi, owner of The Jewelers of Las Vegas.
JEWELRY STORES
Inside Yerushalmi's factory on Western Avenue, jeweler Martin Flores shows off a $100,000 pair of diamond cuff links. The cuff links, nearly finished, are made with white gold. They belong to boxer Floyd Mayweather Jr.
Nevada's gold has come home.
"People love gold jewelry because it lasts forever," Yerushalmi says.
Pictures of the store's celebrity customers, from Clint Eastwood to Chuck Norris to Elvis, line the walls. Yerushalmi also supplied jewelry worn in the Vegas mobster classic "Casino."
"People pass gold on from generation to generation. It's a symbol of good fortune," he says.
The Jewelers of Las Vegas uses 4,000 to 5,000 ounces of gold a year to forge those symbols.
The company opened its first local store at The Dunes in 1976, when gold was going for $124 an ounce. Yerushalmi shows off company advertising flyers from the 1980s, listing solid gold studs for $6 and nugget rings for $45. Today, those studs would cost $600, he says. The ring would cost more than $300. That's why solid-gold sales are "down big time," he says.
One segment of the business has continued unabated, though. "People have to get married. They have to get engaged," he says.
So, on a September morning in The Jewelers' plant, workers prepare a wedding-band set for a California couple.
CAD designer Ken Sanchez draws plans for the rings on his computer. He slips the plans via flash drive into a mill, which carves ring designs into blocks of wax to make molds.
Jeweler Martin Flores glues the wax molds to the bottom of a metal flask about the size of an eight-ounce Styrofoam coffee cup. He pours wet plaster over the tops of the molds and sets them in an oven. The oven heats the flask to 1,800 degrees to evaporate the wax molds. Left behind is a cast of the rings.
Flores pours about an ounce of pebble-sized white gold grains into an apple-sized crucible inside a round casting machine. The gold is 14-karat, which means it's 58 percent gold.
For jewelry, gold is almost always alloyed with copper, silver, zinc or nickel to make it stronger. The balance of other metals determines whether gold is white, yellow or rose.
Flores torches the white gold until it melts. He snaps the plaster-filled flask sideways against the crucible, closes the lid on the casting machine and turns it on. The crucible and flask spin at 2,500 revolutions per minute. The force pushes the gold into the plaster molds. After two minutes, Flores removes the flask with its gold from the casting machine.
Flores cleans plaster from the rings. Polisher Jesus Zambrano buffs the rings to a silvery sheen. Diamond setter William Torres adds stones. It took less than a morning to finish the set.
In the factory's storefront, customer Uri Gilboa is going over repairs with Yerushalmi on a white, rose and yellow gold watch he bought from The Jewelers of Las Vegas 15 years ago. Gilboa can't remember how much he paid for the watch, but Yerushalmi says its gold was worth $6,000 to $7,000 when Gilboa bought it. Today, it's easily worth $15,000.
Gilboa lives in Tel Aviv, where he works in Internet gaming. He visits Las Vegas once a year. He knows of Nevada's importance to the gold industry mostly from watching prospectors pan for precious metals in old Westerns. Of his gold watch, he says: "It's so pretty. It makes me feel good when I wear it."
The best part about Gilboa's gold watch, says Yerushalmi, is that it's part of an ages-old cycle that began in those dusty hills of Northern Nevada.
"It closes the circle from mining to finish," he says. "Gold jewelry won't go anywhere. In 100 or 1,100 years, it will be refined and used again. It will last forever."
Mining in Nevada
Leach pad process