Las Vegas advocates gather for 'Unhappy Hour' on Equal Pay Day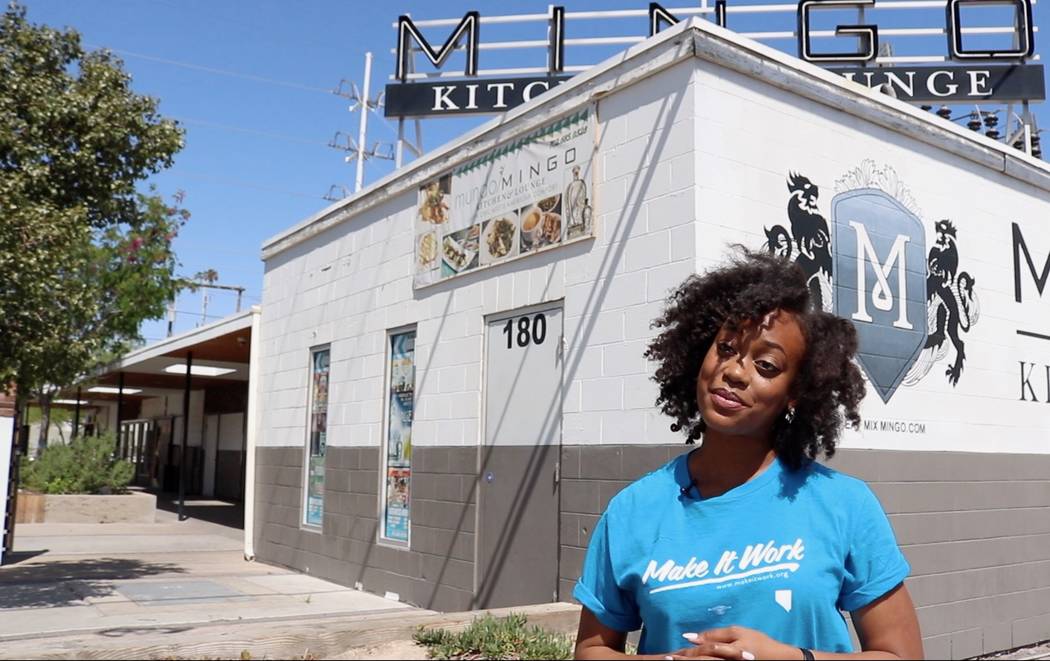 Brooke Malone was only 20 years old when she said she experienced "the gender wage gap": earning less money for equal work when compared to a male co-worker.
Malone, who lives in Las Vegas, had been with the company, a fundraising consulting firm, for close to two years. She had worked her way up from working the phones to supervising employees. During that time she said she also trained three male employees for assistant supervisor positions.
"Then I found out soon after they made 33 percent to 40 percent more than I did," Malone, now 27, said.
When she approached her boss about the disparity, "they gave me excuses, like they were waiting for my review."
They also told her that the three men had families that they needed to support. But Malone had others to support, too: She had a 2-year-old son at home.
After a few days of discussion, Malone succeeded in having her review moved up, which resulted in receiving equal pay. And she learned a life lesson.
"Moving forward, no matter the position, I always look at what the competitive salary is," Malone said.
But America's women are losing out on $900 billion every year compared to their male counterparts, according to a report released this month by the Washington, D.C.-based National Partnership for Women and Families.
The report came in advance of Equal Pay Day on Tuesday, which symbolizes how much longer a woman must work to earn what men earned the previous year.
According to the study, women in the U.S. earn 80 cents for every dollar paid to men. A woman earns about $41,554 a year working full time, while a man averages $51,640.
The reported ranked Nevada 30 out of 51 when it comes to the wage gap: Women earn about 81 percents per dollar, on average. In the lowest ranked states, Louisiana and Utah, women earn 70 cents for every dollar.
The national average has increased from 79.6 cents the previous year. Advocacy groups like Make It Work Nevada are trying to bring attention to the long-standing problem with events like the "Equal Pay Day UnHappy Hour."
From 6 to 8 p.m. Tuesday at Mingo Kitchen & Lounge in downtown Las Vegas, women will be able to cash on that disparity for at least a couple of hours.
The restaurant's specialty cocktails will be available to women for 65 cents, while the same drinks will cost $1 for men.
"In Nevada we find some pretty motivating numbers to do some work around," said Carmella Gadsen of Make It Work. "You have to take into account that most workplaces prohibit discussing salary out in the open, out and about. So it's often hard to even prove you are being paid unequally. You may not find out until later once you've left that position."
The data
Some analysts say the numbers advocacy groups are using are misleading.
Robert Fellner, a research director at the Las Vegas-based Nevada Policy Research Institute, said the data advocates are using doesn't control for the same type of work. Instead, it's an average of what all men and women are making in the country.
Rather than receiving unequal pay for equal work, the problem lies within whatever factors result in women ending up in lower-paying jobs, or working for lower-paying organizations, Fellner said.
Contact Madelyn Reese at mreese@reviewjournal.com or 702-383-0497. Follow @MadelynGReese on Twitter.
If You Go
Where: Mingo Kitchen & Lounge, 1017 S. First St. #180
When: 6-8 p.m. April 10
What: During UnHappy Hour, specialty cocktails are available to women for 65 cents and to men for $1. Equal Pay Day is the day the National Committee on Pay Equity says symbolizes how far intot he year women must work to earn what men earned in the previous year.
Who: Hosted by Make It Work Nevada