Las Vegas City Council approves sale of Nucleus Plaza for $2.1 million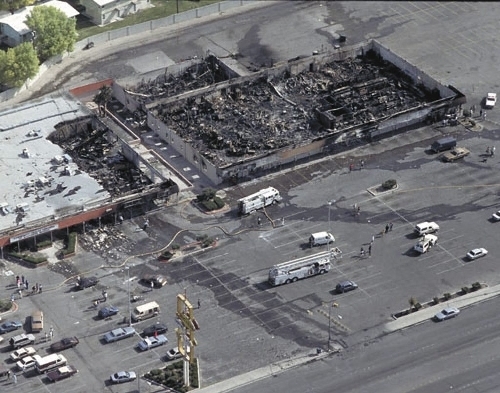 In the name of economic development and job creation, the Las Vegas City Council voted unanimously Wednesday to sell portions of the Nucleus Plaza for $2.1 million, although the highest appraisal was $2.9 million.
The new developer, JLC Nevada Operations, will own the parcels at 1000 W. Owens Ave. and the adjacent 900 W. Owens Ave., and will manage the plaza as well. The two parcels cover 2.6 acres.
The city has owned part of the plaza since 1981. It was torched in 1992 in the aftermath of the Rodney King riots in West Las Vegas.
Forty-two percent of the money the city gets will go to Parks and Recreation, said Bill Arent, director of the Las Vegas Redevelopment Agency.
JLC President Jay Cooke plans to renovate the aging plaza and upgrade the landscaping.
"The Nevada State Welfare space looks like a jail entrance and my plan is to take away the jail look," Cooke said. He hopes to get restaurants, such as a franchise like Subway, back into the plaza.
Mayor Carolyn Goodman remembered working at an employment and job counseling office in the plaza in the late 1960s or early 1970s, when Las Vegas was segregated.
The Nucleus Plaza is in Councilman Ricki Barlow's district, and he said he first met with the developer more than four years ago and it has taken that long to agree on a master plan.
The developer is spending $510,000 to renovate the western end of the plaza and has already invested $615,000 on the eastern end.
In an explanation of how the project benefits the public, the city said that 50 construction jobs are created, and aside from the renovations and landscaping, the developer will restripe the parking lot, update and paint the exterior, and improve lighting.
The city believes the project development will encourage creation of new businesses and demonstrate greater social benefits to the city.
Many still wonder why in the aftermath of the Rodney King riots in April 1992, the plaza owned by John Edmond was torched. Two people died in the rioting that followed the jury's acquittal of police officers accused of beating King. The Las Vegas Fire Department responded and put out the fire but then left because of reports of gunfire.
The office of the National Association for the Advancement of Colored People was damaged, along with a grocery store, a job training agency and a nonprofit medical clinic.
JLC, a Michigan-based company that specializes in inner city renovations, bought the plaza from Edmond, who owned it for more than 30 years. Edmond built another plaza across the street.
Contact Jane Ann Morrison at jmorrison@reviewjournal.com or 702-383-0275.