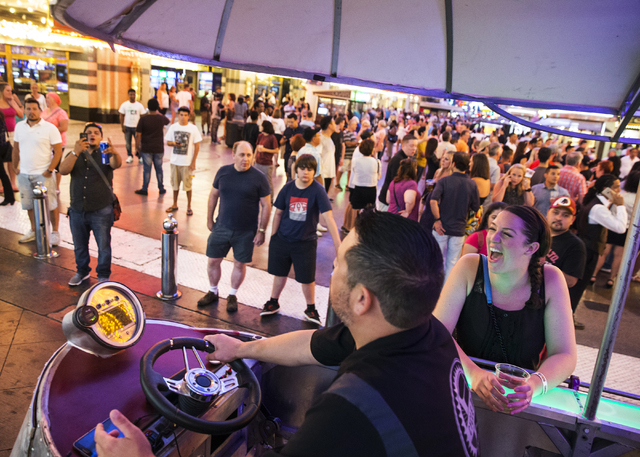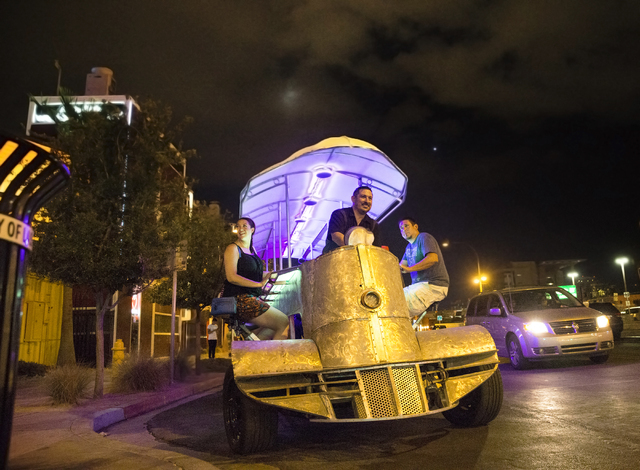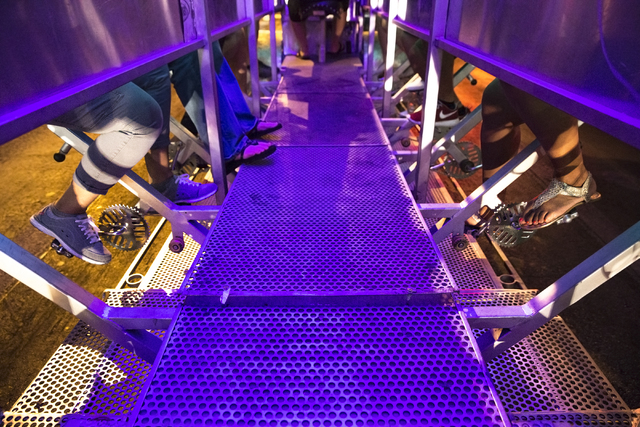 Russell Davis has plans to expand his downtown business that allows revelers to pedal themselves from pub to pub, pending a proposed change to Las Vegas city code.
Davis has been the proprietor of the Vegas Pub Crawler, a pedal bus that lets passengers propel themselves to different downtown watering holes, for about four years.
The tours, which hold up to either 15 or 20 people and are guided through the streets of Las Vegas by a driver, have been considered a "special event" by the city.
But a proposed change that provides for business licensing regulations for pedal buses and pedicabs, which is headed to the City Council in the coming weeks, would codify Davis' business, he said.
"It gives me a lot more confidence in making that investment," Davis said.
For the past few years, Davis has been operating a pedal bus that is stationed across Third Street from the Downtown Grand.
Davis recently added a second pedal bus, which was built locally, and has made only a few tours so far. With the forthcoming ordinance, Davis hopes to expand the fleet to three or four pedal buses downtown, one on an Arts District route, and eventually begin building pedal buses in downtown Las Vegas to sell to other places, he said.
Davis wants to talk with city officials about the new ordinance before the City Council vote, and has a question about a proposed restriction on pedal buses and pedicabs operating between 3 and 6 p.m. on Fourth and Main streets and a section of Stewart Avenue.
If that restriction becomes part of the city code, the tours could just forgo regular stop Nacho Daddy on the afternoon tour, Davis said.
"There are plenty of options," Davis said. "We'll work around it."
Unlike other cities such as Milwaukee, where patrons can bring their own booze onto the pedal tavern, Vegas Pub Crawler riders drink in bars, where they often get drink specials, and not on the bike, Davis said.
Pedicabs — three-wheeled, nonmotorized vehicles propelled entirely by the person operating them — are also part of the new proposal.
Some pedicab companies have expressed interest in operating in Las Vegas and are waiting for the code change because they want to do business here, said Tom Perrigo, the city's planning director.
The city's Recommending Committee, which vets ordinances and advances them to City Council agendas, set aside the proposed changes at a meeting earlier this month, in part to meet with some downtown business owners to help them better understand the regulations.
The ordinance also includes a provision for horse-drawn carriages, which Las Vegas Valley Humane Society President Karen Layne wants to see removed entirely, which is now the city's intent, Perrigo said last week.
"This bill perpetuates a business, and expands the hours of operation of a business, that, so far as this organization is aware, does not even exist in the city of Las Vegas," Layne wrote July 31 to city officials about the initial city code change proposal.
With no one now operating under that license, now is the time to get the horse-drawn carriage provision out of city code, Layne said. She cited accidents in other cities when horses have gotten spooked and the Las Vegas heat.
"In this climate it's ridiculous," Layne said. "I truly do believe you're just asking for problems."
Contact Jamie Munks at jmunks@reviewjournal.com or 702-383-0340. Find @JamieMunksRJ on Twitter.