MGM executive teaches program emphasizing importance of connecting with humanity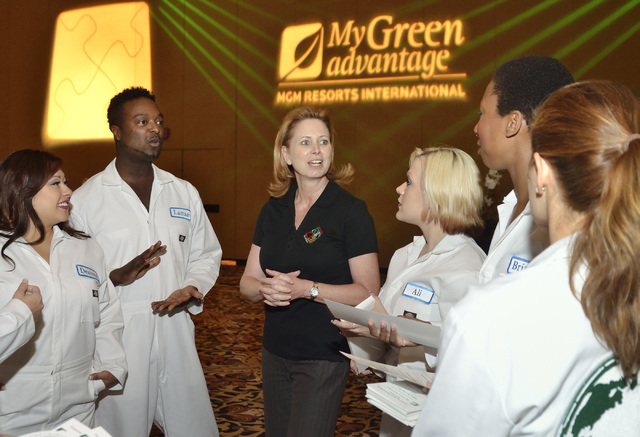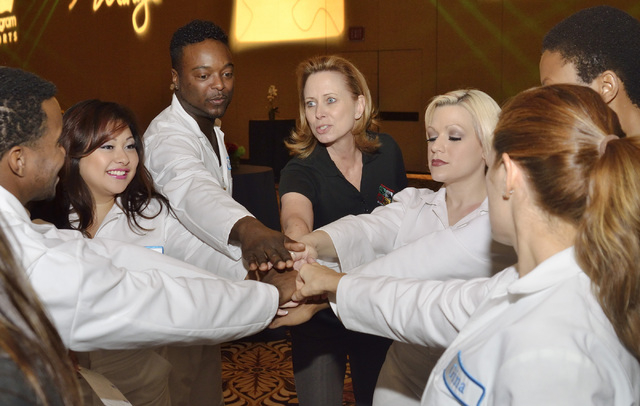 Patty Coaley revels in the chance to touch hearts and change lives for the better.
MGM Resorts International's executive director of diversity and inclusion development oversees a two-day leadership-training program in properties across the country. In the sessions, she helps the company's 12,000 supervisors and managers remember the importance of human connection. The program teaches these leaders about the value of people they supervise; the goal is to get employees to feel similar empathy toward customers.
Coaley jumped at the chance to move from marketing to her new position. She says she loved marketing but the workshops would let her affect people's lives in a different way.
"In his book 'Delivering Happiness,' (Zappos CEO) Tony Hsieh says that you're either at three places in your life," Coaley said. "You either have a job, a career or you're doing what you're passionate about. I had an amazing career and I've had jobs, but this is just something I'm passionate about. This is something I was born to do to facilitate and touch people's hearts and make a difference in people's lives."
Coaley's career began at age 18 when she joined in the "Jubilee!" cast as a dancer after graduating from high school. She put herself through college.
She was exposed to show business early. Her house became a rehearsal spot for lounge bands and singers who would rehearse to her father's piano accompaniment. She remembers hanging out in the front yard with her friends and having her parents open the house's windows so they could hear the rehearsals.
"We always had entertainment in our life," Coaley says. "I played piano at a young age, but I always enjoyed dancing much more playing an instrument."
Question: How did you get interested in dancing?
Answer: I think from osmosis and just being around it. I saw my first production show when I was 3 at Circus Circus. They had a burlesque show and my father took me to rehearsal. I said I wanted to do that when I grow up. They wear these beautiful costumes and they're so graceful.
Question: But you didn't stay in that career path?
Answer: My father instilled in me at a very young age that you should only dance for a certain amount of time. When I got my first professional dancing job, he made me promise that I'd go to college and get a college degree at the same time, knowing you always have to have something to fall back on because you don't dance forever. You can get injured, and we get older.
Question: Why did you study communication in college?
Answer: I have always been one who enjoys public speaking and just the part of creativity of advertising and public speaking and broadcast journalism it all felt like a natural fit. I started in public relations. And, as my career progressed, I got more into coming up with the creative side of advertising.
Question: What did you do at Excalibur?
Answer: In the marketing department, I did everything you could possibly do from PR to media buying, promotions, special events, database, Web and email marketing and social media.
Question: How do you help people connect to humanity during your leadership-training program?
Answer: The workshop is very introspective. It gives our management team time to step outside of work for two days and just focus on where they can be better as a leader, as a human being, and where they can improve in (their) personal lives and their professional lives. It provides them with some tools to go back and work with and implement to better engage their family members and their team members.
Question: What's the goal?
Answer: We want … people (to) leave our workshop understanding the importance of valuing others for who they are, no matter where they come from and what they look like and what they believe in — that every human soul is worth something and that every individual has greatness inside of them.
Question: Can a two-day conference make a difference with people?
Answer: I think the two-day class impacts people's lives tremendously from the emails that I get after classes. People call the class life-changing. Is this for everyone? No, but that's diversity. Our goal in the class isn't to have everybody leave and think the same and act the same. Some of the lessons that we teach — some of the people might not get the message until six months after they left the class and then they understand now I know why they were teaching us that now.
Question: What is the idea behind diversity and inclusion of the workshop?
Answer: On the workshop side of it, one of our goals is to bring awareness to the forefront that all of us are different but all of us are the same. It gives everyone a chance to spend two days with people that may not be like you and hear their stories of what life is like and that's where you're connecting with humanity. When else do you take time off for two days to learn about other people or teach people about you and importance of valuing everyone and what they have to offer?
Question: You want them to be a coach?
Answer: Our jobs as leaders are to coach and mentor. If we get too focused on tasks, we are not being leaders, we are being managers.
Question: How do you continue this outside the workshop?
Answer: We work with properties on initiatives that support diversity, which equates to leadership. We ask, "What are you doing as a leader to build trust?" "What are you doing to show that you value all of your employees?" We work with them on engaging employees with sustainability efforts and engaging them in philanthropy, which is giving to our foundation. It is also volunteering within your community.
Question: What else do you do in this initiative?
Answer: We have 11 employee network groups. We have an African-American network group. We have an Asian-American-Pacific Islander employee network group, Hispanic, interfaith, LGBT. We work with those groups as a liaison for events that they may want to conduct companywide.
Question: Is there is measurable goal in mind?
Answer: We have an employee opinion survey that comes out annually and we identified three questions that we call the diversity index question. We base it on how you as a supervisor score on those questions and that tells us how you're doing in diversity. What we teach in the workshop is what you would need to raise those scores.
Question: What if supervisors score poorly?
Answer: They could come to us and we can help them identify areas, and they can go back and get some refreshers where they might be deficient to help them raise their scores.
Question: Is the bottom line the goal?
Answer: It's the service profit chain. The expectation is that I as a leader should treat employees the same way I expect employees to treat our customers, and I would hard-pressed to ask my employees to go out and do something that I'm not willing to do. I have to role model that behavior and that's the expectation.
Question: I'm told you're the primary creative force in developing "Inspiring Our World," the company's first employee show aimed at educating all 62,000 employees on its mission and core values and its culture of diversity and inclusion, philanthropy, community support and environmental sustainability. What's that about?
Answer: It's physically impossible for us to send all 62,000 people to a two-day workshop. We found that a little more efficient and much more entertaining way is to watch a 90-minute production that sets what our values are as a company, what our mission is in diversity and sustainability and philanthropy. That was a way to refresh our company as one company, one culture.