Movement afoot among hotel operators to reinvent Las Vegas yet again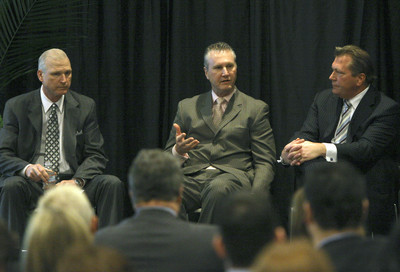 It's no secret the growing, global recession is hitting Las Vegas as hard as any city in America.
In less than a year, the city's biggest resort companies lost billions of dollars in value, watched helplessly as millions of business and leisure customers canceled visits or skipped return trips, and eliminated thousands of jobs.
But even with no end to the bad news in sight, there's a movement afoot to reinvent Las Vegas yet again, a process that's unfolding in private in closed-door conference rooms and in front of customers at restaurants and on casino floors.
"We really have to rethink our business," said John Unwin, senior vice president for hotel operations at Caesars Palace. "We thought we had clarity on the future a year or two ago when we made all these big investments. Obviously, we didn't."
Unwin was one of three executives who spoke Tuesday to about 100 hospitality industry people at International Hospitality Week, concurrent hotel, restaurant and bar conferences at the Las Vegas Convention Center.
He said the changes are so swift and unsettling they've upended virtually every aspect of the Las Vegas business model.
People who manage the world's biggest and poshest resorts are now turning to every corner of their properties for advice on how to cut costs, find new business and maintain morale in buildings that can cost $2 million per day to keep running.
"We have very spirited discussions about it every week," Unwin said.
And the reinvention ideas are coming from unlikely sources.
Unwin said managers at Caesars recently boosted revenue in one section of the casino by 10 percent on the advice of a security guard. According to Unwin, the guard noticed that when performers such as Cher were wrapping up events in the evening, the band playing just outside the main showroom would often be on a break. By changing the casino band's break timing, Caesars was able to increase the likelihood that some of the 4,200 people leaving the featured event would stick around and spend money.
Roger Bloss, founder, president and CEO of Vantage Hospitality in Las Vegas, said the recession has everyone in his company from maids to general managers reconsidering their role in keeping the company afloat.
Bloss, whose company owns the brand America's Best Value Inn, which has more than 800 independent franchise locations around the country, said the newfound energy is natural survival instinct.
"We've turned everyone we have into salespeople," Bloss said. "Some of our people are having to do something they haven't done in 20 to 25 years, that is going out and knocking on doors to try and make sales."
John Shigley, executive vice president of operations at MGM Grand, says the recession has operators reinventing their properties on the fly to meet new expectations that customers are placing on Las Vegas.
"The image of Las Vegas has changed from decadence, extravagance and luxury … to, now, a value proposition," Shigley said.
He estimated the local hospitality industry has shed 15 percent to 20 percent of its work force and that remaining workers — including the top brass — have been jolted into taking action.
"The employees who are still here are very motivated to keep their jobs," Shigley said. "Everybody is getting very creative in how they do their business."
All three on the Tuesday panel said the downturn in convention business has been especially damaging.
Operators have managed to keep rooms full on weekends by cutting rates and they cited Super Bowl weekend, recent NASCAR races in Las Vegas and an upcoming country music awards event in town as particularly strong drivers.
But all three also used unprintable-in-a-family-newspaper expletives to describe the business environment. They also criticized government officials in general and President Barack Obama specifically for cultivating a sentiment that, for businesses seeking aid from the taxpayers, Las Vegas is a wasteful place to hold events.
"There is a guilt factor right now," Bloss said.
Each cited examples of major conferences and meetings for computer technicians, surgeons and hoteliers that save money and boost attendance by having their meetings in Las Vegas.
Unwin said a bank cancellation of 2,800 room nights in January not only resulted in the bank paying cancellation fees, it also cost 230 maids work for the weekend.
"We are all in the same boat," Unwin said. "If your tips are down, my bonus is gone."
Contact Benjamin Spillman at bspillman @reviewjournal.com or 702-477-3861.