NASA air traffic control system for drones, manned aircraft gets test in Reno
October 17, 2016 - 8:51 pm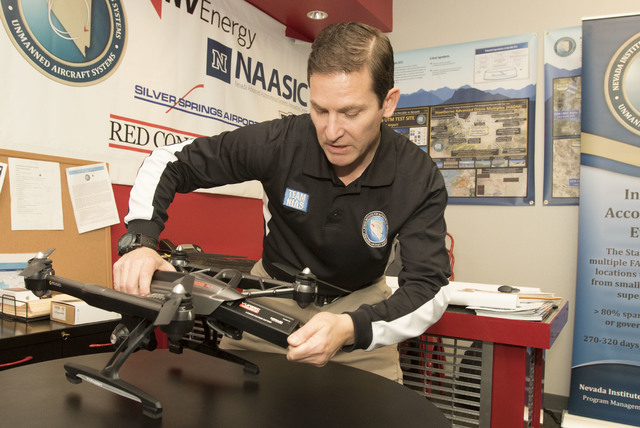 A team from NASA will conduct a weeklong test of an air traffic control system it is developing for both drones and manned aircraft starting Tuesday at Reno-Stead Airport, an exercise that will include flying drones beyond the limits of operators' eyesight.
"NASA is going to test all the different components of their traffic management system," said Chris Walach, director of the Nevada Institute of Autonomous Systems (NIAS), which will run the test range on behalf of NASA.
Nevada, along with other federally designated test sites, is helping NASA develop the new air traffic management system, a key requirement before drones can be used for futuristic applications such as commercial delivery and infrastructure inspection.
Among other things, the test of the NASA system at Reno-Stead will include "beyond visual line of sight" operations. Current Federal Aviation Administration commercial regulations require that operators be able to see their drones during flight to avoid potential collisions with other aircraft.
Parimal Kopardekar, senior technologist for air transportation systems at NASA's Ames Research Center and principal investigator for the agency's unmanned aerial systems traffic management program, said the system will be put to the test with multiple beyond visual line of sight operations at the same time.
During a test on Wednesday, for example, two drones will fly out of sight and up to three drones will fly within visual line of sight in the same airspace, separated by altitude. Pilots will use the traffic management system to obtain information about the location of the drones and their proximity to one another. The system will also detail potential hazards.
Kopardekar said the Nevada test site was chosen because it is closest to NASA's Ames Research Center in the San Francisco Bay Area.
That Nevada is hosting the first extended test of the system bodes well for the state as it strives to become a leader in the deployment of drone technology.
"We hope to leverage the fact that this is where this was tested to this is where we want the commercial applications to be used," said Tom Wilzcek, aerospace and defense specialist with Gov. Brian Sandoval's office.
The exercise also is a boost for the Nevada Institute of Autonomous Systems, which works with the governor's economic development office and will run the test range at Reno-Stead on behalf of NASA.
"It's the largest operation that NIAS has done to date," said Walach, who also serves as director of the FAA-designated Nevada Unmanned Aviation Test Site.
But it will take time to see how this research and development plays out. NASA is slated to test drone flights over moderately populated areas in 2018 and applications including package delivery in 2019.
In the meantime, Walach said the Nevada test site is preparing for regulations for drone flights beyond visual line of sight and focusing on creating the infrastructure for long-distance operations across Nevada. A key part of that effort involves working with the state to lay the groundwork for a drone air corridor, which would include access points for drones to enter and exit.
Such an air corridor, though, will only be possible with further technological innovation, like flight situational awareness and detect-and-avoid capabilities, Walach said.
"You also can't operate over long distances without refueling and recharging logistical stops," he said. "We've already laid the groundwork from Las Vegas to Reno to be able to do that … and received approval from the FAA."
But much hard work and innovation will be required before drones can zip across the state to deliver goods bought on Amazon.
"Ultimately we have to develop the command and control over long-distance UAS operations," Walach said.
Contact Nicole Raz at nraz@reviewjournal.com or 702-380-4512. Follow @JournalistNikki on Twitter.