NEVADAN AT WORK: Working from bottom up deepened chef's kitchen capability
September 4, 2011 - 1:00 am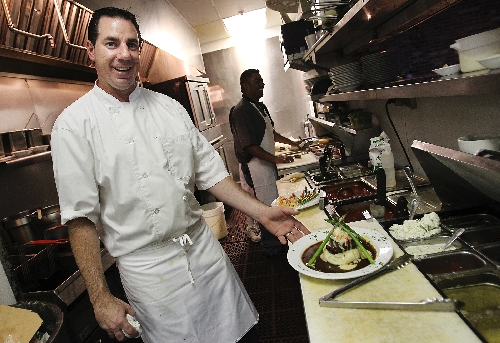 Dressed in a stark-white uniform, longtime Las Vegas chef John McKibben stood behind the bar and looked out at a dining room half full at 2 p.m. on a Tuesday. Families and couples chatted between bites of baked brie, crab-stuffed shrimp and Greek salad.
Since Nov. 23, 1997, McKibben has nurtured one of his life's greatest joys — Grape Street Café Wine Bar & Cellar.
After its opening, Grape Street, at Buffalo Drive and Lake Mead Boulevard, was swarmed. McKibben couldn't keep customers away. They lined up outside to taste his food.
The original interior design included a retail food shop, but McKibben converted the space for dining to accommodate the herds of hungry humans.
Grape Street remains a popular spot for locals, though the long lines are gone.
"I love what I do," McKibben said. "Our success is due to our employees. We're a big family."
McKibben runs a crew of about 36 employees, including three sous chefs and four front-end managers. Most have worked there for more than 10 years.
"Right now, it just runs as smooth as a clock," McKibben said. "I take care of them and they take care of me."
Besides an extensive, consistent Italian and Mediterranean menu, McKibben serves about seven nightly specials.
"I'm here a lot. I work 70 to 85 hours a week," McKibben said. "I cook every night."
Grape Street also stocks as many as 80 wines by the glass and 350 bottle varieties. Single-bottle or case sales of boutique wines make up about 10 percent of the restaurant's business.
"I think we're definitely one of the better restaurants in this town. The food is great," McKibben said. "We're very consistent and people know what they're getting when they walk in the door."
McKibben didn't get his start on the line at a fancy restaurant or by attending an expensive culinary school. He cut his teeth at McDonald's while still in high school. From washing dishes at The Wharf, a steakhouse in Hawaii, he worked his way up to line cook before he was accepted at the University of Nevada, Las Vegas.
Question: How is business at Grape Street?
Answer: It definitely has slowed down the last three and a half years. But we're still going strong. I'd say thanks to the whole Las Vegas Valley, but especially to the Summerlin area. Thank God we have regular customers who enjoy the place and come in. We have some regulars who come in two or three times a week. Sometimes I have people come in for lunch and they come in the same night for dinner. I would say I probably know at least 70 percent of the clientele who walks in the door by first name.
Question: What interests you now about food?
Answer: Sustainability. Being more aware of that, because I love seafood so much. I heard there's a new shrimp farm here. I'm interested in calling them up.
Question: What's your management style as a chef?
Answer: I think my biggest thing is I learned from the bottom up. Dishwasher to busboy, every aspect of running a restaurant. … It helps unbelievably. On-the-job training is the best training as far as the restaurant business. You'll know every position and what's going on and how people think. When I hire a cook here, I make them a dishwasher for a month. That way, he respects them and understands the process and what they go through. Then there's no argument back and forth.
Question: How did you come to cook the food that you do?
Answer: A lot of experimentation. Reading. I've always just loved Italian and Mediterranean food and that style of cooking. I'm Irish, but I should be Italian.
Question: What's the best part about meeting other Las Vegas chefs and restaurant people?
Answer: You get to meet incredible, awesome people in the industry. You bounce ideas off of them. Sometimes I've cooked in their kitchens and sometimes they've cooked in mine. It's pretty neat. When I first came here, it was buffet city. (Then) the high-end chefs started coming in. It's just fun now going out and meeting other chefs. It's fun learning about what they do and how they do things.
Question: What was it like to work at Carluccio's Tivoli Gardens, which was an institution in Las Vegas?
Answer: It was awesome. I actually learned everything from Chuck and Helen Harris (former owners of Carluccio's) as far as the restaurant business. It was better than any school because I learned everything on the job, you know?
Question: How did its closure affect you?
Answer: It's terrible. I honestly can't believe it. The (Liberace) museum closed and there was no more foot traffic coming in the center. I think people just assumed the plaza was closed. I had a lot of good friends there. It was there for 24 years or something like that.
Question: Why is Patrick O'Connell's cookbook at the top of your reading list?
Answer: He's a self-taught chef, kind of like me. He reads, does experimentation and learns from other chefs.
Question: When you opened Grape Street, did you envision business working out for you the way it has?
Answer: I've definitely learned a lot since I've been here. When I opened the place up I was 29. I'm 44 now. We used to get these looks. Me and Larry, my ex-partner and I, we were both the same age. Trying to get a lease, people would look at us like, "You want to do what?" Then we got three or four different lease options in the city. We just hit that niche at the right time.
Question: What's your favorite menu item at Grape Street?
Answer: That's tough. I love fish. I like steak, too. I don't know, that's a tough call there.
Question: If you weren't cooking for a living, what would you be doing?
Answer: I think I'd definitely be in some sort of sports medicine or something revolving around sports. My whole life I grew up around sports. I played basketball, football, baseball. My ultimate dream was to play basketball, but I obviously wasn't big enough, good enough. The only reason I came to UNLV actually was to see the UNLV Rebels play basketball. How crazy is that?
Question: Who is your mentor in the restaurant industry?
Answer: I would probably say Chuck Harris from Carluccio's. He just taught me what to do when things break down, like the air conditioner, then about things like the books and payroll. I learned so much at that restaurant. You have to wear many different hats. You have to be a little knowledgeable about plumbing and electrical and being a chef and being personable with the guests.
Contact reporter Laura Emerson at lemerson@lvbusinesspress.com or 702-380-4588.
VITAL STATISTICS
Name: John McKibben.
Position: Executive chef and owner, Grape Street Café Wine Bar & Cellar.
Family: Wife, Michelle; daughter, Hannah; mom, Judith; sisters: Mary, Ann and Susan.
Education: Studied hotel, restaurant and finance at the University of Nevada, Las Vegas from 1985-1990.
Work history: Executive chef, Carluccio's Tivoli Gardens, 1988-1996; chef, All Star Café, 1997; executive chef and owner, Grape Street Café Wine Bar & Cellar.
Hobbies: Basketball, football, tennis and playing with his wife and daughter.
Favorite book: "The Inn at Little Washington Cookbook" by Patrick O'Connell and Tim Turner; "Mastering the Art of French Cooking" by Julia Child, Louisette Bertholle, Simone Beck and Sidonie Coryn.
Favorite movie: "Jaws" (1975).
Hometown: Gulfport, Miss.
In Las Vegas since: 1985.
Quote: "I'm Irish, but I should be Italian."
Grape Street Café Wine Bar & Cellar is at 7501 W. Lake Mead Blvd., Suite 120. It can be reached at 228-9463.