New analysis shows best time to have invested, bought home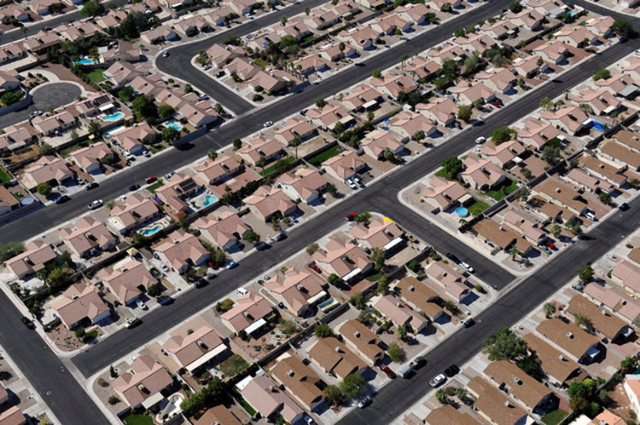 You plunked down cash for a Las Vegas home in 2009 and invested in stocks in 2012.
Boy, did you mess up.
A new analysis shows you'd have made $66,000 more if you had rented instead and put your home's 2009 down payment into the stock market, according to online housing marketplace Zillow. It's the opposite if you'd bought in 2012: You'd have made $52,175 more if you had invested in real estate.
Before you get really depressed, note that Zillow's analysis assumes a 20 percent down payment. In reality, 10 percent or less is likelier in the local market, said Kathryn Bovard, a broker with Realty One Group and vice president of the Greater Las Vegas Association of Realtors.
That said, timing is still everything. And the problem with timing is that you don't know you got it right until later. It took economists almost a year to determine the housing market's peak was in 2006, and its low in 2012.
So is it possible to time the housing market without hindsight? Sort of — if you're savvy. But should you try? Probably not.
To see why, start with what experts watch to keep tabs on whether it's a good time to buy or bail.
Look for good decisions
First, look for good decisions. How much do consumers pay for a home, and how do they finance it?
Median prices should be around three times the typical income, said Svenja Gudell, senior director of economic research at Zillow. Much more than that — five or six times more —€" could signal an overheated market ready for a cool-down.
Also, compare mortgage payments to incomes. Local monthly payments averaged 25 percent of income from 1985 to 2000, according to Zillow. Anything over 35 percent is a red flag. At 40 percent or more, expect "a squeeze," said David Brownell, a broker-manager with Keller Williams Realty.
It's important as well to watch how people finance homes. Look out for a surge in 100 percent loans with zero money down, or —€" even worse — 120 percent loan-to-value mortgages that pay cash on closing. And if you see spikes in "exotic" loans such as option adustable-rate mortgages or interest-only loans with balloon payments, think twice about jumping in: Those loans are a "sign we're running out of safe, stable buyers, and lenders are creating opportunities to help a market that doesn't have enough velocity," Brownell said. "You're moving maybe into an unaffordable period."
Local real estate stats can tell you a lot, too.
As month-to-month changes in home values taper, prices are stabilizing, and perhaps even primed for a swing. Just before the housing market bottomed out in the first quarter of 2012, monthly price declines slipped from 2 percent to 1 percent and then to nothing, before they began rising just as methodically, Gudell said. Look for a four- to five-month period with consistent shrinkage or growth to forecast a bounce from the bottom or a bubble about to burst.
Inventory is another key, Bovard said. When the local market had a 30-day supply of homes for sale in 2013, sellers commanded multiple offers at full list price, and brooked no bargaining. It wasn't a great time to buy for value. For that, you'd have been better off closing in 2008, when inventory was at 12 months and sellers were desperate.
Plus, list versus closing price can indicate market health. If homes sell for 98 percent of list price, you're likely in a stable market, Bovard said. If the going rate is more like 80 percent of list price, it's a softer market that might mean more buyer bargaining power.
Finally, don't forget the macroeconomic picture.
As the Federal Reserve raises interest rates, possibly as early as September, expect more of a buyers' market as fewer people qualify for loans. More inventory on the market typically means more negotiating room, Bovard said. Falling rates would spur demand and potentially push up prices and buyer competition.
And because employment links directly to housing demand, a struggling jobs market could make it easier to buy '€" just as a tighter employment picture might make it harder.
Not a bad time to buy
Those indicators mostly show it's not a bad time to buy in Las Vegas.
Take price-to-income ratios. Research firm SalesTraq's median resale price of $182,000 in April was 3.4 times more than median household income, which has hovered around $53,000 for the last decade. The 2006 median of $285,000 was 5.4 times typical earnings.
What's more, it took just 16 percent of income in the first quarter to cover the average mortgage payment, compared with 35 percent in 2006, Zillow said. That ratio is so low that even if interest rates spiked to 7 percent, Las Vegas would "barely touch" its 25 percent historical average, Gudell said.
Inventory is at 2.7 months, which Bovard said is "just about right" —€" neither a buyers' nor a sellers' market.
Annual appreciation has slowed to 6.3 percent, down from nearly 30 percent in 2013. But prices are almost 40 percent below their 2006 peak, unlike in regional markets such as Denver and San Jose, Calif., which have blown past their bubble highs and are "looking suspicious," Gudell said.
And at 4 percent, Nevada ranked No. 2 in the nation for job growth in 2014, though its June unemployment rate of 6.9 percent was more than a percentage point above the national average of 5.3 percent.
All that said, though, it's not necessarily time to go for it if you're uncertain.
"We had a lot of price growth in the past few years, and while there are some great signs for Las Vegas really coming around and solidifying itself as a growing economy again, it's hard when you look at what $200,000 buys in Las Vegas," Brownell said. "It's a little disheartening."
Nor is any set of indicators foolproof.
In fact, forget about timing the market at all, because experts say that kind of thinking was behind the housing bust.
That home is not an investment
First things first: A home that you live in is not an investment. You shouldn't be looking for ways to make a killing on it. It's not unreasonable to expect a little equity over half a decade or more, Brownell said, but a home is actually a liability in some ways, if you consider maintenance, homeowners' insurance and other costs.
Instead, buy only if you're looking for a long-term lifestyle play.
If you plan to relocate in a year, or you want to call a landlord when stuff breaks, renting might be better.
If you need space for a growing family, you want pets, or you expect to renovate, buying isn't a bad choice. And if you think long-range, you'll be better off financially anyway.
"The takeaway is to hope you have good luck," Brownell said. "Real estate goes through cycles and adjustments. Over time, historically, it has generally gone up. if you're a long-hauler and you intend to be in the property for five, six or 10 years, You can weather some of those cycles and short-term adjustments."
Contact Jennifer Robison at jrobison@reviewjournal.com or 702-380-4512. Find her on Twitter: @J_Robison1.