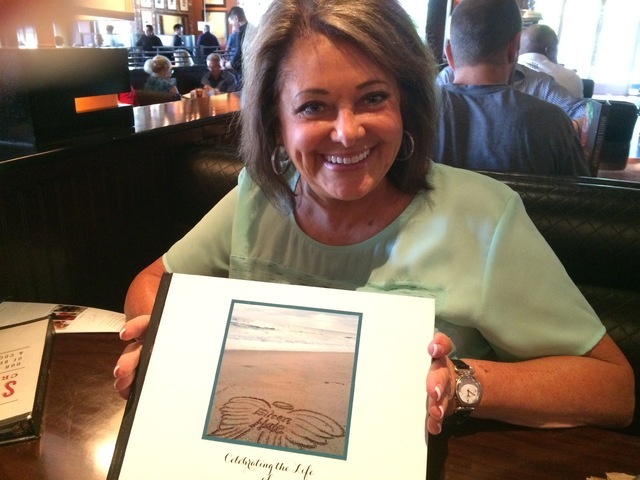 There's time to mourn the death of a loved one or friend. But there should also be a time to celebrate their life with laughter and smiles and, yes, even dancing.
That's the message behind Creative Life Celebrations, a business begun earlier this year by Renee Hale at 10170 W. Tropicana Ave., Suite 156-201. Her mother, Eileen, died in July 2014. She was 82.
Hale described her mother as warm, fun, compassionate and her best friend. She also loved to dance and would go out to clubs to enjoy the music.
"Four nights a week, she insisted that we go see different singers that were friends, to see them perform," Hale recalled. "She loved music. … I was raised on jazz and blues — Lou Rawls and Joe Williams. There were no Beatles or Rolling Stones in my house."
Hale's favorite memory of her mother was when they'd gone to Maui on vacation when Eileen came out with yet another "Aunt Clara expression" — the egg doesn't fall far from the tree, that's water next to the bridge, or whatever it was that day. After a moment, when her daughters realized what she'd said, everyone would burst out laughing.
It was those kinds of things, Hale said, that she wanted people to remember about her mother.
When she first approached her sister, Jodi Fonfa, about the idea of a party to remember their mother instead of a somber occasion, the idea was seen as preposterous.
"Basically, she said, 'You're crazy,' " Hale said.
Her sister eventually relented, even agreeing to host it at her home in The Ridges in Summerlin. The affair had guests greeted at the door with mimosas — Eileen's favorite drink — and posters showing various chapters from her life, with her always smiling and always involved. She'd specified in her will that any get-together after her death was to stress the good times she'd enjoyed.
The band, made up of her favorite talents, played such upbeat music that people soon got up, danced, laughed and had a good time.
Rabbi Mel Hecht, a longtime acquaintance, presided over the funeral and was at the get-together afterward. He said all funerals are celebrations of a person's life, but some are just happier than others.
"I felt more like an emcee than a rabbi at Eileen's," he added. "I thought perhaps this was a new version of a Catholic wake, but an upbeat one. For her and her family, it seemed absolutely appropriate. … Although it was a sad occasion, there were smiles and laughter."
It was such a success, attendees asked Hale to put together similar events for their loved ones when the time came. Her sister remarked that it was a "gift from Mom — her last gift."
It gave Hale an idea: why not help other families remember their late relatives with an event focused on their accomplishments and their good memories? After all, she'd been planning corporate events for 30 years with big-name companies such as AT&T and Coca-Cola.
It took a while to get all the elements for Creative Life Celebrations in order — Hale had other business obligations and was set to undergo major surgery for a new hip — but she pulled it off.
She said the biggest difference between the corporate events and the Celebration of Life events is the budget. Not many people have the assets of an international client, she said, but the elements "come more from the heart. This is about the person who died. It's about honoring them in the way they wanted to be honored."
Creative Life Celebrations sees that all aspects of the events are covered, including the obituary writing, food and beverage, linens and centerpieces, slide show, costuming options, balloon or butterfly releases, music, life chapter posters and custom invitations. Afterward, Creative Life Celebrations can create a book, full of pictures taken at the event.
Jay Joseph, owner of A Touch of Mystery & More Entertainment Group, has worked with Hale for 10 years and said she has a penchant for pulling events together.
"She's very easy to work with, very accommodating, and she has great ideas," he said. "I think the thing about Renee is that she's very approachable, so people feel very comfortable with her."
Visit creativelifecelebrations.com.
To reach Summerlin Area View reporter Jan Hogan, email jhogan@viewnews.com or call 702-387-2949.
Creative Life Celebrations
Address: 10170 W. Tropicana Ave., Suite 156-201
Information: Call 702-307-8111 or visit creativelifecelebrations.com.