Nursing union sees pay raises in new contract with Sunrise Health system
Updated June 1, 2023 - 3:39 pm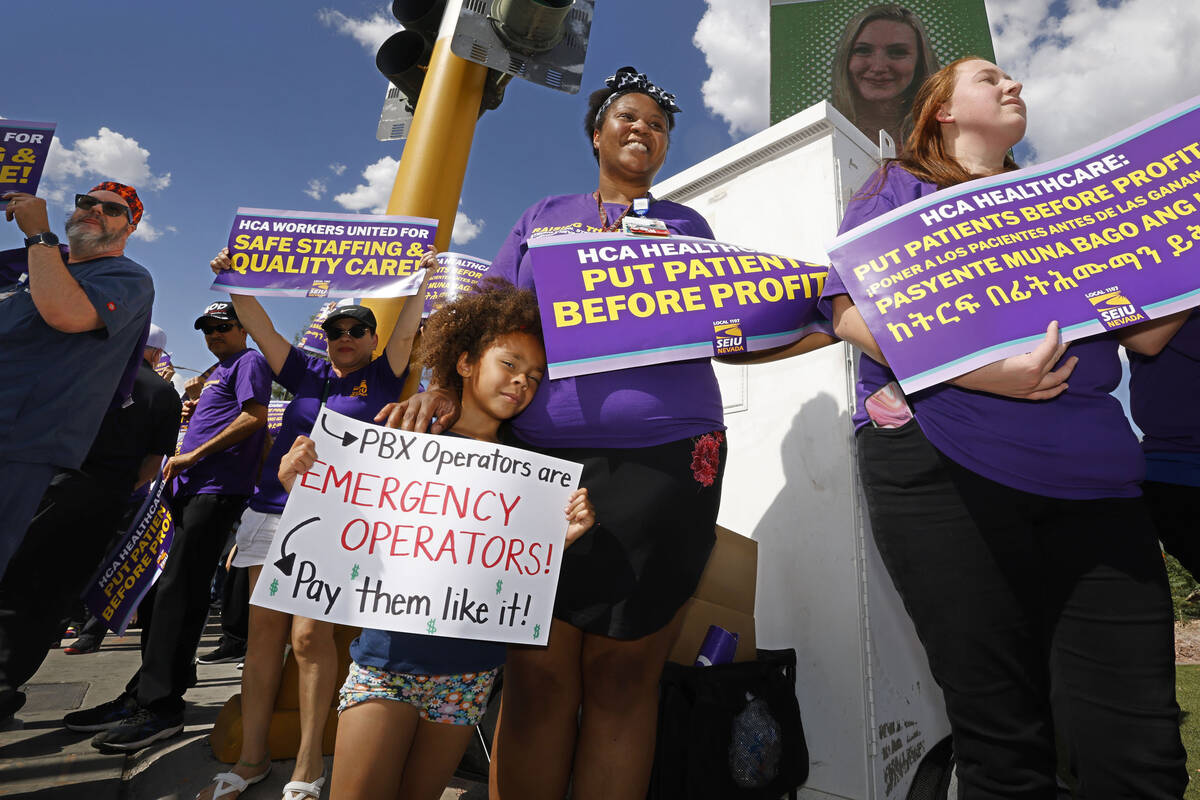 Nurses and other frontline health care workers in the Sunrise Health system reached a tentative agreement late Wednesday on a union contract that members say will increase pay and address understaffing at three Las Vegas Valley hospitals.
The agreement still must be ratified by a vote among the 4,700 registered nurses, nursing assistants, techs, lab workers and other frontline hospital staff at MountainView, Sunrise and Southern Hills hospitals. But members of the bargaining team from SEIU Local 1107 are confident in provisions obtained for the contract that runs through March 31, 2026.
"There's been inflation and some of our employees have not seen wage increases to meet the market in their job classifications in years," Mike Forson, a pediatric intensive care unit nurse at Sunrise Hospital and Medical Center, said Thursday after the midnight negotiation session. "Being able to secure the contract that addresses these issues is great for retention of these employees. This is monumental."
At the center of the tentative agreement is worker pay. HCA Healthcare, which owns the Sunrise Health system, agreed to a 13.75-percent wage increase over three years and an additional $2.25 million for wage adjustments to bring job classifications that are below market value up to competitive rates.
The tentative agreement also protected the employer-paid health care plan, banned subcontracting of imaging techs at MountainView Hospital and changed other operational procedures, according to the union.
A representative for Sunrise Health said the hospital system was pleased to have reached the tentative agreement.
"We thank our communities for their ongoing support and our colleagues who continue to put the health and well-being of our patients first," Antonio Castelan, HCA Healthcare Far West Division spokesperson, said in a statement.
Ralaya Allen, a 22-year veteran registered nurse at Sunrise, said she was especially encouraged that the agreement was met in three months when previous negotiations have taken more than a year. She noted that HCA representatives were also committed to reaching a deal.
"You could sense that both sides wanted to complete the contract and our goal was the membership," Allen said.
Nurses and other hospital employees in the Sunrise Health system previously told the Review-Journal that they were concerned about how the COVID-19 pandemic exacerbated understaffing and other challenges. Allen said the agreement comes at a crucial time as the valley's population explodes with new residents, more tourism and an aging population.
"Our community has grown and it shows in the volume and acuity we see on a daily basis," she said. "For us, it's huge to have the ability to retain the nurses we have and the ability to promote staffing – it's huge. Our clientele is going to keep coming back."
McKenna Ross is a corps member with Report for America, a national service program that places journalists into local newsrooms. Contact her at mross@reviewjournal.com. Follow @mckenna_ross_ on Twitter.