OSHA reduces fines for employers in about half of contested citations
September 9, 2017 - 10:46 am
Updated September 9, 2017 - 7:52 pm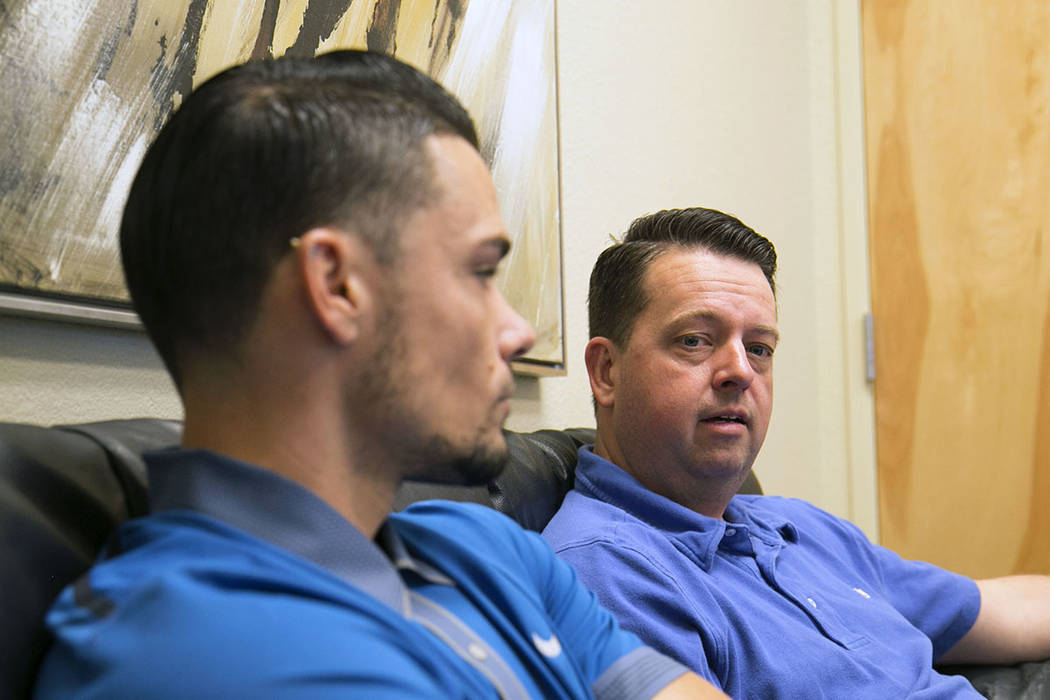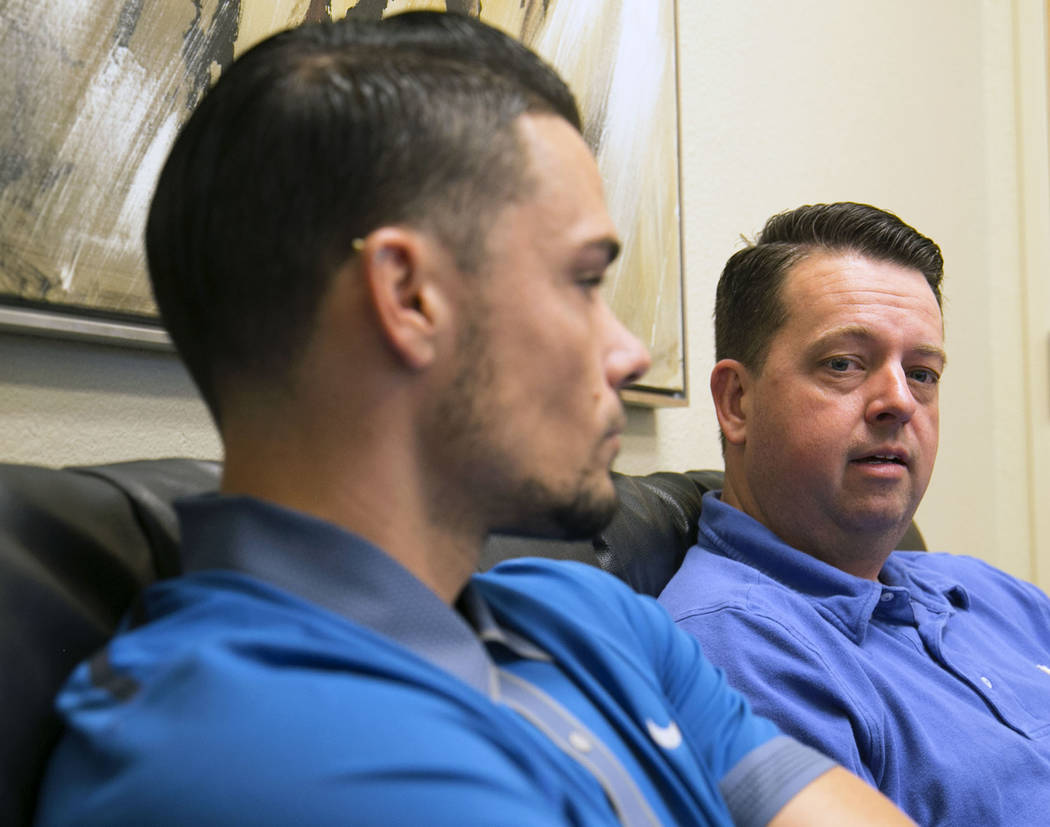 Gil Ben-Kely's fiery car wreck at the private SpeedVegas track in February placed the driving instructor with at least 162 people before him who died on the job in Southern Nevada since 2010.
The Nevada Occupational Safety and Health Administration's $16,000 fine for three safety violations at the track put SpeedVegas among a total of 36 companies the state has penalized after a worker's death within the past seven years.
Based on a Review-Journal analysis of state and federal OSHA fatality records since 2010, employers who contest citations get their fine reduced about half of the time — but not without a catch.
Leverage
It's common for Nevada OSHA to work with employers informally to reduce the fine in exchange for the employer to address safety issues that might or might not have been addressed in the formal citation, said Jess Lankford, chief administrative officer for the state agency.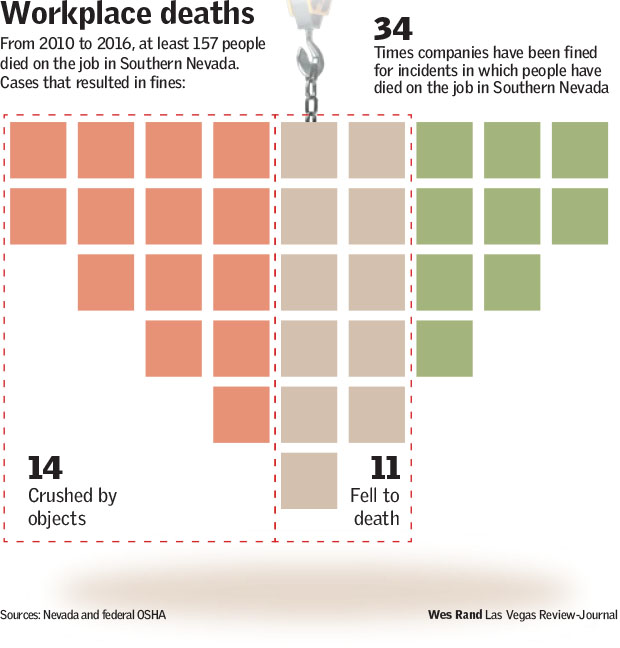 SpeedVegas is likely to accept the fine, Lankford said, because the company retracted a letter to contest the citations.
SpeedVegas declined to comment on their reasons for retracting its letter.
Over the past seven years, Nevada OSHA has reduced fines by as little as $440 and as much as $89,600. On average, Nevada OSHA reduced fines by $11,420.
Lankford said that fines might or might not be effective, depending on the blow to the company.
Likewise, a fine is just "the cost of doing business" for many employers, said Jordan Barab, former deputy assistant secretary of the U.S. Occupational Safety and Health Administration.
"There's still a lot of room there for raising those penalties," Barab said.
Especially, he said, in states like Nevada, which has a state level administration. Generally, states with their own administration have lower penalties than their federal counterpart.
For employers found to have a violation that caused a death of an employee, Nevada OSHA will fine up to $50,000 for a first offense and up to $100,000 for a second or subsequent offense. Federal OSHA fines range from $12,675 to $126,749.
Limited effect
Fines are supposed to be high so that they deter other companies from being sloppy on safety, said David Michaels, former assistant secretary of labor for occupational safety and health in Washington.
"It's not a punishment. It's really to send a message out, to provide an incentive for other employers to prevent workers from being hurt," said Michaels, who is now a professor in the Milken Institute School of Public Health at the The George Washington University in Washington, D.C.
Michaels said fines alone aren't enough.
"There's pretty good evidence that talking about OSHA's enforcement activities publicly influences other employers to prevent injuries, even when OSHA doesn't do inspections," he said. "It's very important to keep fines high, to talk about those fines, and get press about them to get them into public awareness."
Lankford said public shaming is an option his state agency is looking into. But it hasn't been a tool the state has used in the past.
"You don't particularly see that often here, though that's common practice in federal programs," Lankford said.
Beyond fines and publicity, Barab said criminal penalties would help to make fatal OSHA citations more effective. There has been an effort for many years to broaden OSHA's criminal prosecution authority, but nothing has materialized yet.
"Local authorities in a lot of states in the past have pursued criminal prosecutions as well," Barab said. "That's another route to go, and that generally has a lot bigger impact on employers than OSHA's relatively small financial penalties."
'Written in blood'
Patterns emerge in the reports of how workers died. For Tony Hernandez, he got the call during a surprise party for his wife, Julieta, held at their church. The party had to be a surprise for Julieta, who normally disliked celebrating her birthday.
After Hernandez put down the phone, his wife could read the bad news on his face. He said her father had an accident at work. He didn't make it.
"Everything went ballistic from there," Hernandez said in a phone call from his home in San Antonio. "It took a couple hours to calm down. We left the church, came home, started getting everything ready. When he was alive, every time we talked to him, he said we should come visit him."
The date was Aug. 1, 2015. Porfirio Gonzalez-Huerta was the 110th person, at least, to die while working in Southern Nevada since 2010, according to Nevada OSHA records. Those records include people crushed by equipment, shot and killed by medical episodes.
More people might have died while working than is captured in data the Review-Journal used from the federal OSHA for years 2010 to 2013. The Review-Journal used state data going back to 2013, the earliest year delivered by Nevada OSHA after a records request.
According to Nevada OSHA, Gonzalez-Huerta fell 15 feet through an unprotected skylight onto an interior wall. Federal OSHA calls for fall protection in the construction industry when at 6 feet high.
Gonzalez-Huerta was the 16th person to die by falling, his company the ninth to get fined over a fall-related death.
He had been working on Equipo Academy, a college preparatory public school for middle and high school students near the intersection of Bonanza and Sandhill roads. Officials pronounced him dead at the scene. He was 49.
The Hernandezes stayed in the Las Vegas Valley for about a week. They met Gonzalez-Huerta's former boss with A-Team Plumbing at the funeral, Tony Hernandez said.
A representative with A-Team did not return requests for comment.
The couple worried for Gonzalez-Huerta's twin sons back in Durango, Mexico. He had been sending them money for support.
Nevada OSHA would spend 212 days on the case from open to close. The government agency fined A-Team $4,800. Violations included insufficient guards around an unprotected edge and insufficient training for employees exposed to falls.
The fine was reduced in an informal settlement to $3,600.
Today, Tony and Julieta Hernandez still feel pain over the loss of her father. They show their four daughters, the oldest 11, pictures of Gonzalez-Huerta. They remember how he fretted over the cleanliness of his car.
Tony Hernandez, who has had 20 years of experience in construction, said he has always been safety conscious as a superintendent on commercial and industrial work sites.
To him, Gonzalez-Huerta's death is a reminder that even brief moments at elevated construction sites require safety precautions, he said.
"They say every safety rule is written in blood," he said. "I don't want something like this to happen on my shift, on my hands."
Contact Wade Tyler Millward at wmillward@reviewjournal.com or 702-383-4602. Follow @wademillward on Twitter. Contact Nicole Raz at nraz@reviewjournal.com or 702-380-4512. Follow @JournalistNikki on Twitter.
Nevada OSHA penalties:
■ Willful or repeated violations
$5,000-$70,000
■ Serious and non-serious
Up to $7,000
■ Failure to correct violations
Up to $7,000 per day
■ Refusal to submit records for inspection
$200 per offense
■ Failure to post and maintain notice and records
Up to $7,000 per violation
■ A violation causing the death of an employee:
Up to $50,000 for a first offense with possible jail time
Up to $100,000 with possible jail time for a second or subsequent offense
Major accidents
■ February 2007: Two workers die in a toxic manhole at The Orleans. Boyd Gaming paid $185,000 in fines.
■ February 2007 to May 2008: Six workers die during the construction of MGM's CityCenter. Multiple employers were fined varying amounts.
■ June 2013: A Cirque du Soleil "Ka" acrobat falls 94 feet to her death. Cirque was originally fined $23,035, which was reduced to $7,000.