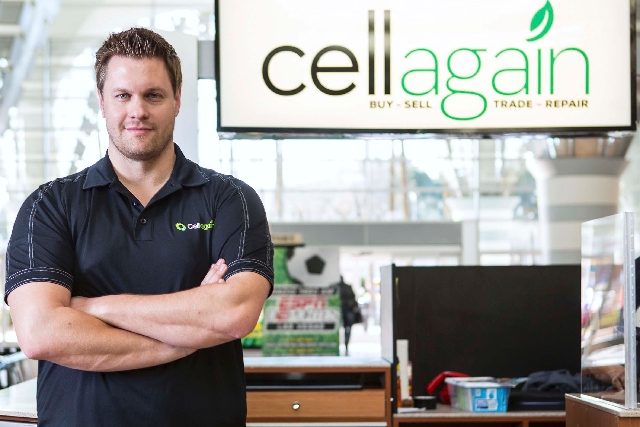 In 2008, Spencer Orien was unemployed.
Today, he's the vice president of franchise development for Orem, Utah-based Cell Again, a company that buys, sells, trades and repairs cellphones.
After falling victim to the 2008 stock market crash, Orien found himself facing divorce with very little capital. He was laid off from Fidelity Investments in Salt Lake City, so he made his way to Las Vegas.
Eventually, Orien was able to scrape together enough capital — $40,000 — to open a Cell Again franchise, a move that he said required a leap of faith.
"It's a very new concept. Cell Again, nationally, is a unique company," Orien said.
He explained that at the time, Cell Again's business model was an unproven concept. Outside of Utah, Orien was the first franchisee and the company's second store overall.
Now, there are 25 stores open in 12 states and Ireland. By the end of 2013, 10 more are slated to open, including two in the Las Vegas area.
Orien is in discussions with Simon Property Group to determine placement of the future stores at the Las Vegas Premium Outlets-North and South.
In 2012, Orien made the transition from franchisee to his current position.
What's the biggest lesson you've learned?
The hardest part about being in a retail environment is having good employees you trust. We've hired low-tier employees we didn't vet too heavily. … Picking the right employees is huge, because they can make or break a business.
Who do you look to for help in business?
I bounce ideas off of my dad. I was born and raised in Alaska and my dad was a really successful businessman.
What's your favorite part of the business?
Our employees love working for us because it's a new idea and we provide technology. We provide services that large carriers can't. (Such as selling unlocked phones.)
Prior to opening your franchise, how much did you know about technology?
Zero. I knew nothing about phones. I had a corporate Blackberry, but I didn't know how to fix them or anything about them. You just get to know the technology working in the store as an owner-operator. You just get really addicted to the technology side of it.