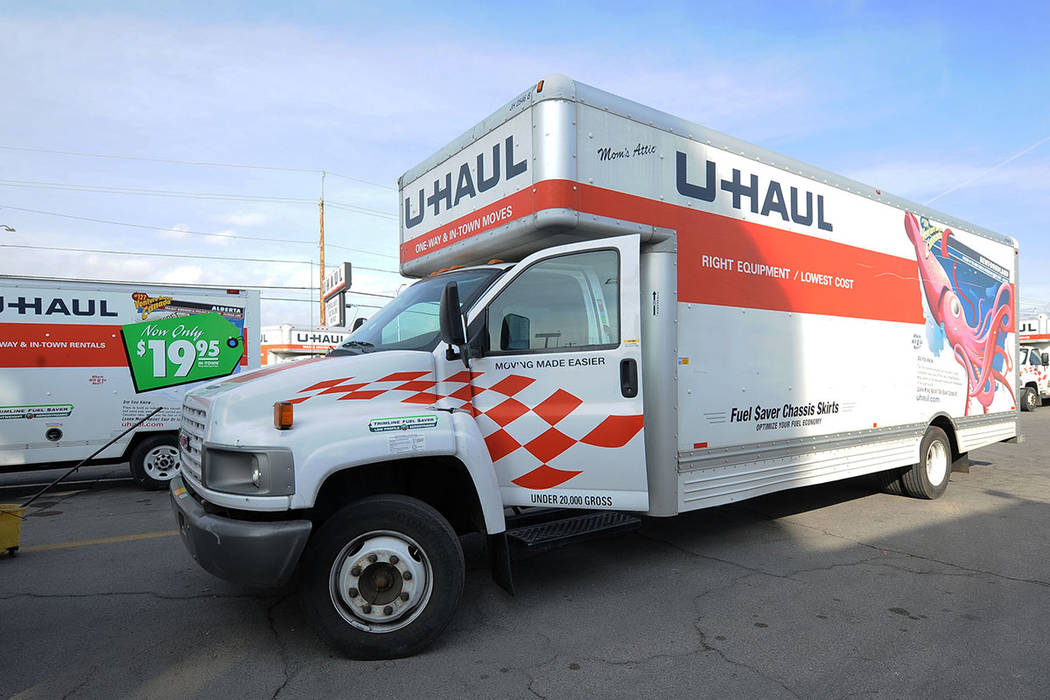 Rental trucks often turn into temporary mobile homes for people down on their luck.
When drug addicts or people with financial problems are evicted from a home, they rent a truck to gather their belongings.
But with no cheap place to go, they live out of them for days or weeks, several Las Vegas employees and owners told the Review-Journal.
A 10-foot truck can be rented with a cash down payment of $100. A valid credit card is not needed in such cases.
A night at a Las Vegas hostel for two people might cost no less than $40, making the cost of a rental truck for a couple a cheaper option by the third day, excluding the cost of gasoline.
U-Haul doesn't have tracking, making discovery of the stolen vehicles difficult. Renters either don't pick up their phone or give the companies false numbers, employees said.
Conscientious residents often step in to help, calling stores if they see one of their trucks sitting in their neighborhood for several days, owners and employees said.
Workers also keep an eye out for any missing trucks while traveling back and forth to work, store owners said.
U-Haul found 14 abandoned vehicles in Las Vegas in one day this summer, a local employee said to underscore the depth of the problem.
An owner of a U-Haul store said he recently saw a family of four living in a rental truck in a parking lot near East Sahara Avenue.
Another said he had just recovered a truck that had been used as a home for two weeks.
When the trucks are found they are often filled with mattresses, clothing and garbage. The items are collected and put in storage should the renter seek them, an employee said. The trucks are then cleaned.
Employees say there are several signs a customer might intend to steal the vehicle, such as possessing an out-of-state license.
Paying in cash or with prepaid cards is another warning sign, said employees. To discourage theft, some U-Haul store owners demand a $200 down payment from people paying cash.
The FBI highlights in its educational material that paying in cash and failing to complete personal information on rental forms are signs of suspicious behavior.
Truck rental companies say they often check a customer's name and phone number against a list that includes people who have not returned trucks in the past.
Employees say they might question customers they believe could be lying about their intentions.
Customers might be asked about the items they will transport and their final destination. If they have an out-of-state license, they might be asked to show proof they live in Las Vegas.
The inability to answer those questions adequately, the employees say, might cause them to decline a customer's rental request.
Contact Todd Prince at 702 383-0386 or tprince@reviewjournal.com. Follow @toddprincetv on Twitter.
Also read:
Las Vegas truck rental companies on lookout for terrorism after attacks