Las Vegas truck rental companies on lookout for terrorism after attacks
November 13, 2017 - 12:12 pm
Updated November 13, 2017 - 3:25 pm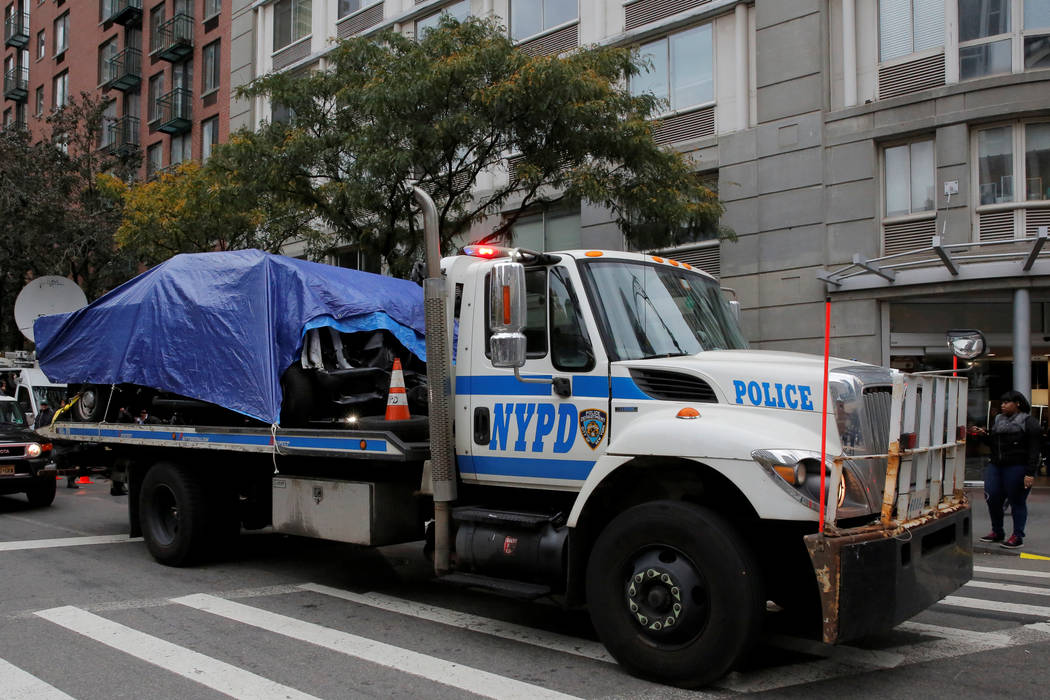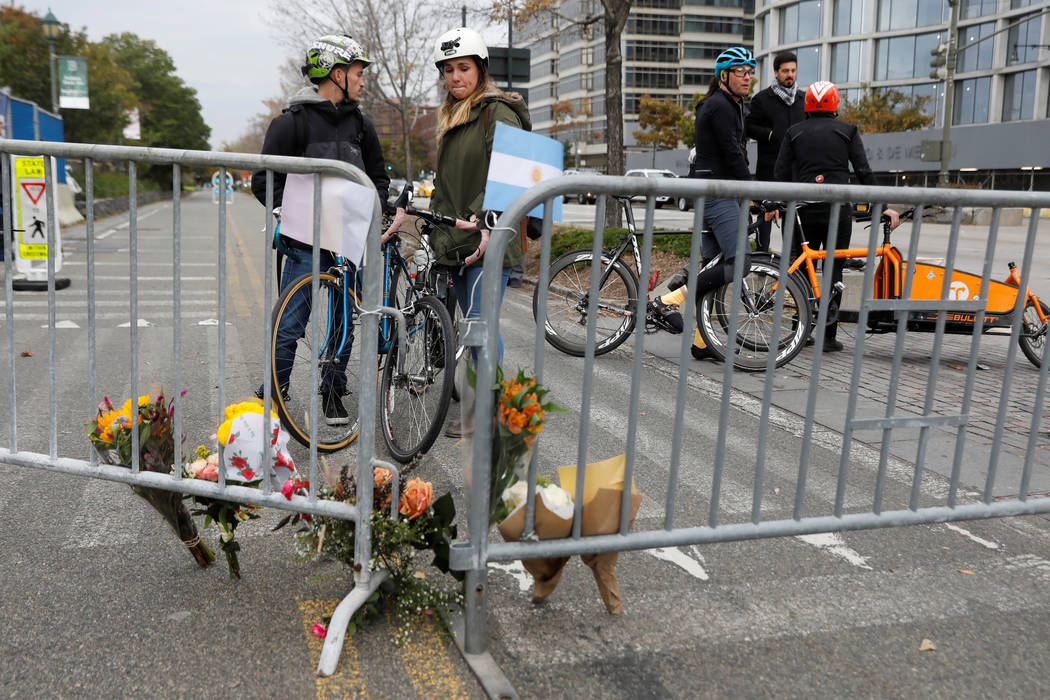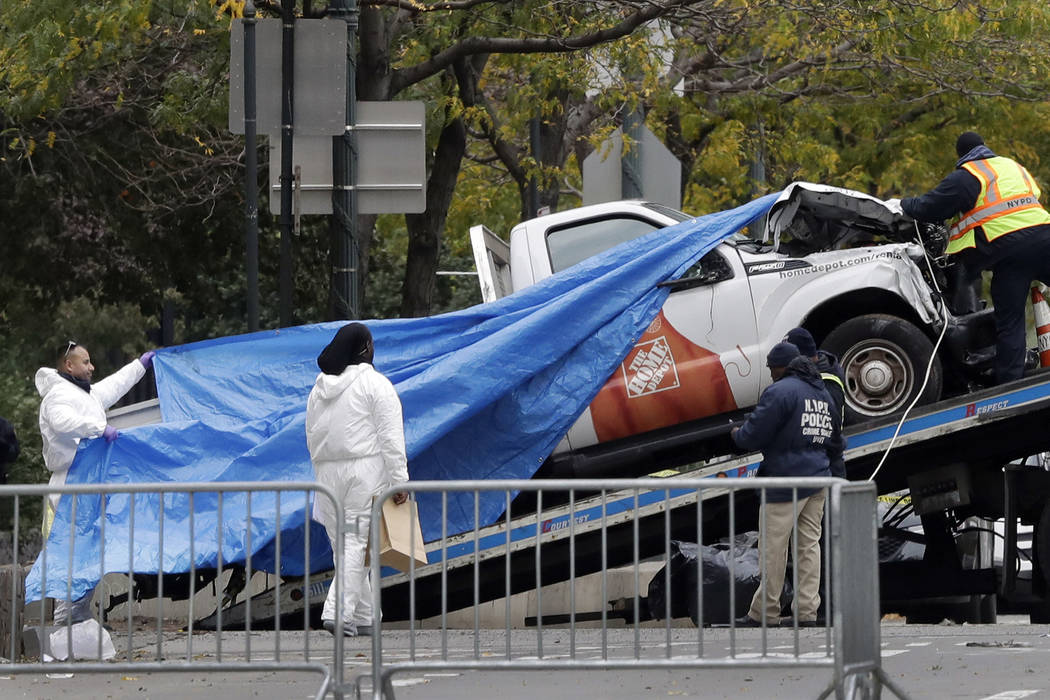 Metro police, national security agencies and truck rental headquarters had been educating Las Vegas employees about suspicious customer behavior long before Halloween's deadly truck attack that killed eight in lower Manhattan.
"We have been doing training dating back to November 2016 — after the Paris and Nice attacks — as part of our 'See Something, Say Something campaign,'" said Las Vegas Metro Police spokesman Jay Rivera.
Rivera said the LVMPD has visited many rental companies as well as other transportation companies, including taxis, Uber and Lyft. He did not say how many local transport companies Metro has visited to date.
The Review-Journal contacted more than a dozen truck rental agencies in the Las Vegas area. Seven of the 11 that agreed to speak said Metro officers stopped by their offices to hand out safety literature and speak with management.
Local managers for Enterprise and Penske declined to comment, directing the Review-Journal to seek comment from their corporate headquarters in other states.
Briefing employees
Metro officers came to visit Safeguard 2 Mini Storage, a truck rental and storage company on Russell Road, late last year to hand out educational material and brief employees about terrorist threats, said manager Joe Van Camp. They visited Ryder in the spring, said service manager Roy Shappard. Ryder has two locations in Las Vegas.
But employees at two U-Haul locations and two Budget Rental Truck locations in Las Vegas said they don't recall Metro coming to their offices. U-Haul, however, has around 50 locations in Las Vegas, which range from large stores with storage to one-man shops with just a couple of trucks. Budget has about four location in Las Vegas.
Penske, which has seven locations in Las Vegas, could not confirm if Metro had come by, said Randolph Ryerson, a Pennsylvania-based spokesman for the truck rental company.
The Federal Bureau of Investigation, Department of Homeland Security and the Transportation Security Administration produce and send out education material outlining signs of suspicious behavior — such as paying in cash or unable to recall the name on the paperwork — to truck rental and storage company headquarters.
Budget Truck Rental sent its Las Vegas locations that information months ago, local manager Alvin Dela Llana told the Review-Journal Friday. Home Depot is now distributing similar literature to its regional offices, said spokesman Matthew Harrigan. A Home Depot rental truck was used in last week's attack in New York.
Penske, the truck rental company Safeguard works with, sent FBI and TSA literature to regional offices on Nov. 1, the day after the New York attack, said Van Camp.
"We regularly send out advisories to all of our employees in the truck business reminding them about security protection," said Ryerson.
Hard to prevent
Yet, security experts say it will still be very difficult to prevent someone from carrying out a truck-ramming attack even with greater employee awareness.
"Are you going to discriminate? The answer is no. And how much grilling can you do'' if someone comes in to rent a truck for yard renovations, asked Tommy Burns, a retired Henderson police chief and security consultant in Las Vegas. "I just don't think there is a whole lot they can do."
Las Vegas rental employees confirmed it can be uncomfortable at times to confront customers who behave suspiciously. One employee recalled renting a truck to a person who seemed to be lying out of fear of being accused of racial profiling. The customer never returned the truck, the employee said.
The TSA admits truck ramming is tough to prevent and believes it will remain an attack method of choice for terrorist organizations.
"It is likely that terrorist groups will continue to encourage aspiring attackers to employ unsophisticated tactics such as vehicle-ramming since these minimize the potential for premature detection and could inflict mass fatalities if successful," the TSA said in its education material.
Large outdoor gatherings, such as concerts or parades, are publicly announced well in advance, giving terrorists time to organize their truck attack, the TSA said.
Terrorists had carried out 17 known vehicle ramming attacks worldwide from 2014 through April of 2017, killing 173 people and injuring 667, according to the TSA.
"Terrorism is in the mind. Until we can read minds, it will always be a threat,'' said Van Camp.
Contact Todd Prince at 702-383-0386 or tprince@reviewjournal.com. Follow @toddprincetv on Twitter.
Contact Rio Lacanlale at rlacanlale@reviewjournal.com or 702-383-0381. Follow @riolacanlale on Twitter.
RELATED
Rental trucks become homes for people down on their luck, companies say