Ridersharing service may encounter potential roadblocks ahead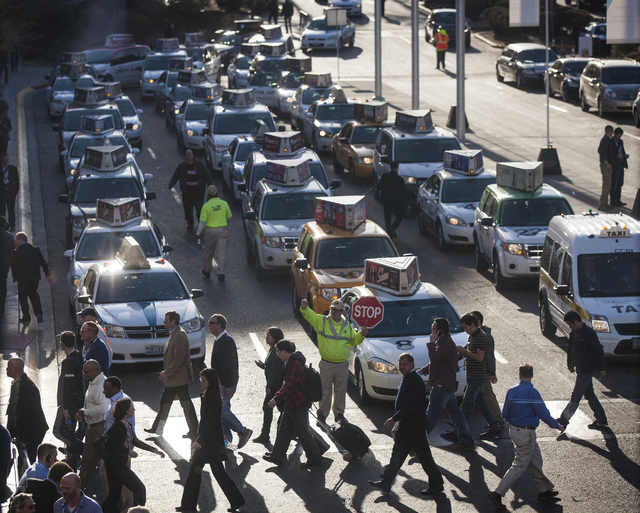 In the latest prong of its charm offensive, rideshare service Uber started promoting its version of the Las Vegas fling.
In a just-ended promotion that began Jan. 31, as many as four people could ride round trip from Los Angeles in an Uber-arranged car, stay one night in a Cosmopolitan of Las Vegas suite and get a free weekend nightclub admission for $1,200.
But like so many aspects of ridesharing, which matches passengers with drivers through a cellphone application, the promotion's legality is nebulous. Nevada Department of Motor Vehicles spokesman Kevin Malone, for example, said at the least, the company or driver would need a nonresident business permit from the state if the trips don't fall under federal regulation.
Because the Uber trip crosses a state line, the driver and the company may be engaging ininterstate commerce that may require registration with the federal government.
Uber spokesman Andrew Noyes would not respond to questions about what, if anything, the company would do to follow existing law.
Debate over ridesharing will likely intensify as rideshare companies try to enter Nevada. Uber and another rideshare company, Bandwagon, both tried to build local brand recognition in January by wooing tech-savvy delegates to the International CES.
The rideshare debate has already played out with mixed results in numerous cities and courts.
"Las Vegas should not be one of the last major cities without Uber's superior service," the company wrote in a blog. What it branded "outdated state laws" had led to a system that is "bad for consumers, bad for competition and stifle much-needed innovation."
OPPOSITION DEAD AHEAD?
Rideshares will meet emphatic opposition if the issue goes to next year's Legislature as expected.
"We have had a lot of differences with the owners," said Sam Moffitt, a steward with the Industrial Technical and Professional Employees Union, which represents drivers at Yellow Checker Star Transportation, the city's second-largest cab company. "But this is one area where we are both on the same side."
Cab companies and the union will stress that regulations still serve an important role, particularly background checks on drivers and adequate insurance coverage in case of accidents.
They may argue that more laws, not fewer, make sense. Jonathan Schwartz, a Yellow Checker Star Transportation director, recalled that much of the current regulatory structure evolved from the 1970s, when a more laissez-faire system led to chaos in the streets.
"We're one of the strongest and most regulated cities in the country for safe and responsible transportation," Yellow Checker Star Chief Operating Officer William Shranko said.
State regulators haven't taken sides. But they've said no rideshare company has applied to enter the market through standard channels.
Nevada Taxicab Authority Administrator Charles Harvey said Uber has never contacted his agency.
"Prior to discussing a reference to 'outdated state laws,' we would need to know the specific laws to which they are referring and have a clear understanding of their business model," he said.
Nevada Transportation Authority Chairman Andrew McKay said, "Two years ago, we extended an invitation to meet with Uber to talk about how they could operate in Nevada. But they never took us up on it."
McKay added that Uber would likely have to operate differently to fit within existing regulations.
Being classified as a limousine service would theoretically work against Uber. The rideshare company contends it's handicapped by Nevada limousine laws that require passengers to buy at least one hour at an average $46 price.
McKay, noting that several limo companies charge less, said he believes Uber would count as a taxi because its fares factor in time and distance.
what kind of company?
Uber bills itself as a technology company and not a transportation provider.
Its drivers, independent contractors who can work whatever hours they wish with their own cars, respond to ride requests listed by Uber's system and post estimated fares. The passenger doesn't pay cash, but with a credit card already on file. The fare is charged at the end of the ride.
Uber is trying to break into a local market that critics have called a state-sanctioned cartel. Prices are regulated, supply is regulated through the Taxi Authority's issuance of medallions and the ability to enter the market is limited. It has been more than a decade since a new cab company was formed.
"Uber in Las Vegas would mean stylish, efficient transportation with the tap of app, whether for business or pleasure," the company's blog states. "It would mean never again having to wait in a lengthy taxi line after taking in a show or winning big at the casino."
Noyes declined to say how that would happen.
Less than 10 percent of Las Vegas cab rides originate with radio calls, according to the company, where a passenger phones a central dispatch system. Unlike many other cities, the overwhelming share of trips come from a cab waiting in a line, whether at a hotel, a tourist-oriented restaurant or McCarran International Airport.
reducing DRAMA
Moffitt said drivers might cause a ruckus if they saw Uber drivers cutting past them in line to pick up passengers.
Because of problems elsewhere, the San Francisco-based nonprofit group Shareable characterized Bandwagon as not carrying "any of the drama of Uber and their ilk," such as protesters attacking an Uber car in Paris in January, because it "optimizes existing infrastructure and works within existing regulations."
Uber and other rideshares recently decided to curtail their service at Los Angeles International Airport after officers there wrote dozens of tickets to rideshare drivers.
Under current rules, McCarran would be off-limits. County rules require cabs to carry transponders to track movements to assess fees, plus a medallion and a state-issued certificate.
The airport also requires proof of insurance and registration of the car, including a vehicle identification number, license plate number and type of car, and a taxi number on the car.
Rideshare services say they check drivers for criminal records and insurance before including any of them in their networks.
INSURANCE AT ISSUE
Rideshare insurance was recently spotlighted in California, after an Uber driver in San Francisco hit and killed a 6-year-old pedestrian on New Year's Eve. A subsequent lawsuit raised questions, including some by the state's Insurance Department, about whether coverages designed to meet California Public Utilities Commission standards contained serious gaps. Also, the insurance industry contends that a personal insurance policy wouldn't cover somebody driving for pay.
Noyes told the Los Angeles Times that Uber instituted policies for uninsured or underinsured drivers and will reimburse drivers whose claims are denied. Lyft, a San Francisco-based rideshare company, said it would boost its coverage for drivers picking up or ferrying passengers and kick in money if damages exceed the driver's personal coverage as a supplement to its basic $1 million commercial liability coverage.
Insurance isn't a question for established taxi companies. Because the drivers are employees of the 16 taxi brands in Las Vegas, the coverage is well-established.
Already, the local taxi industry has started preparing for the upcoming Legislature.
"We're getting our ducks in a row so that the regulatory aspects can be explained not only to the public but to the Legislature," Shranko said.