A new town with no name proposed for Southern Nevada
Updated May 11, 2023 - 8:49 pm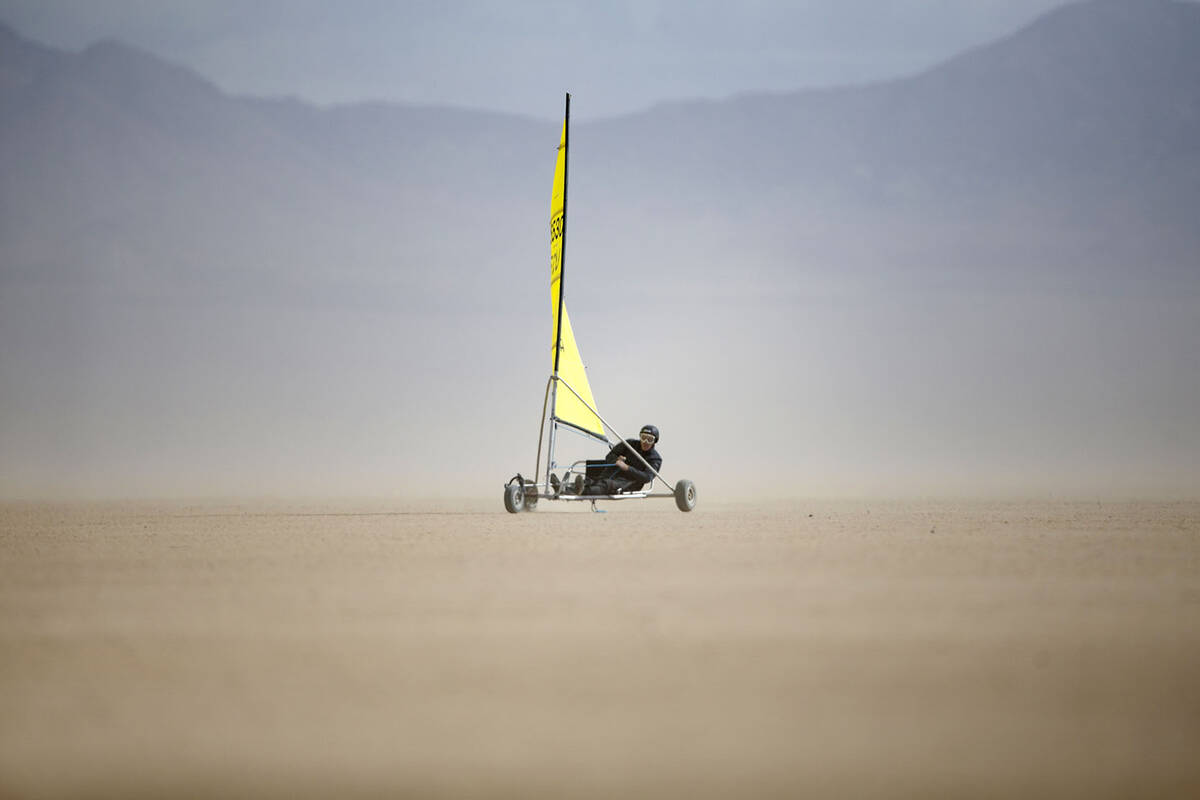 The Clark County Commission could soon establish a new unincorporated town south of Las Vegas specifically for the proposed reliever airport in the Ivanpah Valley, as Harry Reid International Airport moves closer to reaching capacity.
The Assembly Government Affairs Committee on Wednesday took testimony from Clark County Aviation Director Rosemary Vassiliadis and two associates on Senate Bill 19, which would enable the county to designate at least 5,000 acres off Interstate 15 between Jean and Primm as a new town for the planned Southern Nevada Supplemental Airport.
No name has been given for the proposed new town.
Establishing a town would enable the county to restrict development around the airport and prevent another municipality from annexing the land. It would also enable a town board or the county to acquire surrounding land from the Bureau of Land Management should there be a need to expand the airport.
The proposal comes as Reid International is on pace to reach capacity of between 63 million and 65 million passengers annually as early as this year, which could lead to possible flight delays for travelers. In 2022, 52.6 million passengers used Reid International.
In an interview in February, Vassiliadis said capacity could be reached by 2030, but the earliest a new airport could open is 2037.
Deputy Aviation Director James Chrisley said current capacity growth could mean flight delays during Reid's busiest hours, starting this year.
"For every scenario we looked to, with different scenarios of growth potential, we're going to be increasing delays starting this year at Harry Reid as we continue to approach capacity. And Harry Reid does have a finite capacity, and we will be, as we move forward to opening day of the new airport, we will be facing delays for our customers," Chrisley told the committee.
Late Wednesday, a spokesman for the airport clarified that capacity projections constantly change and that technology and good relations with airlines serving the airport will enable it to avoid delay issues.
"The number of passengers at which the airport will have constrained operations has changed over the years," the spokesman said. "A decade ago, the projection was 53 million after the opening of Terminal 3."
He added that new technology would bring new efficiencies to the airport to better serve customers.
"Just one example of an action we can take to manage the growth and mitigate some of the constraints is working with the airlines to smooth out the peak times of their operations and schedule flights during less busy times," he said. "This is something we have successfully done in the past few years as we have experienced growth."
Chrisley and Clark County Government Affairs Manager Joanna Jacob told the committee that they know of no residents currently living on the land identified for the new town.
Several unions, the Vegas Chamber and the Nevada Resort Association voiced support for the legislation. There was no opposition, but the city of Henderson offered a "neutral" comment saying that while a new town would prevent it from someday annexing land, it acknowledged the importance of building a reliever airport.
In a presentation to the committee, Chrisley said aviation officials are pursuing multiple strategies toward the next steps of airport development. The department remains in contact with federal land agencies, the Nevada Department of Transportation, utility companies and the Brightline West high-speed rail developer.
Brightline is in the early stages of planning for a high-speed rail line linking Southern California with Las Vegas, and the proposed rail corridor would pass near the proposed airport site.
County officials told legislators there are no plans by Brightline for a stop at or near the planned airport.
The county is roughly in the third year of a proposed 15-year plan for the airport. Planning and environmental approvals are underway before a competitive bid for designing the airport. Before that can be done, officials must complete airspace studies, flood-control studies, a capacity demand analysis and a wildlife hazard analysis.
They also must continue to explore off- and on-airport utility needs for water and power, develop ground access plans and complete an airport layout plan.
Contact Richard N. Velotta at rvelotta@reviewjournal.com or 702-477-3893. Follow @RickVelotta on Twitter.