Aviation group says Clark County airports have lowered landing fees for F1
Updated November 15, 2023 - 4:55 pm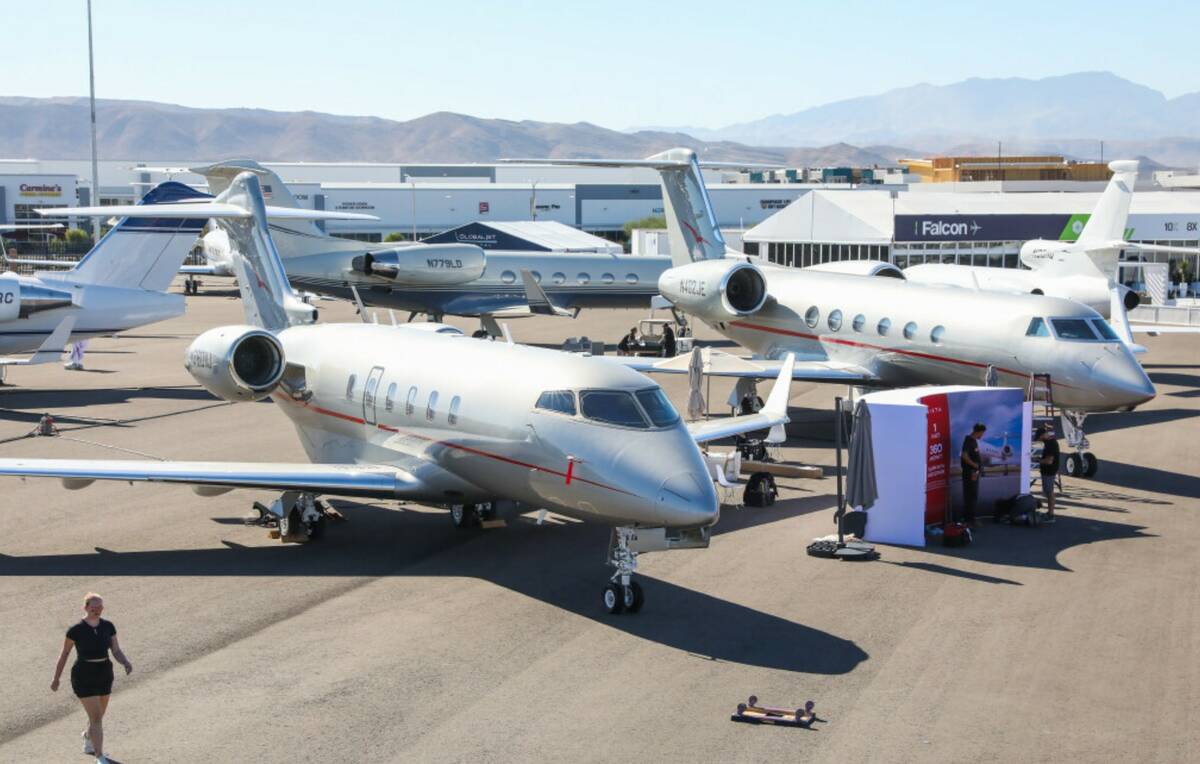 An aviation advocacy group says Clark County has reduced its special-event fees to land at Southern Nevada airports for this week's Formula One Las Vegas Grand Prix.
The nonprofit Aircraft Owners and Pilots Association on Wednesday said after talks with Clark County officials, the $3,000 special events landing fee imposed in advance of Formula One has been cut to $750.
Clark County Department of Aviation officials confirmed that landing fees were reduced for small aircraft, but left in place for larger planes. They did not explain why the fees were lowered.
Members of the Frederick, Maryland-based organization with membership estimated at more than 380,000, were outraged when the airport announced "egregious" special-events landing fees earlier this year.
In a release, AOPA said it joined with 600 aviation organizations to push back against the fees.
Clark County officials have said special-event landing fees are routinely imposed in advance of high-profile events to defray additional personnel and operational costs associated with the high traffic volume.
The special fees are imposed for both pilots of aircraft parking at the three airports as well as "drop-and-go" flights in which a plane lands, drops off passengers and then takes off to park elsewhere.
AOPA said a pilot flying a Group 1 aircraft who had already paid the $3,000 event fee was offered a refund from the county and permitted to pay the lower rate. Additionally, the county has reached out to more than 20 pilots with Group 1 aircraft who had made inquiries about parking and offered the updated $750 fee. Seventeen spots remain at North Las Vegas Airport and 16 at Henderson Executive Airport.
The Federal Aviation Administration defines Group 1 aircraft as planes with a wingspan of less than 49 feet and a tail height of less than 20 feet.
Clark County aviation officials have said they expect around 400 general aviation aircraft to park at three Southern Nevada airports, including those in Henderson and North Las Vegas and Harry Reid International Airport. The department routinely incentivizes general aviation with lower fuel prices to park at Henderson and North Las Vegas to free up airspace for large planes at Reid.
AOPA's president said the fee reduction was helpful, but still problematic for most pilots.
"Well, it's progress but we still have a ways to go to get to fair and reasonable fees," AOPA President Mark Baker said in a release. "Clark County should be imposing the same standards to private (fixed-base operators) that operate on their public-use airport. We still need guardrails around these fees, especially for the private operators who don't get fuel volume discounts and can't pass these costs along."
Contact Richard N. Velotta at rvelotta@reviewjournal.com or 702-477-3893. Follow @RickVelotta on X.