Company plans rail service from Las Vegas to Southern California in '13
October 14, 2012 - 1:01 am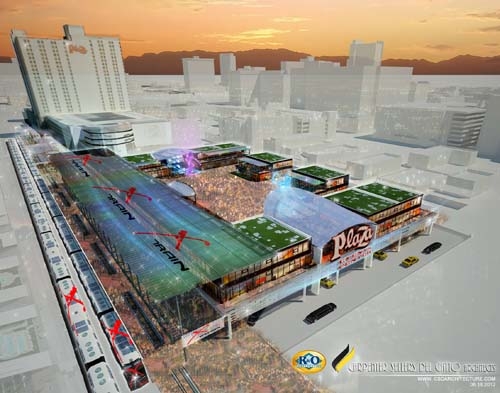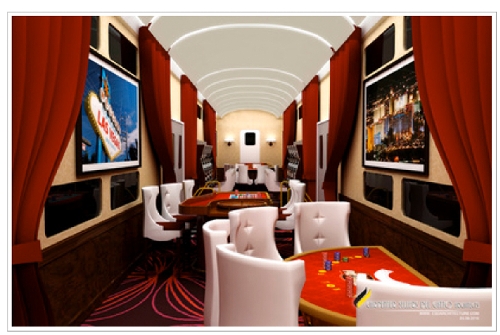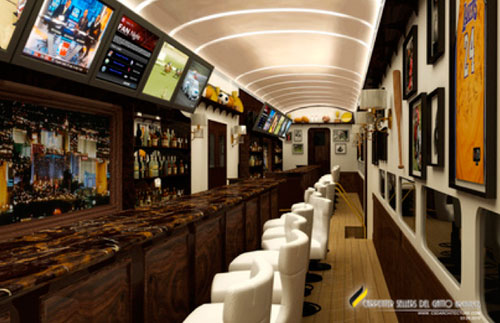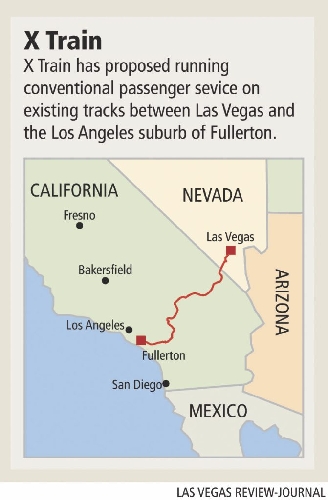 A plan to build a 150-mph train from Las Vegas to Southern California has attracted national attention, but another rail proposal has chugged along on the theory that 60 mph is more fun.
Las Vegas Railway Express promoters started laying out the concept of using existing tracks between Las Vegas and Los Angeles for Amtrak-style service in March 2009. But recently they have unleashed a flurry of announcements related to what they say will be the start of service by the end of 2013.
What the company calls the X Train would run five days a week between a new terminal in downtown Las Vegas and Fullerton, Calif., near Disneyland. The trip would take about five hours to cover roughly 300 miles. The one-way fare would be $99, including food, drinks and a party atmosphere.
Since July, the company has announced new executive appointments and the purchase of 10 railcars from an unspecified source at an unlisted price. On Sept. 18, the company said it had raised $2.3 million through stock sales that began in May. This is still a small fraction of the $35 million the company has said it needs to launch the X Train, but the news caught the eye of penny stock investors. The company's shares suddenly jumped to 21 cents each in early August, after staying below 10 cents for most of a year. On Friday, the stock was 16 cents a share, a price it has hovered near for the past two months.
CEO Michael Barron, who previously had positioned the company in the mortgage business before shifting directions, said many logistical hurdles had been cleared.
"We are pretty much there," said Barron, referring to an inaugural run late next year.
But Barron's current optimism contrasts with a history of missed deadlines, overly rosy progress reports and announcements long on promise but short on facts.
UNRESOLVED DETAILS
In March, for example, the company announced that the "Nevada Department of Transportation supports the X Train as the viable short-term conventional rail project in the state of Nevada."
Yet NDOT spokesman Scott Magruder said the agency has not specifically endorsed any passenger rail plan.
"We support the X Train as viable as we support all viable options," he said.
Barron, though, sticks by the statement, based on remarks during a Feb. 13 community meeting in Las Vegas to help formulate the state's rail plan.
According to a transcript of the meeting, Darwin Desen of Jacobs Engineering Group listed X Train, along with the XpressWest train proposed as a 150-mph train between Las Vegas and Victorville, Calif., as the two passenger rail concepts of several discussed that appear to have made the most progress.
"NDOT is there to support them from, you know, grade applications or policy decisions that need to be made to help the projects out," he said.
Of more consequence are the relations with the trio of railroads that set the foundation of the X Train, including track-use rights that must be granted by owners of the Burlington Northern Santa Fe Railway and the Union Pacific Railroad, plus operations that would be handled by Amtrak.
"All the route logistics and scheduling with ourselves and Amtrak and the railroads are being worked out as a collaborative agreement," Barron said.
With both Union Pacific and Burlington Northern Santa Fe, most of the work had been accomplished and would lead to in-person meetings with company executives in the next few weeks, Barron said.
The most recent Las Vegas Railway Express quarterly report, filed in August with the Securities and Exchange Commission, states the company was "in discussions with both the UP Railroad and the BNSF Railway to secure rail trackage rights agreements." A preliminary agreement with Union Pacific awaited "finalization of the BNSF agreement and certain capital planning issues."
This followed the annual report, dated July 10, in which Las Vegas Railway Express said it "has negotiated a trackage rights agreement with the Union Pacific Railroad." The final Union Pacific deal awaited the concurrence of Burlington Northern Santa Fe by the end of the third quarter, according to the report, but did not specify the calendar third quarter ending Sept. 30 or the company's third quarter ending Dec. 31.
"Our agreements with (Union Pacific and Burlington Northern Santa Fe) and our willingness to pay the owners a competitive market rate give our X Train the status to meet our scheduled travel times" by passing freight trains, according to the annual report.
CONFLICTING REPORTS
Those descriptions are at odds with Burlington Northern Santa Fe's position.
"We are awaiting a proposal from Amtrak as our contact will be with Amtrak, Burlington Northern Santa Fe spokeswoman Suann Lundsberg said. "We are not in discussions with LV."
Barron countered, "This person is not well informed."
Union Pacific, which owns most of the tracks in the X Train route, said the preliminary agreement mentioned in the quarterly report references a study of the feasibility of allowing another company to run passenger trains on what is now exclusively a freight line.
"Based on our findings, we are continuing a discussion with Las Vegas Railway Express about their proposal," spokesman Aaron Hunt said.
However, Las Vegas Railway Express got off to a rocky start with the rail giant.
In 2010, Barron was talking up the X Train, saying the inaugural run would be in 2011. However, he declined to spell out details then because he called the project "a work in progress."
In response, Jerry Wilmoth, Union Pacific's general manager of network infrastructure, sent Barron a sharply worded letter on May 12, 2010.
"Despite the representations in the (public) materials, there are no pending agreements or negotiations with UP that could result in any agreement to operate on UP rights of way," Wilmoth wrote.
Further, he flatly ruled out a casino car, which Barron had floated. Subsequently, Barron dropped the casino car idea.
Although relations have improved – Union Pacific had threatened court action if Barron did not issue "a public clarification" of his previous statements – industry experts question whether any studies or talks will lead to passenger service.
"UP does not have a history of being overly generous in its negotiations with Amtrak," said Sean Jeans-Gail, a spokesman for the National Association of Railroad Passengers. "I wouldn't consider anything with them in the bag until it is signed."
Amtrak's Desert Wind, the most recent passenger rail service between Las Vegas and Los Angeles, was halted in 1997 after poor performance. The train frequently ran late because it had to cede the right-of-way to Union Pacific freight.
The Las Vegas Railway Express quarterly report also mentioned a memorandum of understanding with Amtrak "outlining duties and responsibilities of each party which will be incorporated into the final Amtrak agreement."
That's also an overstatement.
"We are continuing in negotiations with Las Vegas Railway Express," Amtrak spokeswoman Vernae Graham said. "It is not a done deal."
At what would be the X Train's northern terminus, Plaza spokeswoman Tiffany Widdows confirmed there is an agreement to use some hotel property for a station, basically in the same place where trains used to stop. However, she said, many details are remain unsettled.
At this point, Barron said the station would be a platform in the back of the hotel. A company-commissioned rendering of a much larger station complex on what is now a surface parking lot south of the hotel would be built as a second phase and "is probably not accurate" for demonstrating what would happen in the near future, he said.
However, the drawing is featured prominently in the company's annual report, though labeled "as examples only."
The company's website shows the rendering with no explanation of a second phase, while the phase two link does not show this version of the station.
In one of the recent announcements, the company said it had purchased 10 cars that would be refurbished and sent to Las Vegas. Barron refused to give the price or identify the seller except as a company in Wisconsin.
This was followed on Friday by a statement saying that the company "has executed an agreement" to acquire two more bilevel cars, but with no details on source or terms.
In April 2010, Barron announced that the X Train had a source for 20 cars. But they never materialized for reasons he did not explain.
The capsule biography of Barron, 61, contained in the company's proxy statement describes him as "a developer of new business enterprises for nearly 30 years," mainly tied to real estate.
The Las Vegas Railway Express joined two companies through several transactions, company documents show. One started in March 2007 as Corporate Outfitters, and was supposed to focus on specialized promotional merchandising. The other part was launched in 2003 as CD Banc LLC, but the purpose evolved from investing in real estate to purchasing defaulted mortgages at a discount and trying to write new terms that borrowers could handle.
After encountering difficulties in the mortgage market, the company emerged as Las Vegas Railway Express in January 2010. By then, work on the DesertXpress bullet train, now called Xpress West, had been under way for several years.
Despite the problems in the past, Barron said many of Las Vegas Railway Express' operating issues have been settled, with only details such as scheduling remaining to be worked out.
By the end of next year, in the words of the company website, passengers will be saying, "Yes, it was another fun weekend in Las Vegas. Let's do it again next week!"
Contact reporter Tim O'Reiley at toreiley@reviewjournal.com or 702-387-5290.