Convention authority role discussed for new Las Vegas stadium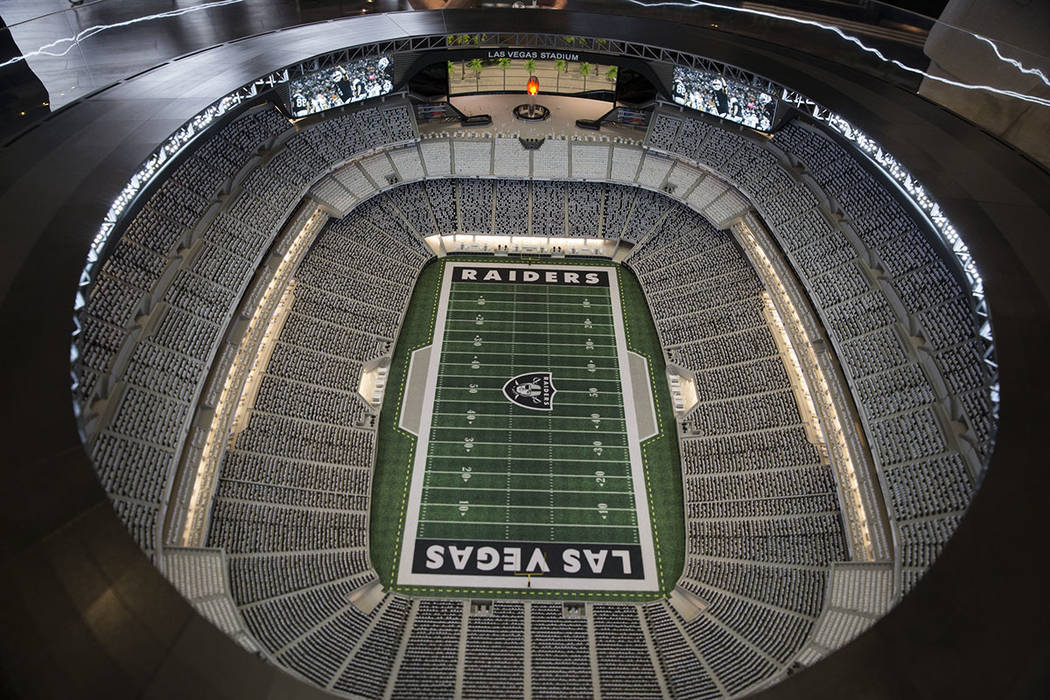 The committee making recommendations to Gov. Brian Sandoval and the Nevada Legislature on attracting events to the new Las Vegas stadium is leaning toward expanding the role of the Las Vegas Convention and Visitors Authority and Las Vegas Events, rather than forming of a new sports commission.
Following more than an hour of discussion Wednesday, members of the 19-member Southern Nevada Sporting Event Committee agreed to allow its staff to develop details of how Las Vegas Events, a private nonprofit funded by the convention authority, would be modified to function as a public body that would be responsible for attracting events to the stadium and other Southern Nevada venues.
A modified Las Vegas Events organization likely would need additional staff and money to apply for big-ticket events like the Super Bowl, the NCAA men's Final Four basketball tournament and the College Football Playoff National Championship.
The committee staff, which is Las Vegas-based Applied Analysis, has been asked to provide options the committee can consider in a vote at its Nov. 14 meeting.
Committee Chairman Paul Anderson, executive director of the Governor's Office of Economic Development, said the committee's research indicated a new sports commission would duplicate efforts already in place.
"We're very centralized in some of that governance now, and to decentralize it may be a weaker approach than strengthening what we have and maybe creating some defined lines as to who functions best with it," Anderson said in an interview after the meeting.
During the meeting, committee member John Hill III said the committee has three options: form a new sports commission, recommend that the LVCVA take on the role or recommend that Las Vegas Events do it.
No one disagreed with Hill's assessment, but the discussion evolved to the best way for Las Vegas Events or the convention authority to take on the role and how to fund it.
Las Vegas Events President Paul Christenson, who attended the meeting as an observer, said he would need to take the idea to his board of directors but that he wanted to explore options, particularly on staffing and funding.
Steve Hill, president and CEO of the convention authority and a member of the committee, agreed with the proposal to let LVCVA and Las Vegas Events serve as the lead recruiters of events.
"It would be at a bigger scale and it would take additional investment, which would mean shifting things in our budget in order to be able to do that," Hill said in an interview after the meeting. "But I think the committee was right. We need to figure out how to do this with the existing structure and the existing resources that we have."
Committee member Marc Badain, president of the Oakland Raiders, the organization building the $1.8 billion stadium with the help of $750 million in public money, said it would be appropriate for a core group like Las Vegas Events or the convention authority to lead the effort and coordinate separate committees for specific events.
Contact Richard N. Velotta at rvelotta@reviewjournal.com or 702-477-3893. Follow @RickVelotta on Twitter.
Las Vegas Events and public records
Las Vegas Events is a private nonprofit that isn't required to comply with open-meeting and public-records laws.
But if it were to become the region's stadium events developer, it would need to become a public entity, members of the Southern Nevada Sporting Event Committee agreed.
"The question would be, as we're leading up to an event, if we got a public records request, what is appropriate to keep confidential versus what is required to be made public prior to having to get it approved in a public forum, because it would have to be approved in a public forum either way," said Steve Hill, president and CEO of the Las Vegas Convention and Visitors Authority.
Las Vegas Events was created to negotiate contracts for special events. Its meetings are closed, but the approval of funding for those deals occurs at the convention authority's public board meetings.