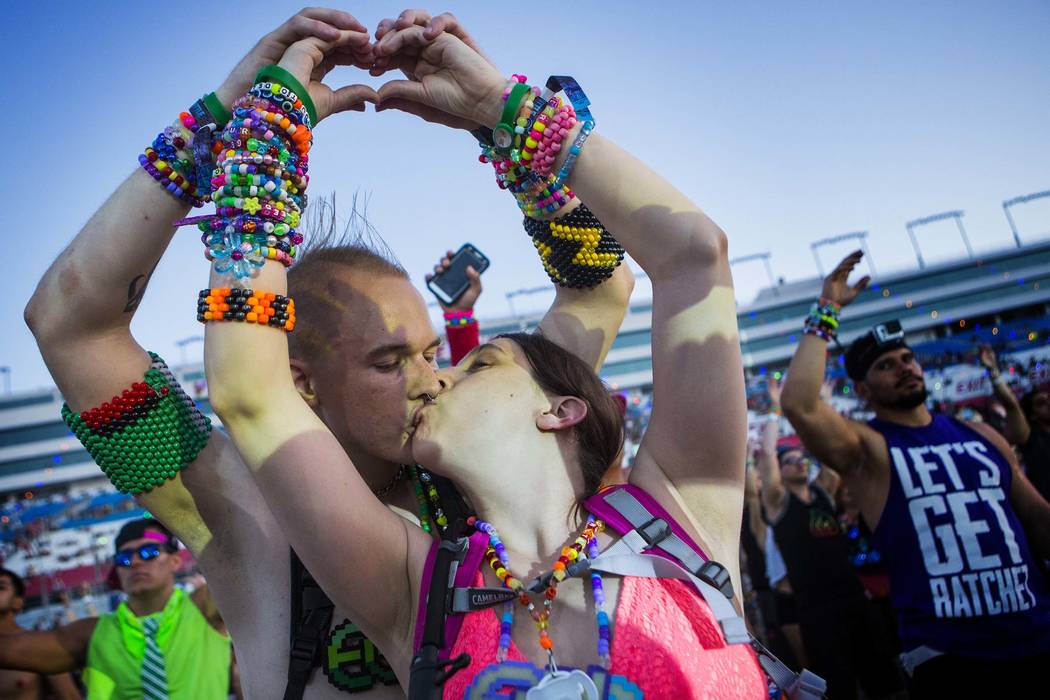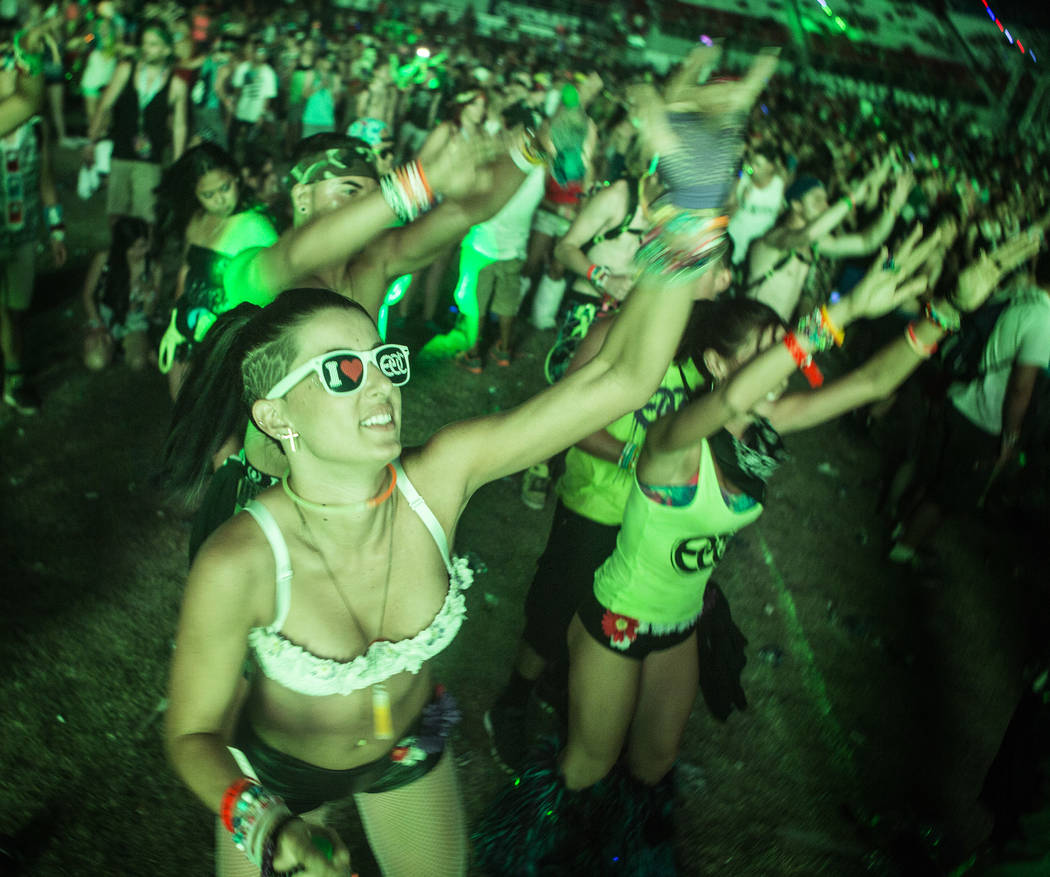 Party seekers from across the country with loud hair, bright makeup and eccentric fashions will descend on Las Vegas for the annual Electric Daisy Carnival this weekend.
The event, known as
EDC , is a three-day electronic music festival held at the Las Vegas Motor Speedway. Hosted by Insomniac Events and Live Nation, it's expected to draw more than 400,000 people to the valley, according to a spokeswoman from Insomniac.
With the influx of music fans, local business and emergency services have to plan to manage crowds.
Security
The EDC crowd will be well watched over, according to Metropolitan Police Department officer Larry Hadfield.
Metro has been planning for the event — first held in Las Vegas in 2011 — with festival organizers for more than six months, figuring out the best way to secure the speedway and keep the large crowd safe.
"Safety is our No. 1 priority," Hadfield said. "We always are assessing major risks and looking at any intelligence for the event."
Hadfield said the organizers employ a large number of law enforcement personnel for the event, along with emergency crews and EDC's own security detail. The event also has a working hospital set up in the middle of the speedway.
Hotels
For The Linq, EDC weekend changes little aside from the type of crowd seen inside the hotel.
Jared Rapier, vice president of hospitality marketing for The Linq, Flamingo and The Cromwell, said the sheer number of people coming into town does influence the hotels. They're hard to ignore; more than 50 percent of hotel guests at The Linq that weekend are EDC guests.
And with an increase in guests comes an increase in prices.
An analysis by HotelsCombined, a hotel metasearch engine, revealed that hotel prices in Las Vegas for EDC weekend are 21 percent higher than the weekend of June 9-12, with visitors paying an average of $173 per night.
But for a hotel that's normally at 90 percent occupancy,
Rapier said price changes during EDC weekend at The Linq are not unlike those during other large events or holidays.
"It's the crowd that's changing," Rapier said. "We're pretty full all the time, and we're just shifting audience."
Rapier said The Linq especially draws a large number of EDC visitors, in part due to the hotel's partnership with Insomniac, one of the festival's organizers.
Additionally, The Linq's target clientele comprises a younger generation of tourists, with ages that align with the EDC crowd. To help accommodate this group further during EDC week, Rapier said the hotel makes some minor changes to its programming.
"Room service has different hours because the guests come back at different hours than most guests," he said. "We find a way to service those guests by changing room service hours and the hours of our cafe to make sure when they return, they have something to eat."
Mary Hynes, director of corporate communications for MGM Resorts International, wrote in an email that this is the first year hotels on the Strip have partnered with EDC to offer special room rates. Mandalay Bay, owned by MGM Resorts, is offering a hotel package with access to the Daylight dayclub and the Light nightclub.
"Festivalgoers can enjoy the dayclubs and nightclubs when they aren't heading to the Speedway," she said.
Hynes said EDC is a busy weekend for the hotels each year.
"With our new joint marketing efforts with EDC, we anticipate higher demand for rooms than we saw last year," she said.
Medical
Although festival attendees have a reputation for being sent to hospitals for drug-related situations, Dr. Dale Carrison said it's really just another weekend in Las Vegas.
Carrison, chief of staff at University Medical Center, has been the medical director for the festival since it first came to town. During this year's event, he'll lead a team of eight emergency medical residents, five doctors and more than 20 nurses to treat as many patients as possible on location.
"The preparation and what you have available for the participants is the key for a successful event," he said. "I don't think there's any city anywhere that's more prepared for mass gatherings than we are."
He said while drug-related incidents do happen, the majority of complaints are of dehydration and blisters caused by attendees' elaborate outfits.
Last year, about 23 people were transferred to local hospitals.
"At any given weekend in Las Vegas, there's at least two to three times that many transported off the Strip," Carrison said.
He said medical staff on-site helps prevent overwhelming the city's emergency services, and organizers have paid for medical and emergency services to keep everyone safe.
As for the attendees, Carrison said their reputation as crazy party kids isn't warranted.
"There's always going to be somebody that takes drugs. There's always going to be somebody who drinks too much, like there's going to be at every casino and nightclub in town," he said.
"(It's) no different than what you see at the Strip any given weekend, except the crowds are better behaved. They're all nice, and they say thank you."
Food trucks
For food truck owners like Oliver Naidas, EDC is one of the busiest times of the year.
The founder of Sausagefest will bring three food trucks to the festival: Sausagefest, Tacofest and Burgerfest.
Naidas said he and his staff start preparing for the festival about a week in advance, making sauces and marinades from scratch and cutting an estimated 2,000 pounds of potatoes for their fries. It's a necessary step when each truck serves about 1,000 people each day.
In order to sell at the event, though,
Naidas' business has to pay a percentage-based fee for a spot. Naidas said the price has increased slightly this year, but his company still plans to return for its fourth year.
"They always ask us to come back," Naidas said about his customers.
Because of the fees, customers can see a markup in prices at food trucks like Sausagefest.
"Additional costs have to be offset in order for us to be profitable," Naidas said. He estimated his trucks' prices increase 20 percent to 30 percent for EDC weekend.
Oming Pilas, owner of Oming's Kitchen, said EDC has helped her business grow. She's taken her food truck, which sells Filipino barbecue, to the festival three times and will make an appearance again this year.
"EDC was my second gig ever," Pilas said. "I was able to join other festivals because we made money that year."
"It's really just the hype of it," she said. "It's good to be a part of that type of crowd. Every year is different because I think the event is getting bigger and bigger."
Night clubs
Nightclubs all across Vegas are preparing for the influx of tourists that comes with EDC.
Derek Silberstein is the executive vice president of operations at Hakkasan Group, which operates a number of nightclubs including 1 Oak, Jewel and Omnia.
To prepare for EDC weekend, Silberstein said through email that the company is taking all necessary precautions to ensure safety, as well as increasing staffing and inventory levels to prepare for the large crowds.
" … (We) sell multi-day tickets so people can experience a variety of our venues, program strategically, market beverage specials and add production elements that exceeds customer expectations," he wrote.
Silberstein said he expects to see EDC bring in visitors to all of Hakkasan's venues.
"The influx of guests in the city brought in by the festival makes for a great week for our venues," he wrote. "We welcome all the business it brings in."
EDC and marijuana
Recreational marijuana sales may start in Nevada on July 1, after EDC, but medical cannabis dispensaries are still expecting higher sales.
Matt Morgan, the chief executive officer for Reef Dispensaries, said last year that sales during the weekend of EDC increased by 33 percent due to attendees with medical marijuana cards. This year, the company will hand out festival survival kit bags, which include items like hydration packs, bandanas and ear plugs, to patients who either spend $75 or show their EDC wristband.
But once recreational marijuana is available for sale, Morgan said events like EDC will increase his company's profits. If public consumption was allowed at EDC, which currently has an anti-drug policy, it would also help his business.
"I definitely think it is something we would like to see in the future," he said. "We're going to see a huge increase when we are allowed to sell recreational."
Contact Bailey Schulz at bschulz@reviewjournal.com or 702-383-0256. Follow @bailey_schulz on Twitter. Contact Katelyn Newberg at knewberg@reviewjournal.com or 702-383-0240. Follow @k_newberg on Twitter.