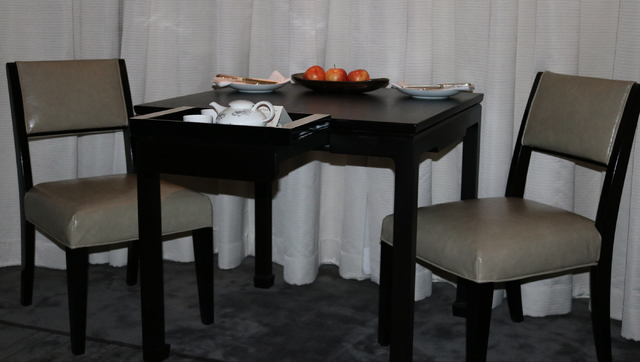 BEIJING – Tens of thousands of Chinese travelers are slated to visit Las Vegas. The hotels and businesses that cater to and best serve this population have the promise of a pot of gold.
The largest privately owned Chinese airline on Friday begins nonstop service from Beijing to Las Vegas. The new service means thousands of new visitors who are able and willing to drop a good amount of cash for a memorable, boast-worthy time. That entails making Chinese travelers feel welcome with an understanding of Chinese culture, making travelers feel oriented with Mandarin signage and making their stay convenient, with electronic payment options, experts say.
"It's not a one size fits all (answer)," said Peter Phang, managing director of the Las Vegas convention and visitors authority's China office. "On one hand you have the very basic tour groups, and what they're looking for is very from what someone who is a deluxe, high-end traveler is looking for."
KNOW YOUR DEMOGRAPHIC
The average Chinese traveler to the U.S. is in their mid-30s, according to the US Commercial Service.
This age group is often looking for a niche experience to take back with them and share with their friends, Phang said. He added activities like skydiving, shooting ranges and adventure sports have a very large appeal for this age group.
"It's just something that is popular because it is something they can't do back home," he said.
But every age groups wants a VIP experience during their stay, he said.
Barry Lin, senior director of tourism resources at Tuniu.com, an online travel booking service, said hotels need to step it up when it comes to making Chinese people feel at home.
"Two years ago, three years ago I was in Canada. They have a China ready package. So once you get into the hotel they'll provide you a hot pot for water and even slippers," Lin said. "Going to Vegas, we stayed in New York New York, no slippers … nothing at all."
The U.S. Commercial Service found Chinese travelers generally would like to see hotel amenities such as Mandarin signage on hotel property, some Mandarin-speaking hotel staff, a tea kettle in the room, a guest welcome letter written in Chinese, Chinese breakfast food options, and complimentary slippers in their rooms.
Lin and Phang also emphasized the importance of free, high-speed Internet access.
"We share all the things with our friends, so Wi-FI is the most important," Lin said.
Phang agreed.
"Whatever happens in Vegas doesn't stay in Vegas, when it comes to China," Phang said.
CULTURAL NUANCES
The reliance on social media, such as WeChat, can be used to a hotel's and/or business' benefit, they said, by providing another place to advertise.
But, it can also present a problem if a guest has a negative experience to share.
Billy Bai, a professor and associate dean of the William F. Harrah College of Hotel Administration at UNLV, said while Chinese travelers may not share their true feelings about their stay to their host if they are negative. But, they will absolutely share those feelings with their friends, he said.
"They will conform to group decisions, and sometimes it can be very difficult to find out if they like something or dislike something. That's a reflection of culture, so don't get frustrated," Bai said.
He recommends finding a way to get honest and timely feedback before it has a chance to end up online. It is also important to monitor social media for negative feedback, he said.
"Catch those before it goes viral," he said.
MAKE IT EASY TO PAY
Lastly, businesses and hotels can better cater to Chinese travelers by offering mobile payment options.
President of Alipay North America Souheil Badran said the U.S. is nine years behind China in terms of mobile payment volume.
Business Insider reported that mobile payment volume in China will reach $6.3 trillion by 2020. By comparison, Business Insider reported that the US will generate $154 billion in 2016 via mobile payments, which is about 6.5 percent of China's mobile payments volume.
According to Alipay data, mobile payment apps are the most frequently used payment option in China, followed by cash, then credit cards, debit cards and WeChat. Fewer than 10 percent of Chinese use Apple Pay.
"Take the time to think ahead," Badran said.
Contact Nicole Raz at nraz@reviewjournal.com or 702-380-4512. Follow @JournalistNikki on Twitter.