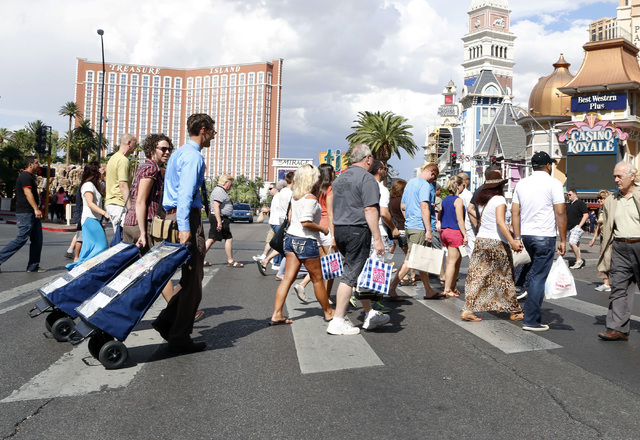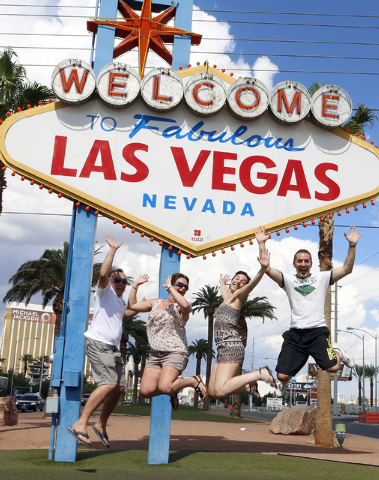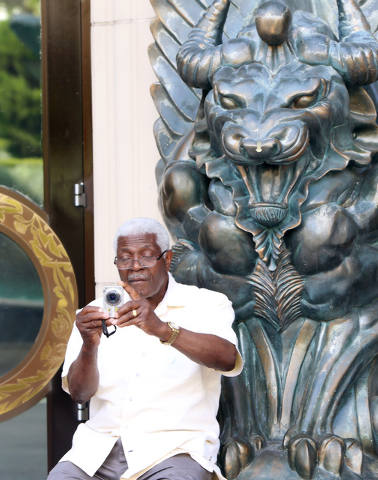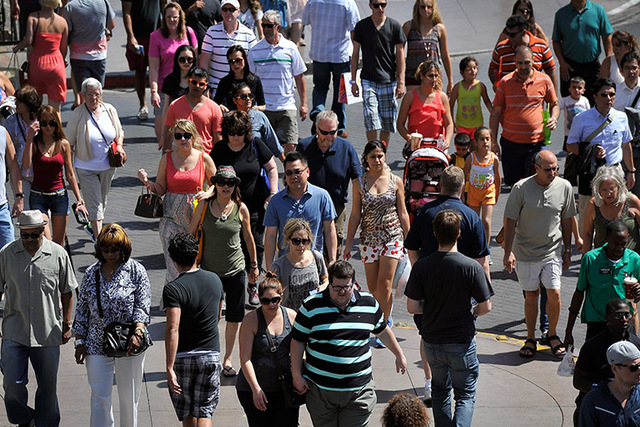 The state's August gaming revenue numbers may have been lackluster, but at least the tourists came to Las Vegas last month. And in record numbers.
Benefiting from a five-weekend month, visitor volume soared to 3.5 million in August, 5.1 percent ahead of the same month a year ago, resulting in the best August on record.
Every month in 2014 has had the greatest number of monthly visitors compared with the same month in previous years.
The Las Vegas Convention and Visitors Authority on Friday reported August's totals were just below those recorded in March, May and July this year.
An 8.3 percent decline in convention attendance resulting from rotation of a major show out of the month prevented the city from challenging records. The city welcomed 406,679 conventioneers in August, traditionally one of the calendar's weaker months even though MAGIC Marketplace, a major fashion convention, is embedded in the August calendar.
The Las Vegas Market show, a furniture exhibition conducted at the World Market Center downtown every summer, usually occurs in August, but this year was in July. That shifted about 50,000 visitors to the earlier month in 2014.
That show also may have resulted in a shift in average daily room rates. August rates were down 17 percent downtown to $53.88 a night. Strip rates continued to be robust resulting in an overall climb of 6 percent to $111.83 a night for the month.
The city has an additional challenge — more hotel rooms to fill. With the opening of SLS Las Vegas in August, the city now has a room capacity of 150,910, 0.7 percent more than a year ago.
The added capacity didn't dampen occupancy rates in August. The city recorded an occupancy rate increase of 3.4 percentage points to 87.7 percent for the month. Motel occupancy was the biggest beneficiary, up 9.5 points to 63 percent. Hotels were up 2.7 points to 90.4 percent.
In other occupancy rate breakdowns, weekends were up 1.8 points to 93.5 percent and midweek was up 3.8 points to 84.5 percent. Strip occupancy was up 3.1 points to 90.7 percent while downtown was up 4.1 points to 75.7 percent.
August totals continued Southern Nevada's torrid visitor volume pace. After eight months, the city has received more than 1 million more visitors this year than last — 4.1 percent more at 27.8 million people. The pace is well ahead of forecast growth and at the current rate would shatter the annual record of 39.7 million visitors.
Most of the Convention and Visitors Authority's tourism indicators are ahead of last year's marks with increases in average daily room rate (6.4 percent to $117.86), occupancy rates (2.9 percentage points to 88.2 percent), revenue per available room (10 percent to $103.91) and convention attendance (3.7 percent to 3.8 million).
Even Clark County gaming revenue, which slid in August, is ahead of last year's pace for eight months, up 1.1 percent to $6.4 billion.
Only the number of conventions held (down 2.9 percent to 14,143) and average daily auto traffic from California (down 1.3 percent to 43,050 daily trips) are below 2013 levels.
Mesquite visitor volume had the lowest monthly total of the year, 87,605, but it was still 18.7 percent of last year's total. Laughlin visitation was down 4.9 percent to 179,688 visitors, the fourth-best month of 2014.
Contact reporter Richard N. Velotta at rvelotta@reviewjournal.com or 702-477-3893. Follow @RickVelotta on Twitter.