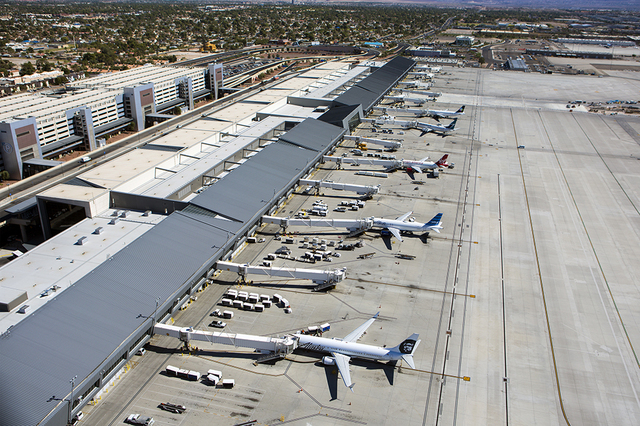 McCarran International Airport continued its record-setting stretch by serving more than 4 million airline passengers for a sixth consecutive month, the Clark County Department of Aviation reported Monday.
More than 3.8 million passengers boarded or arrived on domestic flights at the nation's eighth-busiest airport in October, a 3.6 percent increase from a year earlier.
The airport's ongoing growth was largely attributed to an increasing number of international flights arriving or departing McCarran, with 349,308 travelers reported last month, a 10 percent jump from October 2015.
In total, more than 4.27 million passengers passed through McCarran in October, a 4.2 percent leap from last year.
If passenger figures continue to climb through the end of 2016, the airport could break its record of 47.8 million passengers, set in 2007.
There were early indicators that McCarran was going to have a busy month when a record-setting 461,536 passengers were processed through the airport's security checkpoints between Oct. 16 and Oct. 22.
"Strong demand from both domestic and international markets continues to push passenger numbers to record levels here at McCarran," said Rosemary Vassiliadis, Clark County director of aviation. "Direct service from numerous new markets has been added over the past several months, making it that much easier for the world to visit Las Vegas, and we expect this passenger volume to continue into 2017."
Year-over-year figures show that more than 39.8 million airline passengers traveled through Las Vegas during the first 10 months of 2016, a 5 percent increase from the same period last year.
"The continued growth in passenger counts for McCarran is reflective of the hard work being done by everyone in promoting Las Vegas, and we will continue to work with them to make sure that there continues to be plenty of convenient travel options," said Jeremy Handel, a spokesman for the Las Vegas Convention and Visitors Authority.
Market leader Southwest reported more than 1.6 million passengers in October, a 1.5 percent increase from last year. American, the No. 2 carrier at McCarran, reported a 2.6 percent decrease, with 390,642 last month. Third-place United reported a 4.7 percent jump from October 2015 with 364,677 passengers last month.
Contact Art Marroquin at amarroquin@reviewjournal.com or 702-383-0336. Find @AMarroquin_LV on Twitter.