More than 1M visited Las Vegas in June, down 70.5%
Updated August 7, 2020 - 5:44 pm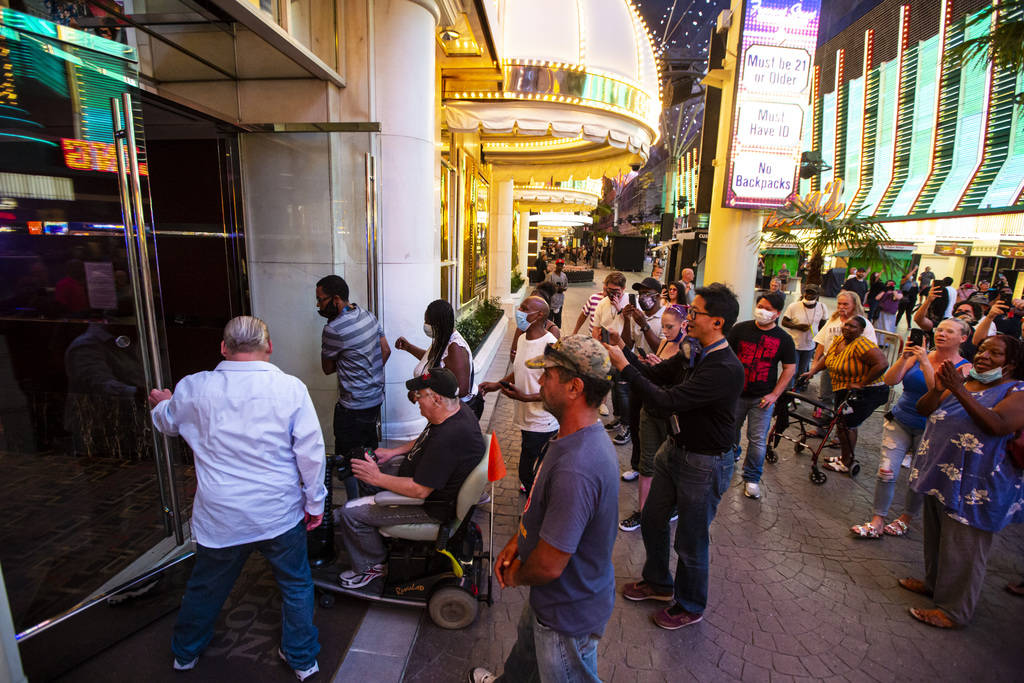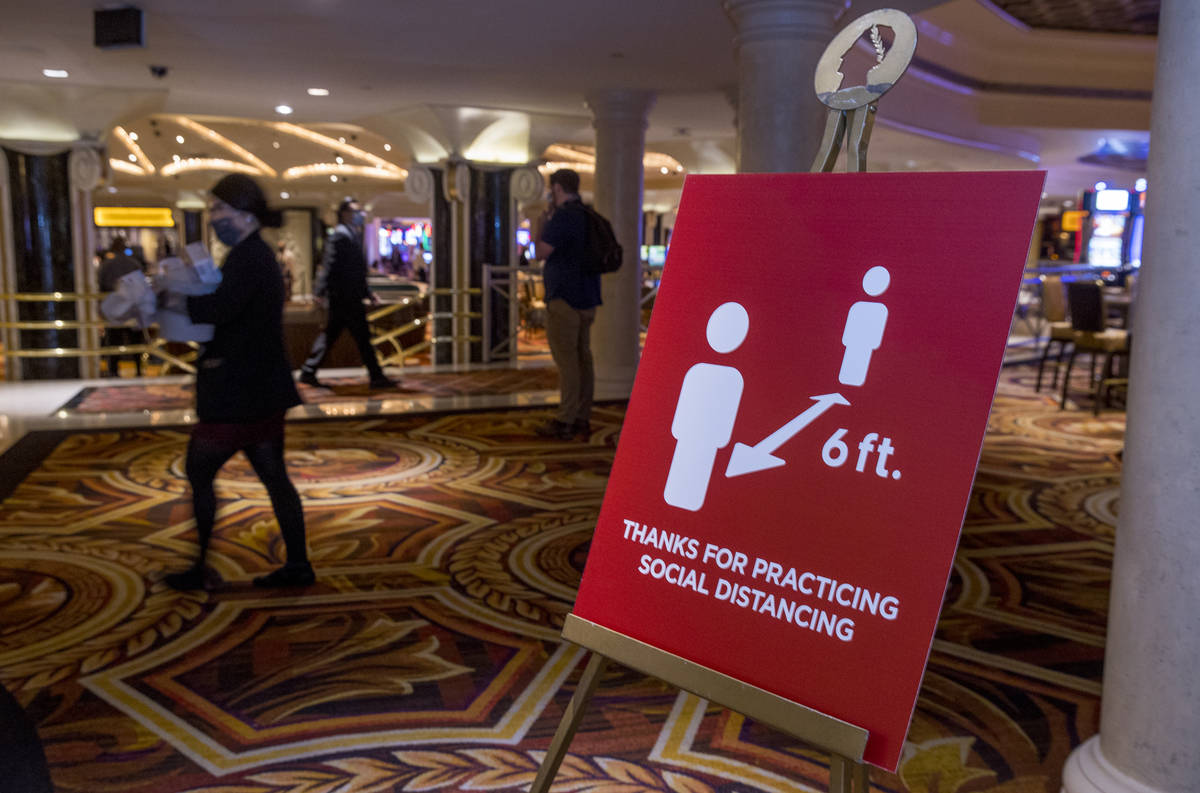 More than 1 million people visited Las Vegas in June, the month casinos were allowed to reopen.
But the 100 percent drop in convention attendance — that's a back-breaker.
The Las Vegas Convention and Visitors Authority on Friday reported 1.065 million people visited the destination in June, a 70.5 percent decline from June 2019.
June normally is a good month for leisure travelers with school out and summer vacations beginning, but the coronavirus pandemic has crushed visitation to most tourism destinations, including Las Vegas.
After being closed 78 days, the city's resorts were allowed to reopen June 4, but hotel occupancy has been hurt by capacity restrictions ordered by the state, a downturn in fly-in traffic and general fear that travelers will contract the virus when visiting.
The LVCVA said all the leading tourism indicators were in negative territory in June, a trend that has been in place since March.
Brent Pirosch, director of gaming consulting with the Las Vegas-based Global Gaming Group of CBRE, said he was surprised that the visitor count eclipsed the 1 million mark.
"The June visitation numbers were relatively good considering how challenging air travel is," Pirosch said. "The total number of passengers was nearly half of what it was in March, where March was effectively just half a month."
Resorts still closed
The occupancy rate was calculated at 40.9 percent, compared to 91.7 percent from June 2019. The LVCVA broke down Strip occupancy at 40.4 percent, downtown Las Vegas at 36.5 percent, weekend occupancy at 51.8 percent and midweek, 36.5 percent. The city routinely hovers between 70 percent and 90 percent in each of those categories.
Because some resorts continue to be closed — most notably, The Mirage, Park MGM, Planet Hollywood and The Cromwell — the LVCVA calculated occupancy rates based on weighted averages for when rooms were open. It used a base number of 95,396 rooms instead of the nearly 150,000 in the usual inventory. It calculated 22,000 rooms open June 1-3, 90,000 rooms on June 4 and 115,000 late in the month.
The LVCVA also reported that the average daily room rate was down 13.6 percent to $104.07 for the month, with Strip rates averaging $117.62 (off 9.2 percent) and downtown, $58.71 (down 5.6 percent).
Total visitor volume for the first six months of 2020 is off 54 percent to 9.733 million people.
But Pirosch said the gaming win per visitor was stronger than expected.
"The mass market win per visitor, excluding baccarat, was $179 in June – a new record on the Strip," he said. "We've seen this phenomenon in other jurisdictions as well – volume and win are down as the markets recover, but the spend per visitor is quite high. It is encouraging to see the same dynamic in Las Vegas."
Special events, activities that draw thousands of people to the city, have stopped the flow of leisure travelers. Event cancellations have hurt the city: April's National Football League Draft, a first for Las Vegas; the planned Garth Brooks concert for the grand opening of Allegiant Stadium in August; and the monstrous Electric Daisy Carnival at the Las Vegas Motor Speedway — canceled in May, rescheduled to October, then canceled again. It's already sold out for 2021.
Home football games for the new Las Vegas Raiders also took a hit when the team announced the season's home games would be played without fans in the stands.
The average daily vehicle traffic on major highways leading into Las Vegas was down 13.2 percent based on Nevada Department of Transportation estimates. Traffic, which includes local, commercial and pass-through vehicles, was estimated at 111,805 on all highways with 41,111 on Interstate 15 at the California-Nevada border for the month.
Big conventions canceled
But the standout statistic was the zero for convention attendance. Dozens of trade shows, conventions and meetings have canceled or postponed their Las Vegas gatherings in 2020 and early 2021. Among the most notable were the Global Gaming Expo in October, the Specialty Equipment Market Association automobile aftermarket products trade show drawing 160,000 people in November and CES, the giant consumer electronics show that was to bring 175,000 people to the city in January.
It was the third straight month of no conventions in Southern Nevada. For 2020, which the LVCVA expected to be a record-breaking year for conventions, 1.727 million people have come to the city in the first six months of the year, a 51.3 percent decline from the first half of 2019.
While convention attendance has produced grim numbers for 2020, the companies that host the most conventions in their facilities are generally optimistic about 2021, saying that more shows than the number canceled have either rescheduled for next year or will be new to Las Vegas.
"Over half of the groups have rebooked for future dates, so of the 2 million-odd room nights I mentioned, many of them have asked to rebook," said Bill Hornbuckle, president and CEO of MGM Resorts International, in a July earnings conference call with investors.
"And so, the ultimate desire to want to come back is, in fact, in play, whether it's an extension in '24, whether it's let's go earlier next year versus later this year. There's an appetite to do that."
Mesquite, Laughlin results
The LVCVA also monitors visitation to Mesquite and Laughlin.
In Mesquite, visitation in June was off 47.7 percent to 57,900 with occupancy of 61.5 percent and average daily room rate of $51.17.
In Laughlin, visitation was down 39.4 percent to 100,600 people, with occupancy of 56.1 percent and an average daily room rate of $48.57.
Contact Richard N. Velotta at rvelotta@reviewjournal.com or 702-477-3893. Follow @RickVelotta on Twitter.
June tourism indicators
June 2020 June 2019 Change
Visitor volume 1.065 million 3.607 million -70.5%
Citywide occupancy 40.9% 91.7% -50.8 points
Room nights occupied 1.171 million 4.116 million -71.5%
Convention attendance 0 514,000 -100%
Average daily room rate $104.07 $120.43 -13.6%
Air passengers 1.042 million 4.444 million -76.6%
Average daily highway auto traffic 111,805 128,774 -13.2%
Clark County gaming revenue $441 million $906.7 million -51.4%