More than 300k visitors headed to Las Vegas for Labor Day weekend
September 2, 2016 - 12:28 am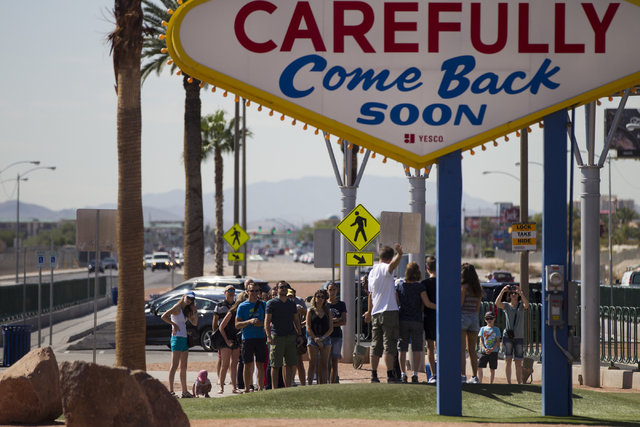 Here come the tourists.
For this upcoming Labor Day weekend, the Las Vegas Convention and Visitors Authority projects that 307,000 visitors will descend upon the valley.
That's slightly up from last year's estimated 305,000 visitors, according to figures provided by Visitor's Authority spokesman Jeremy Handel.
McCarran International Airport spokeswoman Christine Crews said the airport estimates about 753,000 people will travel through McCarran, inbound and outbound, from Thursday to Tuesday. That's up 4.8 percent over the same period last year. Those estimates, which were not available broken out by inbound/outbound, are based on current seats into the market.
Travel booking website Priceline.com reported this week that Las Vegas was the top Labor Day weekend destination, based on advance hotel booking requests made by its customers. The resort city beat out Chicago and New York for the distinction.
Las Vegas also topped the list of domestic travel destinations for travel booking website Orbitz.com. According to the website, the average plane ticket price was $322 and the average hotel room was $144.
Aside from the Strip, another popular site that many tourists are expected to visit is the Red Rock Canyon National Conservation Area.
With temperatures down this week, John Asselin, spokesman for the Southern Nevada District Office of the Bureau of Land Management, said the office expects Red Rock Canyon to be busier than normal this weekend.
"Come before ten or after two," Asselin said. "Because it will be very busy during the middle of the day."
"We anticipate heavy traffic during the Labor Day weekend, especially along Interstate 15 and the resort corridor," Tony Illia, spokesman for the Nevada Department of Transportation, said in a statement.
The Regional Transportation Commission and the Transportation Department expect heavy traffic this weekend as an estimated 189,000 drivers enter the valley.
Stan Thomas Madden, 44, was a driver for a party bus company for five years before launching his own business, Madden Transportation about a year ago.
"It's a big weekend, you gotta be out there working as a driver," Madden said. "As long as you're getting the rides, you're OK."
"Traffic is of course, really bad," Madden said.
Madden said he would be working 12-hour shifts this weekend, picking people up as they trickle in Thursday and transporting them as they leave Monday.
Contact Alexander S. Corey at acorey@reviewjournal.com or 702-383-0270. Find @acoreynews on Twitter.
RELATED
2016 Labor Day Holiday Closures