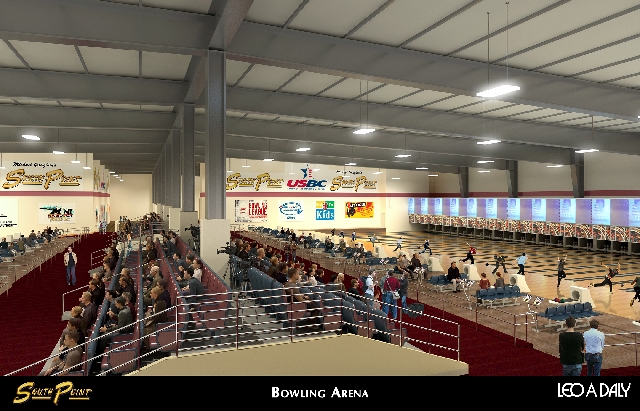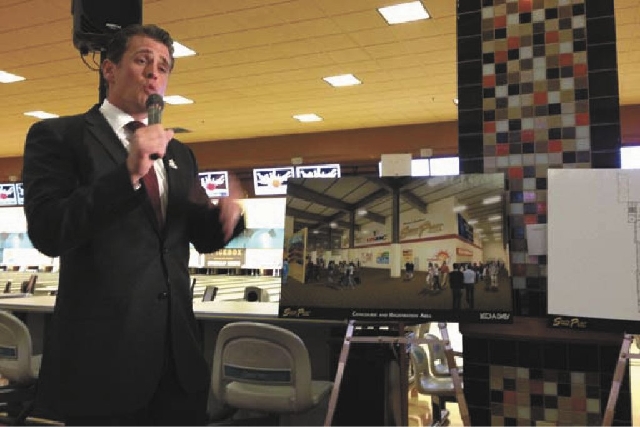 South Point cemented Las Vegas' position as a major U.S. bowling hub by unveiling plans Tuesday for a $30 million tournament center that will host seven major league events under a 12-year deal with the sport's governing body.
Construction for the 60-lane, two-level bowling center will start in May, with the first major event — the USBC Women's Championships — set for 2016. South Point, which already has a widely used 64-lane bowling facility that will remain open, will cover the entire $30 million for the new venue to open in September 2015.
The announcement at South Point's current bowling facility, with the sounds of league bowlers knocking down pins in the background, also highlighted South Point's partnership with the United States Bowling Congress, the Las Vegas Convention and Visitors Authority and Las Vegas Events.
Under the four-way partnership, the United States Bowling Congress, the sport's governing body, will stage Women's Championships at South Point's new crown jewel facility in 2016, 2020 and 2022 and USBC Open Championships in 2017, 2019, 2021 and 2023.
The Las Vegas Convention and Visitors Authority will chip in a maximum of $5.6 million to help stage those seven tournaments because they are huge bowling tourist draws, said Pat Christenson, president of Las Vegas Events, which stages and promotes sports and tourist events in the Las Vegas Valley.
In addition to the big league tournaments, the deal calls for 40 bowling expos, conventions and smaller tourneys throughout Las Vegas during the dozen years.
Ryan Growney, South Point general manager, said the new bowling center is a good investment because the USBC Open Championships should draw 80,000 bowlers, each with a guest, generating about $200 per person per day.
Growney said the ground floor of the two-story bowling center should be open in September 2014 and will be used for equestrian events and car shows.
Stu Upson, executive director of the United States Bowling Congress, said the new South Point facility will work nicely with another prominent Nevada venue, the National Bowling Stadium in Reno.
Upson, who worked for Major League Baseball as a vice president of baseball development, helped create the first "Fanfest" event of any sport for a baseball All-Star Game in 1991.
Upson said he does not envision the new bowling center being used to grow the sport. Instead, it will attract thousands of top bowlers who will be "here to spend a lot of money."
The new South Point center will have 500 seats for fans to watch the top bowlers and will not be open for retail use. It's an exclusive tournament venue.
Las Vegas has emerged as a big league bowling destination in the United States, with more than 600 lanes in Sin City. Station Casinos and Boyd Gaming also offer bowling facilities.
Rossi Ralenkotter, LVCVA president and chief executive, joined Growney, Upson and Christenson in donning red-and-black USBC bowling shirts marking the 12-year deal.
The USBC Open Championships is the world's largest annual participatory sporting event, attracting 12,000 to 16,000 five-player teams competing for $4.5 million to $7.5 million in prize money.
The USBC Women's Championships attracts 6,000 five-player teams that compete for a prize fund of nearly $2 million.
In 2009, the USBC Open Championships were held at the Cashman Center and ran for a record 154 straight days with a total of 17,200 teams. The event generated economic spending of $120 million, which did not include gambling spending.