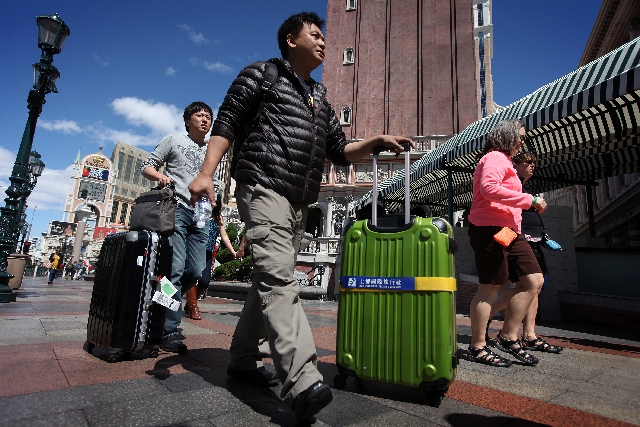 CARSON CITY — A new "brand" announced Tuesday by Gov. Brian Sandoval and state tourism officials is short and sweet: "Nevada — A World Within. A State Apart."
Only time will tell if the new slogan, a redesigned website and a coming app for visitors to explore the state using their mobile phones pay off with increased visitation.
The new tourism effort was unveiled with a catchy version of the song "Don't Fence Me In" by Las Vegas' own band The Killers.
"I couldn't be more pleased with the brand and the rollout and the hard work of the Commission on Tourism," Sandoval said. "I think it's an absolute grand slam."
Sandoval said the campaign, paid for with room taxes, was tested in other states and did well.
"It was very popular in the other states," he said. "I think this is something that is really going to catch on. We've got a home-grown Nevada band, The Killers, that is singing the theme song. We've got a Nevada mantra that as I said captures that Nevada DNA that makes us so proud of our state."
Lt. Gov. Brian Krolicki, chairman of the Commission on Tourism, said the team that came up with the campaign "nailed it."
"And I just hope that it is embraced by the folks in Nevada, but even more importantly throughout the globe as people come to visit," Krolicki said. "We want the 52 million annual visitation rate to be beat every year.''
The campaign was developed through a $3 million contract with public relations firm Burson-Marsteller.
It includes two television commercials coordinated by Claudia Vecchio, who was appointed by Sandoval in October 2011 as Nevada's director of the Department of Tourism and Cultural Affairs.
Sandoval and Krolicki toured much of rural Nevada last year as the new campaign was being developed.
On a trip in late May, they visited Valley of Fire State Park and the Lost City Museum in Overton, among other attractions, and stayed at "A Cowboy's Dream Bed and Breakfast" in Alamo.
Contact reporter Sean Whaley at swhaley@review
journal.com or 775-687-3900.