'Substandard' safety not factor in SpeedVegas crash, report says
Updated July 31, 2017 - 5:16 pm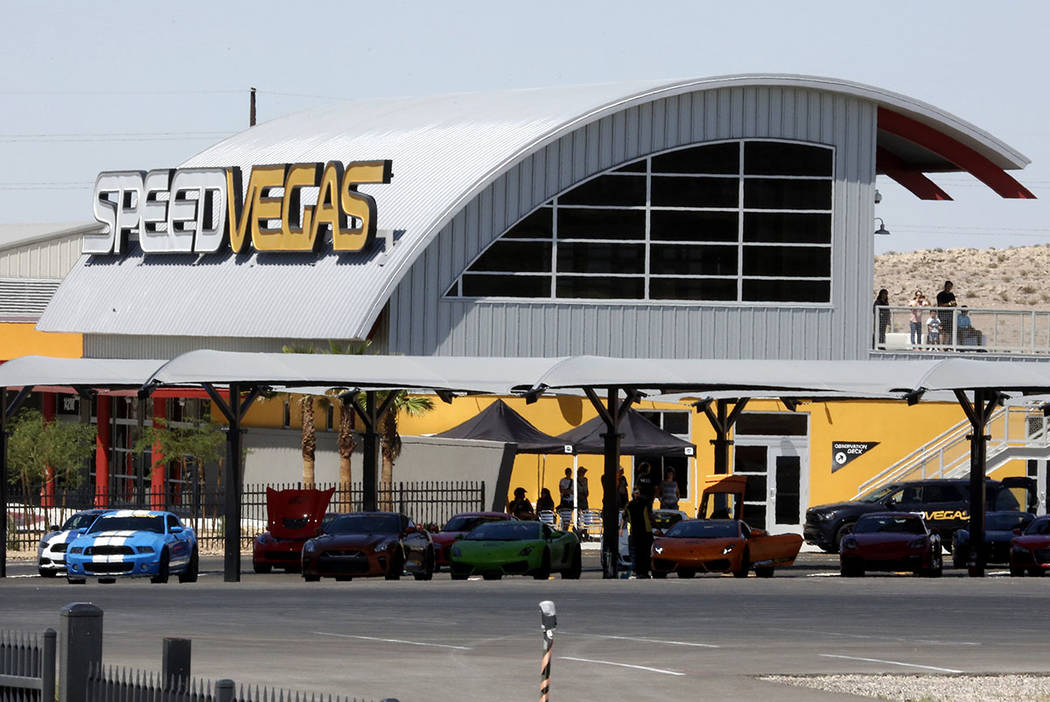 SpeedVegas had a substandard fire and safety plan and failed to properly train employees in fire suppression, but that wasn't a contributing factor in an accident that killed two people in February, Nevada's Occupational Safety and Health Administration office reported.
The agency, which reviewed the crash as a workplace accident, recommended fines totaling $16,000 on three citations involving seven violations.
SpeedVegas CEO Aaron Fessler acknowledged receiving documents and said the company is evaluating its next steps.
"We take safety concerns seriously and will continue to maintain the safest experience available," Fessler said in an emailed statement.
"We are pleased that these citations say nothing to indicate that the track design or safety procedures are substandard," he said. "We were not surprised that OSHA did not cite these areas because our driving experience is unique among similar driving opportunities."
An inspection narrative for an investigation completed July 25 also said the agency did not have the resources to reach a conclusion on whether the installation of aftermarket brakes on the Lamborghini Aventador involved in a crash at the track south of Las Vegas were a direct cause of the accident.
No track standards
The agency also said there were no applicable standards for track design that apply to SpeedVegas. After the Feb. 12 accident in which which Canadian tourist Craig Sherwood and track driving instructor Gil Ben-Kely died in the fiery crash, critics said they believed the design of the track to be unsafe. SpeedVegas officials maintained that the track was safe and reopened 12 days after the accident.
The Review-Journal received a redacted inspection narrative and the citation and notification of penalties Monday through requests to Nevada OSHA.
SpeedVegas received the hand-delivered citations by certified mail on Wednesday and could contest them and the penalties within 15 working days of that delivery — by Aug. 17.
The citations listed two serious violations with proposed fines of $7,000 and $4,000, two "other-than-serious" violations and three regulatory notices, each including proposed fines of $1,000 each.
A list of violations and proposed penalties was discussed by OSHA officials in a July 25 meeting with SpeedVegas executives Darren Strahl, executive vice president of operations, and Johnny McMahon, chief operating officer.
Companies cited by OSHA are given the opportunity to challenge or appeal proposed citations and penalties.
Violation details
Seven issues were noted in three citations proposed by OSHA:
— Serious violation: SpeedVegas did not provide training and education for all fire brigade members. Such training is necessary before they perform fire brigade emergency activities. Must be abated by Aug. 15. Proposed penalty: $7,000.
— Serious violation: SpeedVegas provided portable fire extinguishers for employee use in the workplace and but did not provide an educational program on their use. Abatement date: Aug. 10. Proposed penalty: $4,000.
— Other-than-serious violation: SpeedVegas was required to have a workplace hazard assessment with written certification. On the date of the accident, there was no certification that fire and safety teams members had the assessment. Abatement date: Aug. 5. Proposed penalty: $1,000.
— Other-than-serious violation: On the date of the accident, SpeedVegas had not prepared a required organizational statement establishing the existence of a fire brigade. Abatement date: Aug. 5. Proposed penalty: $1,000.
— Regulatory notice: At the time of the accident, SpeedVegas did not have a safety committee, a requirement of an employer with more than 25 employees. Abatement date: Aug. 5. Proposed penalty: $1,000.
— Regulatory notice: At the time of the accident, SpeedVegas did not have a written safety program that includes an explanation of the methods used to identify, analyze and control new and existing hazardous conditions. Abatement date: Aug. 5. Proposed penalty: $1,000.
— Regulatory notice: At the time of the accident, SpeedVegas did not have a written safety program that listed procedures that must be followed to investigate an accident which has occurred and the corrective actions that would be initiated. Abatement date: Aug. 5. Proposed penalty: $1,000.
The inspection narrative explaining the investigation said because the car burst into flames after hitting a concrete wall, the lack of a properly trained fire brigade was not considered a contributing factor of the fatal accident.
Brake replacements
Another part of the investigation involved SpeedVegas' decision to replace the factory-issued carbon ceramic brakes on the Aventador with aftermarket two-piece aluminum and cast-iron brake rotor assemblies manufactured by Bellingham, Washington-based Girodisc.
Fessler told OSHA investigators that using the Girodisc assemblies was preferred because the high amount of high-speed braking that is inherent in high-performance car experiences like his. He said the carbon ceramic brakes wouldn't be as effective with continuous high-speed braking as the replacement system.
OSHA investigators tried to find and review video recordings of the accident but there were no cameras aimed at the crash site.
"Nevada OSHA does not specialize in vehicle braking components nor do we have recognized standards for motor vehicles and as a result, I could not determine whether the (Girodisc) rotors and pads were a direct cause of the accident, nor determine if they were inferior," the report narrative said.
OSHA had similar comments about the track design.
Not a racetrack
Fessler told investigators SpeedVegas is a driving track, not a racetrack, and cars don't run simultaneously. It was designed by Robert Barnard, who consulted standards posted by Paris-based Federation Internationale de l'Automobile, for its design, but SpeedVegas is not an FIA-sanctioned track.
Because OSHA can only measure standards based on local statutes and codes, the track's design was not an issue.
"After reviewing local statutes, codes, standards and other recognized industry standards, I determined that there were no applicable standards at the time of the accident for the track use and track design at SpeedVegas," the report narrative said.
Said Fessler: "Our experience represents the most thoughtful, safe, well-designed motorsports experience of its kind, anywhere in the world. Safety always has been and always will be the top priority. While we may not agree with the proposed citations, we have worked well with OSHA and are evaluating our next steps like any responsible employer."
Contact Richard N. Velotta at rvelotta@reviewjournal.com or 702-477-3893. Follow @RickVelotta on Twitter.
'Serious violations'
"Serious violations" are defined as "a workplace hazard (that) could cause an accident or illness which would most likely result in death or serious physical harm," while an "other-than-serious" violation is defined "as a hazardous condition (that) cannot reasonably be predicted to cause death or serious physical harm to exposed employees, but does have a direct and immediate relationship to their safety and health."