TSA tests full-body scanning software at McCarran
February 1, 2011 - 3:28 pm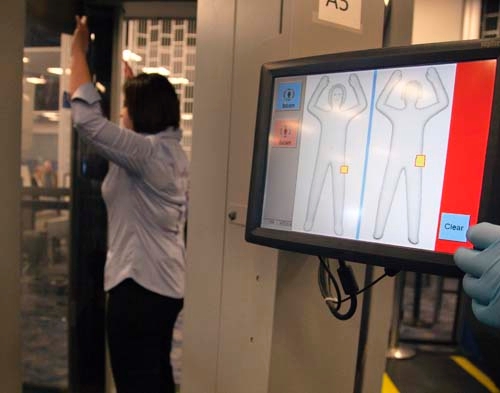 Federal airport screeners on Tuesday began testing new software on one full-body imaging machine at McCarran International Airport to see whether it can ease consumers' privacy concerns without hurting security efforts.
Fourteen full-body imaging machines, which began being installed at McCarran in September 2008, have been used on some passengers going through airport security. Traditional scanners screen other passengers while all bags are X-rayed for potential threats.
The full-body imaging machines, however, have drawn heavy criticism from privacy rights advocates because the machines generate images of passengers beneath their clothing as they scan for explosives or other weapons.
The new software eliminates passenger-specific images associated with the current version of scanners used at 78 airports nationwide.
"This new software has been in the works for about a year," said Dwayne Baird, a spokesman with the U.S. Department of Homeland Security. "Our number one priority is the safety of the flying public."
The new software produces a general outline with any anomalies highlighted. Baird said the existing scanners sent the images to a remote location where TSA security officers viewed them. But with the new software both the passenger and the officer at the checkpoint will be able to see the screen with a generic outline.
Any anomalies will require additional screening, including an "enhanced patdown," he said. The scanners screen passengers for metallic and nonmetallic threats, including explosives.
If there are none, Baird said the monitor will display "OK" on a green screen.
TSA has ensured that strict privacy protections are in place for travelers at McCarran and other test locations.
"After every passenger, the image is erased," he said. "We do not store, print or transmit any of the images."
The Transportation Security Administration hopes to increase the rate of passenger processing through the imaging machines with the new software. Baird said early testing showed it took seven seconds per traveler compared with the current 12 to 18 seconds.
Besides Las Vegas, TSA is testing the software at Hartsfield-Jackson International Airport in Atlanta and Ronald Reagan Washington National Airport in Alexandria, Va.
Testing will last 30 to 60 days, he said. If the tests show the new software is accurate, the TSA will roll it out to about 250 machines nationwide at a cost of $2.7 million.
There are nearly 500 imaging technology units nationwide. The new software is being tested on millimeter-wave units, with plans to test similar software on backscatter units in the future, according to the TSA.
Passengers can still opt out of the scan and choose a patdown instead. Baird said travelers would still be required to take off their shoes and belts and empty their pockets.
Contact reporter Chris Sieroty at csieroty@reviewjournal.com or 702-477-3893.