Utility regulator rocked with Elvis, remains bound to government service
November 12, 2007 - 10:00 pm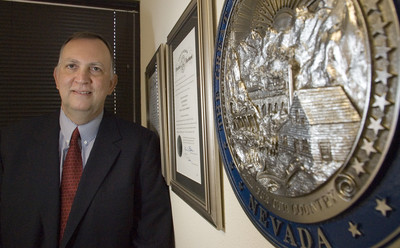 Sam Thompson went from jailer to "Jailhouse Rock" before his latest career change to utility regulator.
He's worked as a deputy sheriff in a Memphis, Tenn., jail, as a bodyguard for Elvis Presley, a judge, a record label executive, a member of the Nevada Transmission Authority and now member of the Public Utilities Commission.
Thompson's broad career experience seems to fit his personality; he said he likes working, challenges and problem solving. He said he's always felt a sense of duty.
For a while, his duties involved working with Presley, whom he met when his sister, a former Miss Tennessee, was dating the singer.
Thompson and Presley became friends. He stayed with the singer through his ups and downs, taking over when the singer fired his security team. Presley even fired Thompson once but brought him back.
Thompson remembers Presley as generous — the singer gave him a motorcycle and gave Thompson's wife a house. He also says Presley was humble — someone who looked at his good fortune and asked, "Why me?"
Thompson makes friends quickly and can easily switch from discussing rock 'n' roll one minute to arcane utility regulation the next.
Question: What was your first job?
Answer: I went to work sacking groceries when I was 14 for 60 cents an hour. We were pretty poor, but we didn't know it because everybody else was, too. Actually, that was one of Elvis' lines.
Question: When did you first meet Elvis?
Answer: November 1972. My sister was Miss Tennessee in 1970. They were dating. Linda called, and I went over there. We were downstairs at Graceland, talking, chatting and, all of a sudden, Elvis walks in at about 11 o'clock at night. He had on a full karate gi and sunglasses.
As ridiculous as that sounds, when he walked into that room, I thought, "That is so cool."
He wanted to show me his disarming technique with a cross-block.
So I took out a little five-shot Smith & Wesson, Chief's Special, that I had. Elvis did his move, and the pistol went flying across the room and broke a mirror.
He had an organ. We just hung out there and sung gospel songs, as corny as that sounds. I looked down at my watch, and it was 4:30 in the morning. I realized I had to be at work in an hour.
The sheriff in Memphis was a friend of Elvis'. The sheriff said, "Elvis wants you to go on tour. So I'm going to put you on leave for two weeks." About once every month, I would take off 10 days and go work security for Elvis.
In 1973, Elvis bought a motorcycle for me, but I didn't live close enough to Graceland to come over and ride motorcycles.
He'd always call and say, "It's me, and said I'm coming over." Once, he came over in his Stutz Blackhawk.
He took me to a house next-door to Graceland. He said to my wife, "Louise, do you like this house?"
She said, "Yeah, it's a great house,"
He said, "Great, it's yours," and threw her the keys.
I said things like, "You can't do that." He said, "I can do anything I like. I'm rich."
He'd say we want to go motorcycle riding, and I would call the commander of the south precinct and just tell him we're coming out. Really, it'd be 15 or 20 guys on Harleys and we'd get on Interstate 55 and drive down to Mississippi and ride around for three or four hours at night.
In '76, Elvis fired the three guys who were working as his principal security. He brought me on. There was another fellow named Dick Grove, who was former police sergeant for the Palm Springs Police Department. We ran all his security.
Question: What was he like off-stage?
Answer: He always asked, "Why me?" Down there in Memphis in the mid '50s at Sun Records, you had Roy Orbison, Johnny Cash, Jerry Lee Lewis, the Million-Dollar Quartet they called it. Jerry Lee Lewis said it would have been him if he hadn't married his first cousin.
Elvis was always humbled by that. He never understood why it was him when lightning struck.
Question: What was the Memphis Mafia?
Answer: If you remember back in the '70s, a lot of rock bands were trashing hotel rooms.
Well, Elvis didn't want any part of that. We had to wear coats and ties.
It may have been a newspaper reporter (who said) they came in like the Mafia. Dark suits, sunglasses. That just kind of stuck. It wasn't because we buried people in the desert.
Question: What were the circumstances before Elvis' death?
Answer: He was certainly abusing prescription medications. He fired me once because I talked to him about it. "I need this. I don't need that. You're fired," he said. A few days later, someone at the house said, "Elvis has been asking for you. Where are you?" I said, "Well, Elvis fired me." He said, "Are you sure?" I said, "Yeah, I'm pretty sure. I was there."
He said, "Elvis says he doesn't know what you're talking about." So I went over there, and not another word was ever said. I truly don't believe Elvis forgot it. He just didn't want to talk about it.
Question: What did you do after Elvis died in 1977?
Answer: I went back to work for the sheriff's office and attended law school at night and graduated in 1984.
I became director of the Shelby County, (Tenn.), Corrections Center for three years. I was appointed a juvenile court judge. I won election to general sessions court.
My sister was married to David Foster, the record producer. In 1995, I was part of a legal process that established an imprint label at Atlantic Records for him.
We took it to a full joint-venture agreement with Warner Music Group, which is Electra, Atlantic and Warner Bros. Records. I became the senior vice president of business and legal affairs for Warner Music.
We sold the company in 2001 to Warner Music to our joint-venture partner.
I taught music law at Middle Tennessee State University outside Nashville.
I retired to Las Vegas for the climate in '03. Then I got bored.
I accepted a position with Judicial Arbitration and Mediation Services based out of Irvine, Calif., in '04. That led to an appointment by Gov. Kenny Guinn to the Standing Committee on Judicial Ethics and Elections Practices.
Then, that led to an appointment to the Nevada Transportation Authority. In July, Gov. (Jim) Gibbons appointed me to take Don Soderberg's place on the Public Utilities Commission.
I enjoy working. I like challenges. I like solving problems. I like being around people. I'm sort of an old government dog.
Most of my life I've been working in some form of state or local government.
I think it's sort of a sense of obligation or duty to give back a little bit.
I hope to bring to the table that sense of fairness, neutrality and balance. I think we're at a critical crossroads (for building electric power facilities).
Contact reporter John G. Edwards at jedwards@reviewjournal.com or (702) 383-0420.
VITAL STATISTICS Name: Sam Thompson Position: Member of the Public Utilities Commission of Nevada. Age: 59. Family: Wife, Louise; two adult daughters. Education: Bachelor of Arts, University of Memphis; law degree University of Memphis, 1984. Work history: Deputy sheriff in Memphis, Tenn., for Shelby County; bodyguard to Elvis Presley; prison warden; juvenile court judge; general sessions court judge; recording company executive; law professor; member of the Nevada Transportation Authority; Public Utilities commissioner. Hobbies: Golf and power boating. Favorite book: "Atlas Shrugged," by Ayn Rand and "To Kill a Mockingbird," by Harper Lee. Hometown: Memphis, Tenn. In Las Vegas since: 2003 Quotable: "We were pretty poor, but we didn't know it because everybody else was, too. Actually, that was one of Elvis' lines." The Public Utilities Commission is at 101 Convention Center Drive, Suite 250, and can be reached at 486-2600.